Wednesday 6th April

Ocean Rival Journey Log
Adam Power Diana Power
Thu 7 Apr 2022 14:38
Last full day on Bali so had to stuff it to the brim with lots of activities.
Started with a walk round the rice fields behind the hotel.
The large modern looking farmhouses set back in the fields suggest that rice pays quite well for a few landowners. Just like Norfolk really.
Just as we thought we were impossibly lost the path emerged next to the art gallery that was next on the list. Lots of traditional Balinese art and a room full of paintings by a more modern artist detailed landscapes full of little people dancing, working the fields- Lowryesque but more cheerful. The wood carving is stunning.
In Ubud there are streets full of carvers, others with just furniture makers, another selling massive slabs of exotic hardwood. The concrete statue makers are just everywhere.
Just along the road a water temple with lily pond.
After a rest and swim in the hotel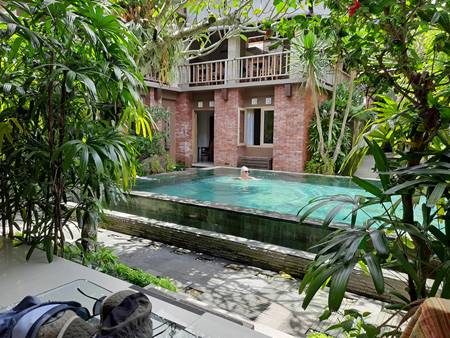 we set out for a waterfall having been deprived of the secret falls earlier in the week.
This one was certainly worth the climb down. I tried to swim under the falls but couldn't beat the flow.
One for the album. In Bali there is no missed opportunity to create a photo opp for young lovers. This one is for surviving 40 years of marriage to me!
Last temple of the day/week was the Elephant Cave temple.
The temple buildings tend to be the least impressive part of the site. This one another jungle setting with river. Temple fatigue setting in suggesting our week in Bali is adequate for intense sightseeing.
After supper I walked back down to the Royal Palace for a show of Gamalan & dancing.
The whole show was amazing- the dancers so precise, costumes splendid and music extraordinary.
The dancers each had smiles locked and eyes flashing but each smile was subtly different. I was struck by the range of smiles that tiny muscle variations emit- enigmatic, insincere, bored, joyful. I run out of smiles but the middle right was my favourite. Her smile was captivating.
---