position S035 19.100 E174 07.200

Ocean Rival Journey Log
Adam Power Diana Power
Sun 17 Mar 2019 22:37
We made our usual prompt start in the morning and stopped  for take away coffees in Wanaka and drunk them overlooking Glendhu bay. I had read about a popular walk in the Mount Aspiring national park up to Rob Roy glacier but that involved a long drive up a dirt road along the Matukituki river valley with  several fords, some of which the poor old Tilda thought were highly unsuitable for such an ordinary car. The car surprised itself and occupants and made it to the Rasberry Creek car park where a few minibuses and a couple of 4 x 4's had already parked.
The track crosses the Matukituki before heading up the Rob Roy valley. Looking back down to the main river  we were surprised to see a line of cattle crossing the river. The parents looked as if they could easily be swept away but how the calfs made it over is a mystery.
The track climbed steadily through beech forest looking down onto the raging torrent of the Rob Roy

An overhanging boulder promted a useful safety sign suggesting that one shouldn't hang about on that section in case of rock falls.
If that rock should accidently fall there'd be  a very flat walker underneath.
The path opens up above the tree line and the nose of the glacier protrudes from the mountain ridge like  icing on a badly formed christmas cake.
Streams tumble from the glacier and one defied gravity and flowed upwards as the wind caught the water and threw it back up to the ridge as if to prove its strength.
We ate our lunch under the glacier having found a dryish patch of heather and shelter from the wind.

With assistance of gravity we returned and found a pleasant spot to admire the view up the Matukituki valley
Diana pronounced that that was the spot where her ashes should be scattered. If anyone reading this has that duty I highly recommend the walk- just watch out that the wind doesn't blow her back in your face.
On the drive back we spotted more waterfalls that had ecsaped our attention on the way up as we concentrated on the fords.
Onward to Queenstown we stopped for tea by the lake. The low cloud obscured the mountains that surround the town and make it one of the most popular places to holiday in New Zealand. Our next bnb was at Athol a little further south. Another converted tin shed but again very comfy, this one on an apricot orchard in a massive fruit growing area. No kitchen so we mosied into town and found a nice mexican restaurant for supper.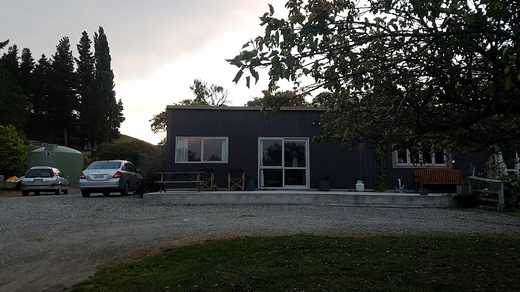 ---