Back Again at Crawl Cay

Salamander
Sun 31 May 2020 16:00
We wanted a cay to ourselves; Honey Ryder has not returned since they went aground here and had to be rescued. Everyone else was in the lagoon, so two days with no dogs barking, no lights and sleeping so well.
The first day snorkelling we saw a really weird fish. It stalked us from behind and then swam past and around us in turn.
A Facebook enquiry elicited the response that it was a Cobia, also known as Ling, possibly escaped from a fish farm. Though it looks very different from the Cobia on our fish ID slate.
The following day we did the 3 miles or so around the island. We could hear a yipp yipp sound, so took our ears out of the water and looked around. A beautiful Osprey took off from a low lying mangrove branch and flew past us. Such a magnificent bird and only about 20' away. So all the usual flora and fauna, but as we came around the corner Caroline was astonished to see a shark, in a feeding frenzy. We weren't bothered by this as it was only a 3-footer and even 9-footers have been running away from us. However, we had never come across a shark in this state before. To Caroline's amazement it charged her, showing a nice set of teeth and got so close she put her fin up for protection. Murray said it was showing curiosity!!! The Caroline almost bumped into a manatee and then another manatee swam under her – two close encounters of the nice kind.
How many snorkel dives ever have an osprey, feeding frenzy shark and manatees – what a treat.
Since snorkelling has been made legal again it is so great to be able to potter about in the water.
I can never normally get close enough to these before they retract:



This remora has been following us about and tries to attach to Caroline when she gets in the water.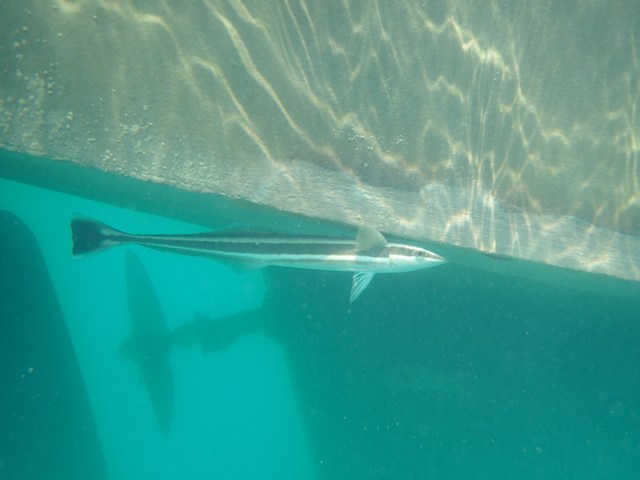 This was at Placencia Harbour:

---