Shackleton

Salamander
Fri 3 Nov 2017 00:48
Every trip to Antarctica has to mention Sir Ernest Shackleton, a hero of Caroline's and a travel inspiration since she read his narrative of his Antarctic adventures at the tender age of 12.
In 1914 Shackleton set sail on the Endurance for the ill-fated Terra Nova expedition. The aim was to cross Antarctica from the Weddell sea to the Ross Ice shelf, all at the start of WW1. The expedition almost didn't take place because of the outbreak of war, but the war was expected to be over by Christmas and so permission was granted to carry on. Entering the pack ice of the Weddell sea Endurance became stuck fast in the ice. The book desxribes days of horrendous noise as the ice gradually crushes the ship such that is was a wonder men were not driven mad. The boat sinks and 26 men are stuck and abandoned on the ice. The food runs out, dogs are killed and eaten and so an even more desperate journey starts.
An epic journey in Antarctic's winter in open boats takes Shackleton and his men to Elephant Island. Shackleton takes 2 men and continues on to South Georgia, where they trekked across the heights.
Our boat sailed in to Fortuna Bay where Shackleton and his men found themselves, having traipsed across the heights from the exposed windward side, up and over Breakwind Ridge. Unfortunately Fortuna Bay was deserted and they still had a final ridge to cross to get to Stromness whaling station.
27 of us, plus 5 staff recreated this walk. We stood at the top of the ridge, amidst the snow, with bitter 45 knot winds in spring. Our boat, the G Expedition had moved round to anchor by the disused whaling station and sounded the ship's horn to recreate the shift start whistle heard by Shackleton as he came up to the pass. We could have been stood exactly where Shackleton stood and heard the Whaling Station horn after months of deprivation, knowing that at last help was at hand.
Coming down from the pass, John Kernan stopped at the snow and ice covered slope and we waited while he ably found a safe route down for us. (Sliding down like Shackleton was banned!)
The afternoon was spent visiting Shackleton's grave to toast with Jameson's this great explorer.
Grytviken was a slightly creepy place where many magnificent whales were slaughtered and dismembered.
 start of the walk
 the ship leaves and no-one can change their mind, the trek must be completed
the stunning freshwater lake where water bottles can be refilled
at the top of the ridge it really is cold
stunning scenery in spring. For Shackleton in winter this would have been all ice, snow and crevasses
 a welcome sight, the boat in the distance anchored near the whaling station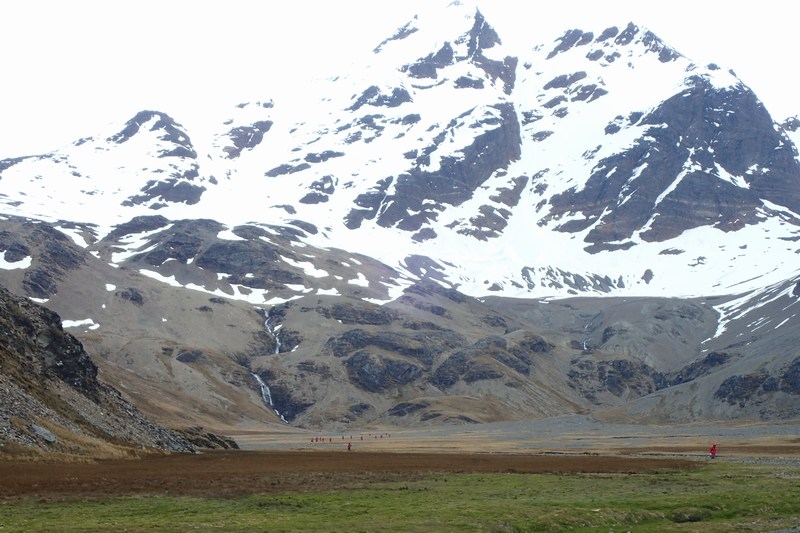 at last, back on level ground having traversed over
Stromness whaling station

Shackleton's grave
---