Rocky Mountains National Park

Salamander
Wed 2 Aug 2017 19:36
The Rockies are massive, covering 2,700 sq miles.
We drove through on the unmissable trail head road, a dizzying, nail biting journey in the rain with thunderstorms threatening. We also had the noise of the CO sensor alarm as it failed to cope with the lowered oxygen levels as the pressure dropped to 662 mb. We tried everything, but ended up driving with the windows open in the cold..Grrr.
Elk seemed to practically live in the campsite and the yellow-bellied marmot, which we could not stop photographing, took over the cute rodent spot.
On our second day, we had fortunately finished our walk to Lulu, up a mountain and back, before a massive hailstorm hit. We are extremely glad that we are not in a tent.
Lulu is a deserted mining town where only the owner of the land plots made any money. They salted the mines (firing high grade silver ore into the entrance to fix the assay) before selling them off.
Murray wanted to see Moose of Never Summer Mountain so we got up early and were at the walk trailhead by 7. Then; Caroline,"what's that?". Murray took a zoomed in photo and declared it "a horse". Caroline, "no, it's a moose, female". Murray, "I wanted a picture of a male!"
There is just no pleasing some people.
Finally, at the park exit we were pulled over by a Park Ranger (Police in these parts). It turned out our RV is not showing legal registration in the State of Colorado. This was the last straw – more on RV issues later.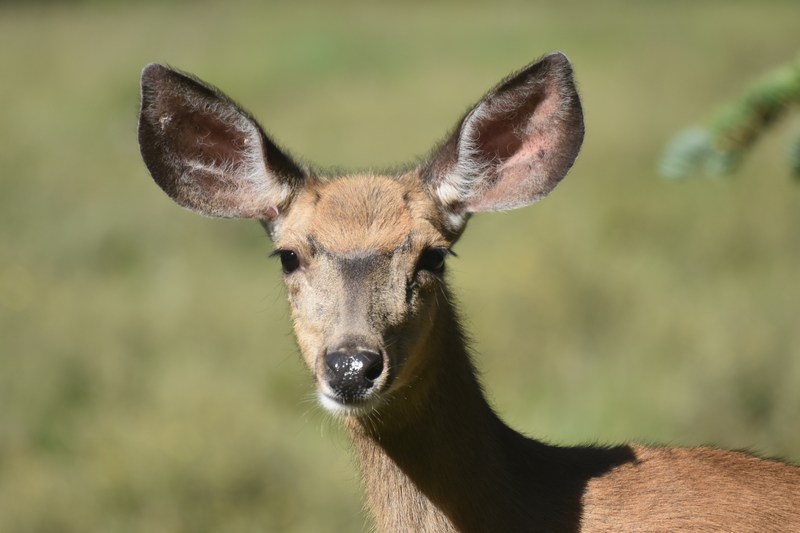 Two days of cold and high altitude living were enough for us and we are off to a slightly warmer climate.
---