To Rangiroa

Salamander
Sun 11 Jul 2010 18:44
Leaving our safe flat anchorage, we found the skies quickly darkened and the waves picked up and continued to do so throughout the passage. Wave after wave and gust after gust hit and gave our boat a bit of a battering. We had allowed for 5 knots for the passage but even with three reefs in the main found the gusts took us over 6.
Several waves were big enough to qualify for the exclamation 'Oh sh*t' as they approached the boat. We were very grateful that this was just a 500 mile voyage and retreated to the main cabin to read books.
The calculation for slack water entry through Taputa pass into Rangiroa was complicated by the fact that we were using two Pacific guides and they didn't agree. Goran and Arne (two Swedes we knew from crewing for us through the Panama canal) had recently completed the passage and helpfully told us they came through fine at High Water.
We arrived off Taputa in the dark, so hove to for a couple of hours, still making nearly a knot. Unfortunately HW slack would not arrive until late afternoon, so we decided to go for the Low Water instead. This is shown as 3, 4 or 5 hours after moon rise, depending on the guide. Just to really stack everything in our favour, on top of an uncertain slack time, the wrong weather, and rough seas, we approached the pass during a total eclipse.
Our first attempt found the seas to be too dangerous, but 45 minutes later we went for it and in heavy seas lined up the first white transit posts to guide us in. Halfway in the transits change to red/white posts, now behind you, to help you avoid the sandbank and currents inside the entrance. We probably held our breath for most of this passage, which was exhilarating; Murray helmed superbly (Caz wrote this!!) with complete concentration, with Caroline looking astern at the transits for guidance, but having to also look at the 'Oh sh*t' waves catching up with us rapidly.
Dolphins play in this pass every day as they enjoy the waves and currents which provide a natural adventure playground for them.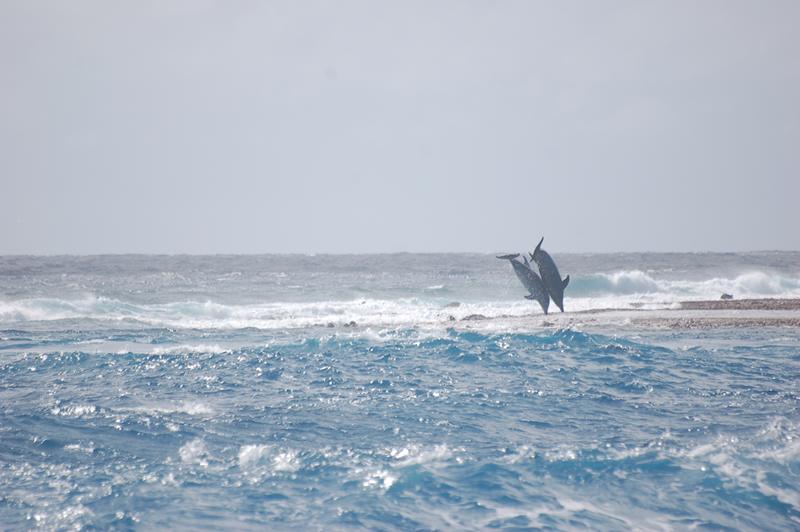 Yes, this really is the pass into the centre of the atoll, looking out.
---