A break away - Tongariro

Salamander
Tue 25 Jan 2011 06:00
We are shortly off to Oz for Feb, so squeezed in a few last minute NZ activities. Caroline was desparate to do the Tongariro Alpine Crossing. A break in the weather meant the floods had receded enough for the roads to reopen. Described as the best 'Kiwi' day walk. It matches expectations (although you could do it in about 4 hours). With 5 food stops, and 140 photos taken we took a leisurely 6 hours to do the 20km walk. The distance varies as the paths are moved about a bit, but our GPS recorded it as 19.9km. We booked a driver so we were dropped off at one end and picked up at the other.
Starting at the Mangatepopo you walk through old lava flows at a gentle gradient. From Soda Springs a climb brings you to South Crater at a further height of 340m. On a perfect daylike ours you can see for miles and 'Mordor' appears out of the clouds.
In sunlight, next came the only hot sticky bit up to the Red Crater, at just under 2000m the highest point of the walk. What magnificent views, really gorgeous.
Before we started the climb up we carefully read the warning signs; a long list of what to bring as a minimum, clothes wise, etc and what to do in the event of volcanic activity, such as rumbling, ash, or flying rocks! As we started climbing deep throated rumbles were echoing al around: we kept looking at the other groups' guides, who were not reacting to the rumbles, so neither did we. We later found out they were due to military maneuvres - phew!
From the Red Crater we ran down in soft deep grit/ash to the Emerald Lakes, their brilliant colour coming from leaching minerals.
We had beautiful views again through to Lake Taupo, with the volcanoes occasionally catching the clouds to provide a superbly misty atmosphere. Therest was all downhill to the Hetehai car park. A really enjoyable walk through this World Heritage Site.
South Crater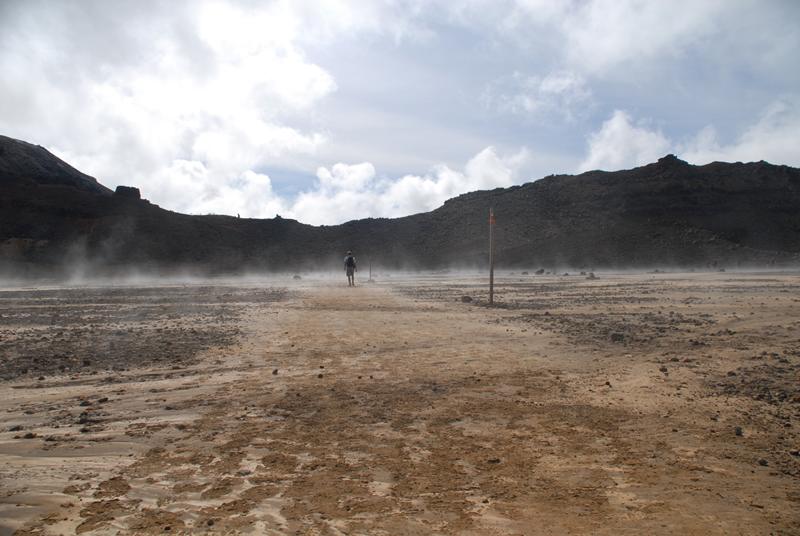 The evening was spent having a 'treat' meal at Lakeland Restaurant on the shore of Lake Taupo in little Waihi village. Guests often arrive by boat to eat here. Although the restaurant's wharf was damaged in the storm it was quickly repaired and the beach was going to be bulldozed back into place the next day. We ate outside watching the black swans cruise by. It's incredible how much damage strong winds with rain can cause (writing this in Oz, waiting for TC Yasi to hit Queensland - nowhere near us, fortunately). Caroline had a real treat with two gluten free dessert options to choose from, opting for the best panna cotta she's had outside Italy.
---