To the Galapagos

Salamander
Sun 9 May 2010 18:04
Left Panama 4/5, towards Las Perlas, having to negotiate large quantities of debris from recent storms, including lots of rubbish, many large branches and a worryingly large patch of dead fish.

Anchored off a couple of Las Perlas islands for two nights before beginning the crossing proper.
To start with the sails were up and down as the wind came and went, but once clear of San Jose island we could sail slowly in the right direction. We decided to sail while we could maintain enough speed to at least steer as no wind was forecast and we didn't know how long we would have to motor for.
Lightning lit up the sky every night during the crossing of the Doldrums, with sudden increases in wind involving a quick reefing of the sails and the boat rolling enough to make it difficult to stay in bed. We wanted to avoid the lightning as one boat was damaged in Panama, fortunately it died off every morning as the sun came up.
Cleared 100 miles on the first day, sailing despite the forecast of no wind.
Saw a seabird trying to fish to be beaten by a Ballyhoo leaping out of the water to grab it - the bird backed away. Large rays clearly visible from a distance spun and somersaulted out of the water. As dusk approached dolphins swam on our bow. An older looking species and battered with scars on the bodies and nicks in their fins.
No wind again, motoring for 8 hours, then picking up enough wind to slowly sail in nearly the right direction. The sea changed from Panama green to a beautiful sapphire blue, that we are used to. Went past Isle del Malpelo, the only rock between S America and the Galapagos and our navigation lights at night attract thousands of squid, to the delight of the nocturnal gulls, who remained our constant companions during the night for the rest of the way to Galapagos.
Nocturnal Gull on Floreana
Lovely dolphins in the afternoon with much somersaulting and tails slapping (to stun fish)
Dolphin tail slapping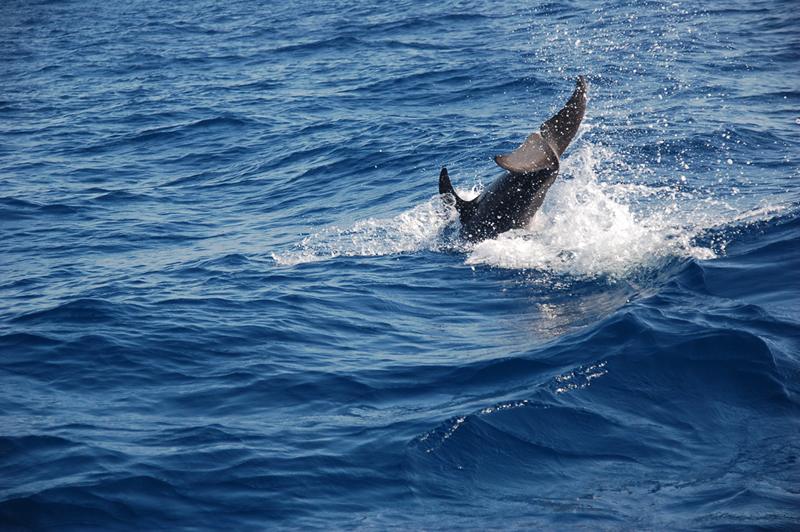 A dire 2.5knots sailing in torrential rain for the day, followed by another day of no wind. Morale a bit low on the boat as still no wind and another torrential rain downpour - now we know why its called the doldrums!
Finally reached the end of the doldrums (Inter Tropical Convergence Zone for the technophiles) and found just enough wind. Even better, a bold red-footed Boobie roosted on the boat for the whole night. He watched everything we did most intently and was completely unafraid. FInally, for the rest of the trip we picked up trade winds and were able to sail and our moods lifted at the same time.
Our first Boobie - 400 miles from the Galapagos, roosting for the night on our cross-bar
---