Palmerston Atoll

Salamander
Thu 9 Sep 2010 09:21
A truly incredible place several hundred miles from anywhere with a population of 67 people when we arrived.
A Victorian Englishman, William Marsters, founded the island village with his 3 wives. Each wife's family's descendants has their own part of the island, even their own cemeteries where every gravestone has the surname Marsters engraved. Everyone we met had the same surname - really bizarre.
These people are really English; imagine British Empire manners, Victorian ethics and Polynesian hospitality all mixed up making these people unique.
Bob was the first islander to greet us and guide us to an anchor spot and is the head of our host family. The host family provide lunch every day, collecting you from your boat at whatever time you like and letting you sleep in their house if you wish - you are now part of the family. Some of the families have virtually nothing, even running out of food if the supply ship is late, but provide ample meals to their guests.
Bob's son's first name was Bury, but he maily used his middle name of Andrew. There is an island tradition of naming after anything connected with the death of their founder, so people have names like Coffin, Pillow, Upme (from "Lift me up") and Okay. Bob's daughter Goldine called her Aunt Painkiller Auntie Pain for short.
Our first full day started with Bob collecting us for a party on the tall ship Picton Castle. This is a training ship with a crew of about 50 of which 14 are professionals and carries cargo and gives lifts to islanders when she visits every three years.
The ship is beautiful and sails at about 5-6knots. Captain Dan invited all the islanders and the yachties for a party and tour of the shipon gtheir last day at the island. A great day for farewells, nibbles, dancing and fun including an island population reduction of 1 to 66 as Bob's daughter joined the ship for a journey she has dreamed of since she was 7. Bob and his wife Topou said goodbye to their eldest daughter who was invited by Captain Dan to join the ship as assistant cook and train as a professional crew. Topou sobbed and sobbed as her daughter prepared to leave.
We then enjoyed a family with our hosts, Murray helping Andrew barbeque the barracuda and Caroline peeled the potatoes. The family also have Caroline's favourite bird, the red-footed Boobie as a pet.
The ambience of the island is special. Our tour revealed a magnificent but small mahogany forest, nestled amongst the palm trees.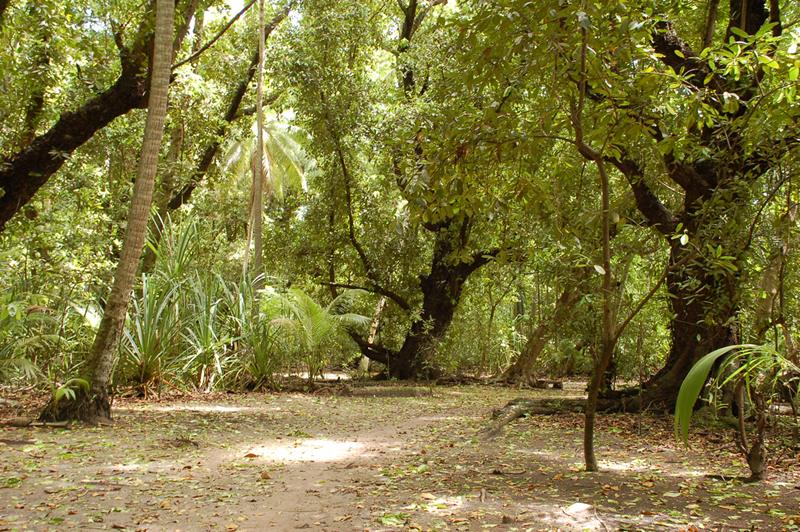 The only problem with the anchorage is that it is only usable in the trade wind easterlies. Any other wind will put you on the reef. You cannot anchor further from the reef as it sits on a cliff of coral which goes from 10m to 100m in the length of your anchor chain. Even mooring isn't safe as boats came adrift 3 times while we were there (one boat twice!).
The main street and church
This island is magical in its charms - a truly unbelievable place.
---