South Island tour day 1

Salamander
Mon 6 Dec 2010 08:15
An early morning crossing of the notoroius Cook Strait by ferry began the first day. This being NZ you can cross in more than one way, our favourite suggestion being a flight from North Island to South Island but only your luggage lands in the aircraft as you parachute out on the way. Our first night was at Kaikarou. The views were, as always, stupendous on the way with a stop at 'The Store' for coffee and cake (one of the best gluten free cakes ever according to Caz). The views inside and outside, as you can see, were gorgeous. For the budget conscious you just walk through the cafe, picnic at the bottom of the steps and enjoy the same view.
We thought that they were making a wildlife film at the Ohua Point seal colony as it easy to see why; blue seas full of kelp with NZ fur seals frollicking in the water and out. However, we were shocked to find out the brutal truth, the cameras were for a news crew as 23 fur seals including 2 bulls, pregnant females and pups were battered to death probably with a club and this according to the locals we spoke to is not uncommon (scary). The day we were here the seals just down from the point were still guarding the bloodied dead bodies, a gruesome sight that many stopped for but we thankfully missed.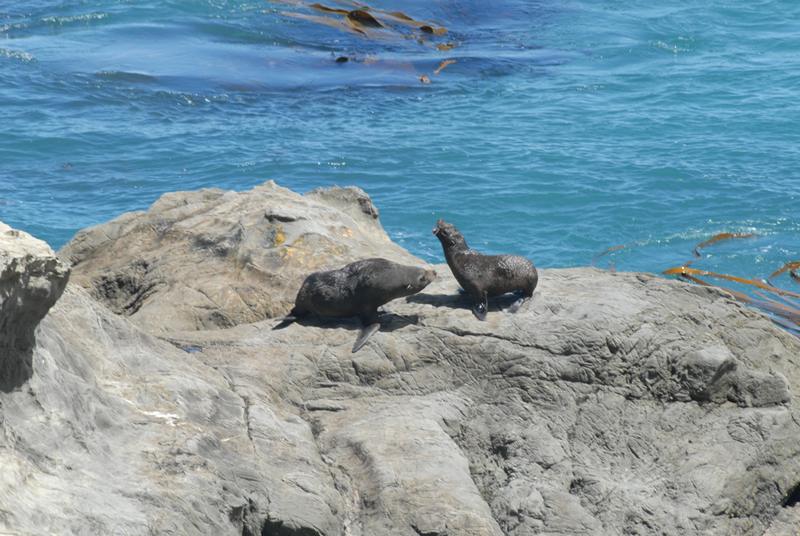 Finishing the day - yes another fur seal sanctuary at Kaikoura peninsular
The misty mountains shown above will of course be instantly recognisable to any Lord of the Rings fans.
---