Cayo Largo

Salamander
Tue 3 Apr 2018 01:33
Our check in took pretty well all day because there are only 2 doctors and one was sick! The other was at the airport because there were 5 international flights this day. The sniffer dog came next, then the questions, then the food inspector who made us pay 10Euros and refused to give us a receipt. He wouldn't get off the boat until we had paid and everyone else had left, we felt we had no choice. The rest of the clearance fees were paid to the marina by credit card.
Anchoring is charged for and if you leave the marina you are starting a new contract. Leaving the boat in the marina without crew is a different contract too. Leaving the boat and returning to it also incurs a 5CUC fee per person per event – a 'formality'. Cruising also incurs a per person per day fee; basically everything you do incurs a fee.
We now know why no-one stays overnight in the marina. Any hotel guests who like nightclubs come to the marina complex for the loud outdoor music that is played until 2.00am – aargh. I guess this means that other hotel guests get to sleep well. This is not a mistake we will repeat (or will we?).
The area has great bird and fish life, a certain natural beauty. But every restaurant seems to have the same menu.
We are here to go on holiday to Havana. If we sailed to Havana it would be hard to come back to get to Mexico, so we have booked a holiday, we think. Your flight is not confirmed until 17.00 the day before, hence our stop in the Marina. It was actually not confirmed until 18.00 and then the accommodation was booked, but the family home stay was full, so we were booked into their apartment. Finally all was confirmed and we got on the bus to the airport, had to stop the bus and get off again as we realised that despite our visit to the office to pay for the berth for the week we are away (boat, no crew, new contract), we have no tickets. Back to the office, pay for the flights, get a flimsy paper voucher – no tickets). At the airport we get 2 boarding passes, both for Murray in one seat. We get this changed then go through the door to security, one passenger at a time. We get to Havana where we blag a lift on the Cubatur bus to El Presidente hotel, promptly walking off to find our apartment.
This little tug towed a barge with containers for resupplying the island.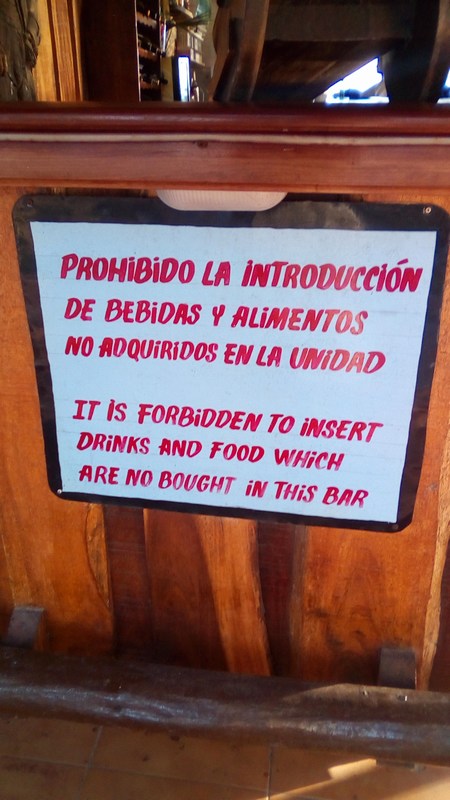 marina bar restaurant instructions, mmm!
---