Zion Park take 2 – The Narrows

Salamander
Thu 6 Jul 2017 23:14
The Park Newspaper outlines 'The Narrows' "trail" and equipment you should take. We just started at the Temple of Sinawara and hiked a mile on the riverside walk, then basically you walk into the river and go on. As the temperature wad 110F today the park rangers walked up and down the shuttle bus queue shouting at everyone to drink water.

At times the riverbed currents made it hard to cross, but we never had to wade deeper than crutch level. Amazingly the river is really cold, but the extreme air temperature meant we never got cold. A lovely walk, but again the park states it is not really suitable for children and we saw 7 children fall. One boy fell twice and was clearly in pain.

We were going to wear our sandals but the park states you should wear '...sturdy boots with ankle support...and take a walking stick. We did this (even Murray used a stick) and it really made a difference on the unstable rounded rock bottom.

A lazy afternoon followed as we caught the bus to stop 3 with our bikes so that we only had to cycle 1.5 miles downhill (the Pa'rus trail) stopping halfway along at a gorgeous pool below a small waterfall to leisurely swim in the Virgin River.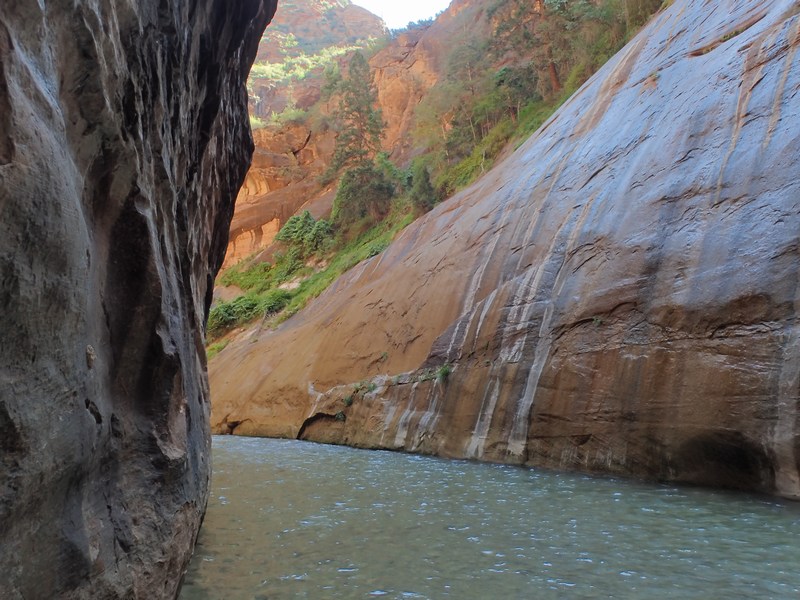 ---