Waitomo - a great day out

Salamander
Wed 19 Jan 2011 09:21
It was good to have Darcy join us for a Kiwi underground adventure (well we joined him as he kindly drove us there). Darcy had to make do with us for company as for some strange reason nobody else wanted to spen 4 hours in a cold, dark, water filled cavern. The Black Water Rafting Co provide all the kit: wet suits, helmets, boots and harnesses and as you can see, we all look so elegant-
A little bit of training and you are off, abseiling into the dark through a narrow neck and into a beautiful cavern.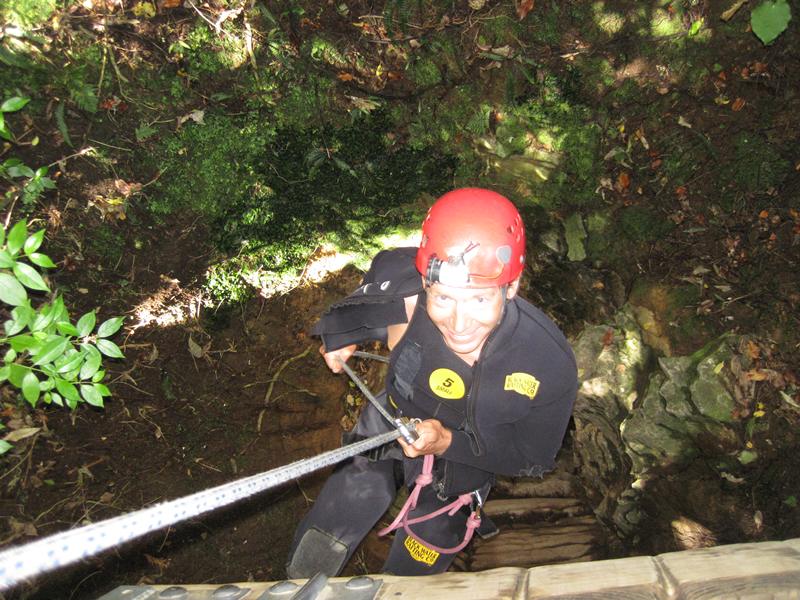 Whilst waiting for the others the three of us lay on our backs in the dark watching the glow worms that magically appear as soon as your eyes adjust after switching off your helmet lights.
The glow of the worms and black roof resembles a beautiful night sky full of twinkling stars. In reality a damp cave roof full of maggots with glowing poo: we all hoped nothing would fall off into our faces while we were gazing upwards. (The light attracts flying insects which then get stuck on the worms' web-like lines.)
A walk through to the flying fox zip-line which was done in the pitch dark. What a great feeling, whizzing through the air, completely unable to see anything. Unclipping involved a chin-lift and Murray quickly spotted that all the blokes could do this, but all the girls needed to be bounced off. By now it was snack time and we sat on the edge of the river and munched Anzac cake and hot chocolate (or a GF plum).
This was followed by a leap off the ledge, a float and then a staggering 'drunken walk' (sometimes short swim) through the cave system. The acoustics in the cave are incredible, but unfortunately none of our group could sing so Cam, one of the guides obliged. One lucky group a few years ago had Rod Stewart along.
By now we were all more than ready for another snack before the final plunge through. A water slide, some scrambling and a climb up through a waterfall (Caroline's favourite bit) and a scramble out to daylight with a final pose from the three of us.
---