Les Saintes and Antigua

Salamander
Tue 12 Jan 2010 21:09
17.00.311n 61.45.645w
Anchored in the Les Saintes in Baie du Marigot in Terre de Haute - absolutely gorgeous.
The "town" reminded Caroline of Noddy's Toyland, all little white picket fences and little wooden houses - really picturesque. Most of the time we were the only boat and could watch the frighteningly efficient pelicans fishing. We snorkelled, ate and drank wine and that was about all we did - a lovely few days.
Iguanas are protected here and you see a field of goats, chickens and cows, with iguanas (who ignore the fences) munching grass next to them.
Sailed up Guadeloupe towards Antigua, stopping for a night to dive the Jaques Cousteau marine reserve. Watching the turtles from the boat before chicken and chips at the beachside restaurant (we weren't offered a menu, just asked if we wanted to eat).
Sailed to Antigua with less than a day's sailing, but about seven sail changes. So tiring compared to the Atlantic where we changed sails twice in two weeks!
Now sitting in English Harbour, beautifully restored and the only working Georgian dockyard in the world. The ships have changed, but Nelson's Harbour looks the same - you can imagine a fleet of English warships anchored here. Snorkelling, eating and drinking again - saw our first sea snake of the trip.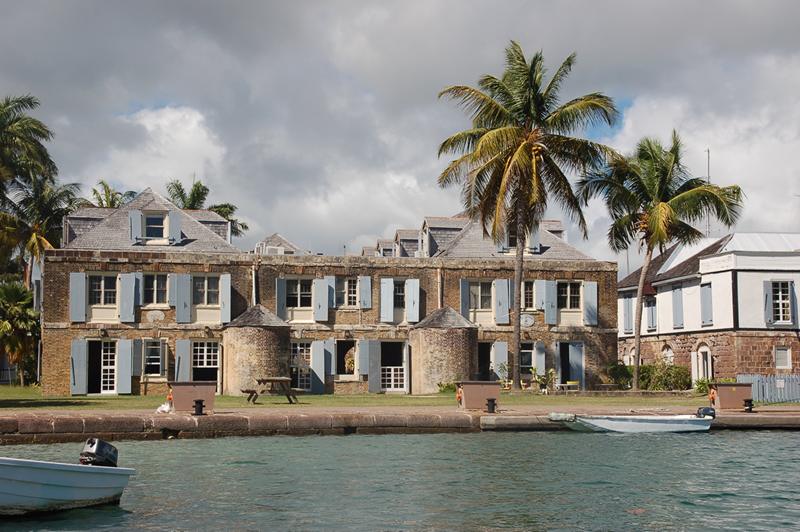 ---