Curacao so far

Salamander
Sun 28 Jan 2018 01:40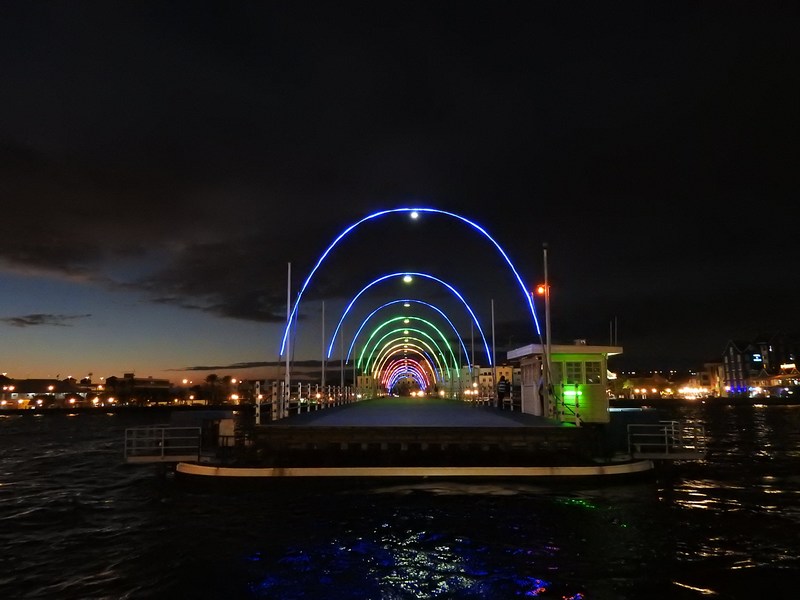 Much easier to look at the bridge from a bar whilst drinking cocktails and listening to a live salsa band.
The Queen Emma bridge sits on 16 boats and in previous times you crossed for free if barefoot, paid if shod; now everyone crosses for free. Locals call her the 'swinging old lady'. The floating market normally has the most amazing array of fruit and vegetables delivered daily from Venezuela. The market traders sleep in hammocks over their stalls. There are temporarily some food shortages (in particular bananas) so some restaurants are not offering a few menu items, since Venezuela has closed its borders to the ABC islands as well as Columbia.
At school they all learn 4 languages; Papiamentu, Dutch, English and Spanish. The speed at which a local can switch language is truly astonishing. They do practice Voodoo here (quietly) with introductions to the Shaman carefully made.
As well as a bridge with it's own driver that detaches from land another first for Salamander crew was tasting lionfish, which Murray thought OK and Caroline loved. The restaurant was on a little cliff and the clientele lined up to jump off the cliff, but it was neither compulsory or to avoid paying the bill.

Anyway, we have climbed the mountain, repaired the boat some more and provisioned the boat.
So, after a year of trying to source fuel filters in the Caribbean we've ordered them from the UK, so we may be here some time. We wonder how many cruisers in the Caribbean at any one time are waiting for a boat part order. Anyway, we are off to anchor in Spanish Water for a week.
If anyone is thinking of coming to Curacao Marine (lovely staff), then the Bridge Control is on ch12 and 10 minutes notice is about right. Wait outside the entrance to Willemstad as its very lumpy between the old walls. On the way to the marina minor hazard is two unlit pink buoys on the starboard side of the channel, we didn't see them at all in the dark. On the approach to the marina a shallow area is marked by small white vertical buoys with red stripes, again these need to be left to starboard and they are unlit and hard to see at night. We stayed in the deep water channel and this made the way in at night relatively straightforward.
---