Zion National Park - Angels Landing

Salamander
Thu 6 Jul 2017 16:54
An iconic walk recommended by the English Utah resident Caroline sat next to on the flight from Manchester to Vegas. The shuttle bus queues are pretty long, but the scenic highway is closed to private vehicles in summer.
The descriptive from our National Parks Guide is "one of the most memorable hikes in the entire National Park system is the 5.4 mile round trip adventure to Angels Landing". Calling it an adventure sells it short. The last 0.5 mile is a hair raising experience that takes you along a knife edge ridgeline with 1000' drops on either side.
Walters wiggles are a series of 21 switchbacks up a near vertical cliff. There are then a series of chains along very narrow paths with plenty of drops. Many decide not to go ahead and one boy was crying his eyes out at the thought of the final 0.5 mile. One young man offered Caroline assistance if she needed it (ha ha), an offer she promptly returned as he slipped. The only really hairy part was when a teenage girl lost her balance as she slipped towards Caroline on a really narrow part. Tiny chipmunks buzz about your feet on this most enjoyable walk. The extreme temperature (107F) led to a very welcome trip to the river. 6 hatfuls of water finally cooled the head while feet out of boots cooled in the river – truly lovely after a strenuous walk. As usual walk time estimates were out by at least an hour. We undid all this good work by eating a typical American meal of fries with ketchup and a large soda.
So far only 5 people have died doing this walk out of 24 falling deaths in the park (excludes deaths due to suspicious circumstances!)
This is the start of the walk, the white dots are people on Walter's Wiggles.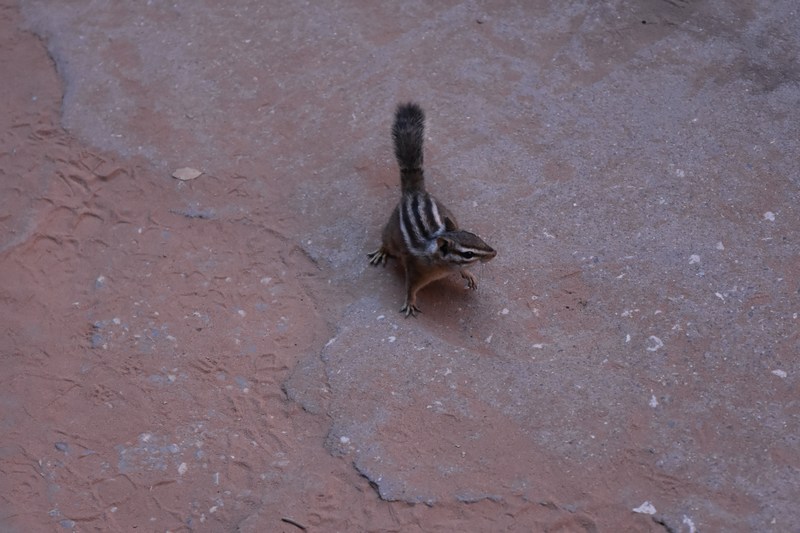 Beware the tiny chipmunks running across the path.
Murray before the narrow path with chains
This is the sight that makes many people opt out.
This really is the last 0.5 mile of the path we walked up
Us at the top and end of Angels Landing, there really is nothing behind us.
---