Road trip in Mexico

Salamander
Tue 8 May 2018 10:29
We booked the car hire with Europcar but they wouldn't accept our insurance, adding $33US per day to the cost. Car inspection was OK, the fuel wasn't full but agreed to bring back at the same level. Off we set only to be stopped by a policeman claiming we were speeding. To cut a long story very short Murray handed him his license and he demanded $1500mx for it to be returned – horrendous and shocking. The police, (as we found out later) are corrupt and you feel there is no-one you can turn to.
The restaurant scam was to add a drink onto the bill and insist you had it. You give up trying to get them to remove it because it is not worth ruining a day and arguing for over hours over £2 (you just don't leave a tip). Both scams were well practised but the police was much more expensive.Of course in this 3 hour journey we saw about 50 heavily armed men, various police and soldiers, especially around a light aircraft that had landed on the road. No Caroline felt we had no idea of how safe r otherwise we were as she had heard rumours of the military and police corruption extending to kidnappings. Murray was a little calmer over the journey's risks. Still, we made it safely to Chichen Itza.
This massive snake lines the walls of the ball court, which bears a remarkable similarity to a Quidditch field. The difference is the ball has to be knocked through the hoop by only using your hip. Oh, and the winning captain would be sacrificed!
Temples adorned with figures abounded and funny statues adorned the walls.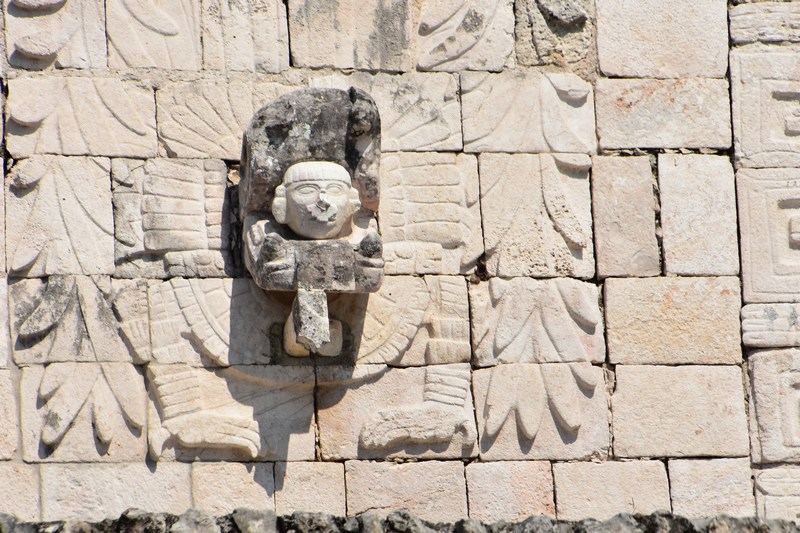 ---