St Columba and Glencolmcille

Zoonie
Thu 4 Aug 2022 07:16
St Columba
You will have heard me mention St Columba, one of the three patron saints of Ireland along with St Brigid and St Patrick and of course there has been much written about him through the ages. We found him and his story on a last day out from Killybegs and again in Rathmullen, Derry and finally in Iona; so with him being such an important person in Christianity I wanted to dedicate a blog to our encounter with his life and works.
First then we visited Glencolmcille via the bus and a very friendly driver who chatted with us, the only passengers, all the way past the land side of Slieve League, cloud drifting down from the summits in the cold wind and turf cut into bricks and propped up in stooks drying, if that is possible in this damp atmosphere, and down the Glen of Columba to the sea, which was high and mighty at the time.
Just like the name 'Shakespeare' Glencolmcille can be spelled many different ways with only the first four letters staying the same. Even then an 'a' after the 'e' and an extra 'n' are appropriate to the Gaelic version Gleann Cholm Cille or Kille. The 'Colm Cille' part refers to St Columba, who spent five years living in this glen at the start of his ministry building numerous churches and practising his style and skills.
We were there for a different reason, to visit the 'village', the work of another Christian, Father James Mc Dyer, who was shocked and saddened by the loss to Ireland and its small communities of the multi talented Irish people themselves, driven to emigration in vast numbers through famine and poverty. He chose Glencolmcille to rebuild this community way of life, using locals and teams of youngsters and students from outside to create a village that would tell the story of Ireland through history and bring jobs and eventually global fame to a downtrodden area, but one with an immense history of its own.
Now a popular tourist and educational attraction thanks to Father Mc Dyer, the village is in a glen that is visited by thousands of Christian pilgrims each year, following the path of St Columba's life too. So good to hear of a catholic man giving immense service to fellow human kind.

Young Patrick showed us around the buildings, pointing out various artefacts of relevance to the residents. Different houses were furnished with the items from their century and I was a little curious and awakened to the familiar items from my youth in the 1950's, formica table, willow pattern crockery and early gas oven. In the shop with the bar on the left I was reminded of the American drug store idea where household items and foodstuffs were sold in one area  while men sat on bar stools passing the time of day over a drink in another. I recognised the slates in the school for children to practice their letters, writing in chalk, just as my brother Robin and I did at our private primary school in Worthing in the 50's.
Rathmullan and St Columba

Moving on to when we were in Rathmullan half way up Lough Swilly, the town at the head of the lough is Letterkenny and just south of there is Gartan where St Columba was born in 521AD and St Columb's Church in Rathmullan itself may well be built over the remains of one of his creations. Sadly, it was firmly locked against our enquiries when we visited.
Derry and St Columba

Of course, Derry effuses Columba, remember St Augustine's, the sweet little church beside the wall built over the ruins of Columba's church he built facing in a unique direction because he did not want to fell any of the oak trees on the hill given to him for this purpose.
So then Columba left Ireland, or maybe more appropriately, fled Ireland after word has it he was accused of a kind of ancient plagiarism, copying some sacred writings, St Finnian's book of psalms, for his own use in Christianity which led to an actual Battle of Cooldrevny in 561 in which 3000 men lost their lives.
He and his men, aboard their little hide coracle went first to Southend on the tip of Kintyre but because he could still see Ireland they sailed further, as we had and on 12th May 563AD, they landed on a sandy beach on the south shore of Iona. Which brings us up to date.
The photos are from our visit to Glencolmcille.
---
This email has been checked for viruses by Avast antivirus software.
www.avast.com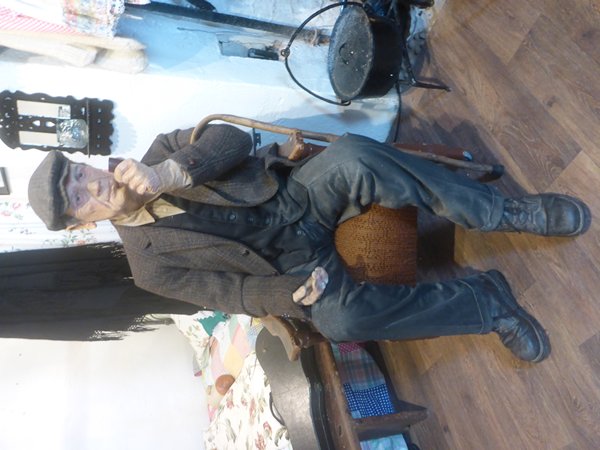 ---