Silently Rests the Silver Snake

Zoonie
Wed 20 Feb 2019 05:43
Silently Rests the Silver Snake
Of the Country
There was hardly a sound outside as I left the Parkland Station lounge full with bubbly and orange juice sipping adventurers for the sweltering, sun filled platforms. Our train was so long, at one kilometre, it took up two platforms; 39 carriages included the engine, two power wagons, a motorail wagon with four cars, crew quarters, dining carriages, lounge carriages and our 27 guest compartment carriages. At really busy times the Snake extends to 31 guest carriages.
For fear of being questioned about my limp and so my fitness for the trip I had taken two paracetamol to deaden the pain. I needn't have worried, folk with sticks and in wheelchairs were easily accommodated. Beside we'd checked in so there was no going back now!
A team of lady window cleaners was busy, one sponging, another squeegeeing and the third mopping up droplets and checking for perfection. I could just see the end of the train, a fuel tanker with its umbilical cord extending to the far platform. "How much fuel are you loading?" I asked one of the overall clad guys.
"2800 litres in 3 fuel tanks, that's 8400ltrs which would get us almost all the way to Darwin but just to be sure we re-fuel in Alice Springs and she uses more the hotter it is."
A few more travellers had ventured onto the spotless platform to take photos in front of the evocative cameleer logo. We took it in turns to 'shoot' eachother.
Back in the lounge the airport style check in was nearly complete, trolleys of empty champagne bottles clinked their way to the re-cycle truck, the last drops of drink were swallowed and with relaxed organisation we made our way to our allotted carriages, our luggage already installed into our cool cabins.
At ten past midday as the sun started its descent we moved slowly forward, reversed to pick up our other carriages and started out on our 2979km journey northwards.
Soon we learned that because of the extreme temperature of 45' the Simpson Gap walk through the West MacDonnell ranges had been cancelled but such was our level of anticipation any disappointment we might have felt was immediately replaced with wondering what we would do instead.
Suburbs and wheat fields dotted with the wind turbines of Snowtown Wind Farms were soon replaced with the pretty coastal beaches and resorts of Port Pirie, Port Germier and Mambra Creek along the shore of Spencer Gulf. A little further on at the head of the Spencer Gulf is Port Augusta, gateway to the 430 km long Flinders Ranges now looming purple with growing dark shadows as the sun moved over them.
Pink dust roads disappeared over the hills and horizon to who knows where. Vast harvested fields with a few sheep and cattle cleaning up the residue of the crop munched away oblivious to the red dust twisters that rose like smoke plumes around them. Prickly spinifex dotted the red earth and two grey kangaroos looked in astonishment at our silver shiny snake moving slowly past.
We were allotted 1.30pm for our lunch slot and joined our fellow travellers in the lounge just before venturing into the lovely art deco Queen Adelaide Restaurant. Being shown to our table of four with two complete strangers 7 times on the journey was an excellent way to be reminded just how interesting other folk can be. We dined twice with a couple from the East End and in conversation discovered that they met at the age of 15 on an educational cruise on the B I Line Nevasa around the Baltic the same year that my fellow pupils and I enjoyed a Christmas trip on her around the Med and Holy Land.
Another couple run a website that organises walks from a variety of starting points along the Pilgrim road, Camino Real to Santiago da Compostella in north-west Spain. An American married to a Japanese lady had like us chartered yachts from Sunsail and over the years owned a variety of their own sailing yachts.
After a tasty meal of mushroom, spinach and ricotta roule with artisan pumpkin sourdough bread, lavender and honey cheesecake and ice cream, washed down with our favourite wines and a good chat we were ready to just relax in our cabin with our complimentary brandies and watch the beautiful scenery pass by. I think I exceeded my weekly recommended amount in around 3 hours!
We found channel 5 on the radio broadcasted interviews with interesting people. A woman who as a child wanted to be a nurse with the flying doctors and after years of marriage and raising her children found her family supported her all the way to fulfil her dream. Another story about the 1974 Darwin Cyclone, I remember that, and Barramundi fishing off the Gold Coast. Our door was locked, our feet up, Rob asleep, it was just me, the train, the stories and the outback.
Trees like puffs of green on sticks sitting in the beautiful warm ochre earth. The occasional olive grove and in the far distance mysterious arid mesas, table topped eroded volcanoes, the Adelaide River and arable hills now far behind us.
Our little cabin was comfortable and functional. Rob opted for the top bunk which gave me a view through the window from mine. The little ensuite was Zoonie sized and the privacy of our solitude was remarkable considering we were with 250 other outback onlookers, train trekkers in our shiny tube.
Droughts that can last for a decade have always been a problem for the farmers here and ruined houses stood testament to failed farming enterprises. Piles of sawn tree trunks, rusty vehicles and discarded tyres, lengths of railway track awaiting use and a pipeline lay alongside the track in the red soil. An eagle circled.
As my eyes darted from side to side I was reminded of the concept of time we feel when we start a voyage on Zoonie. Whatever we are doing, however we pepper our day with events and tasks Zoonie sails on 24/7 along her linear path carrying us onwards in our chosen direction. And so does this redheaded silver backed desert snake, the Ghan, from very slow with the odd stop to an average of 85kmph up to 115kmph and ever onwards but 24/7 no matter what we were doing.
Bookaloo, Winappa and Woomera we left behind and at Tarcoola turned right, away from the westwards route that heads to Perth and started northwards through Manguri Siding that connects Cooper Pedy, one of the richest opal mines in the world, with the outside world. Aborigines were amused by how the miners did and still do live underground to escape the heat. The aborigine term for this unusual habit sounds like 'cooper pedy' so the name stuck.
Known as the last true Australian explorer Len Beadell was responsible for opening up the last frontiers of central Australia and establishing a network of outback roads and the site of the Woomera Rocket Range between 1947 and 1963 but we passed by the latter during the hours of darkness. Just a short walk from where I lived on The Isle of Wight and facing west from the Needles chalky outcrop is the Black Prince (I think that was its name, it's a while since I visited) rocket engine testing site. From there the rockets were transported to Woomera for launching.
Supper seemed to happen very quickly after lunch, spinach gnocchi with rocket, pear, walnut and parmesan salad followed by the new flavour of wattleseed rocher ice cream, impossible to describe but very pleasant.
Then after a drink with some new friends we returned to our cabin as the last of the daylight evaporated outside, to find the bunks ready for us and made up with soft white linen.
The train was making a rhythmic sideways wobble which was very conducive to sleep so I obliged for a while and awoke as we came to a stop at around 3.45. It seems even the train needed a break and there we rested awaiting the sunrise and our first stepping off point.
Sent: Sunday, February 17, 2019 3:16 PM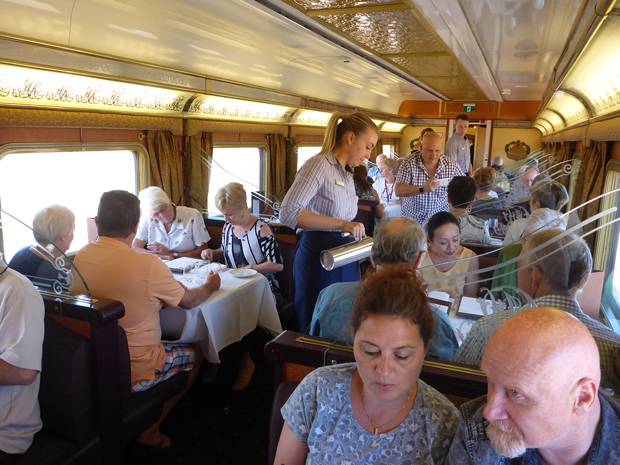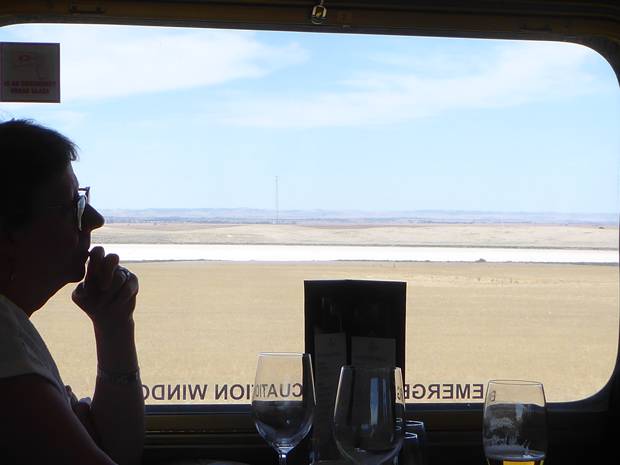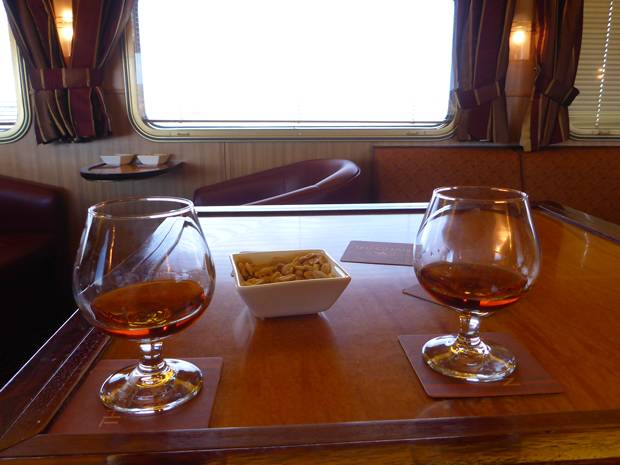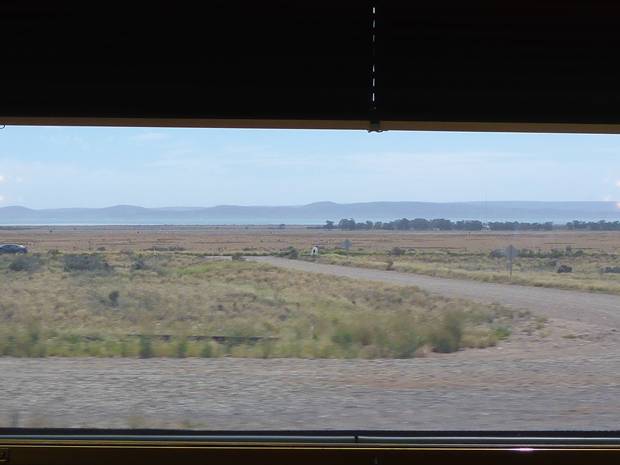 ---