A Day with Leandro on Faial 1

Zoonie
Sun 30 May 2021 12:29
On the eve of our much anticipated day around the island the replica whaling boats typical of the Azores were out racing each other in a brisk wind. Many years ago when I was on the Stavvy in Horta the local Sea Scouts, who made up much of the watch crew on that particular voyage, were invited to compete against the other watches in rowing races on these same boats and it was both a privilege and lots of fun to be the cox in one of the boats, steering our craft to a small victory. At the end of the voyage my watch gave me a beautiful wooden model of one such boat complete with sails, oars and harpoon and I treasure it to this day.
The day of our excursion dawned amidst magnificent calm blue, one of the best days yet, and we met with Leandro just before 9.00am. The other couple coming by ferry from Pico for the tour had cancelled so once again it was just Rob and me on the trip.
On the map, Horta is on the bottom right of the island and we were driving in an anti-clockwise direction for the day; except for the very first part that took us to Mt Guia to view the beautiful double caldera, which is now out of bounds to humans for the sanctity of the wildlife there.
Then northwards we climbed up the Ponta da Espalamaca to the viewpoint beside one of the many windmills on the island, mostly now abandoned. We looked northwards to the beach at Almoxarife, our next stop where a lady golden Labrador was having a wonderful swim with her two male companions.
On the 9th July 1998 there was a severe earthquake on this corner of the island which ruined the church and lighthouse at Ribeirinha. The Azores islands owe their existence to the seismic activity in this area of the Atlantic where three major fault lines; the Mid Atlantic (up which we sailed more closely than we realised before now!), the Eurasian and the one that has slipped my memory at the moment, change the geography of the sea-bed on a regular basis.
With tell tale signs of the way of life of the four keepers and their families in the form of four concrete loos and four concrete clothes washing basins it was easy to imagine their lives in this exposed spot. The building were going to be demolished once but now there are plans to restore the site in the interests of history and heritage. I wonder if they will preserve the elegant stone spiral staircase you can just see in one of the photos.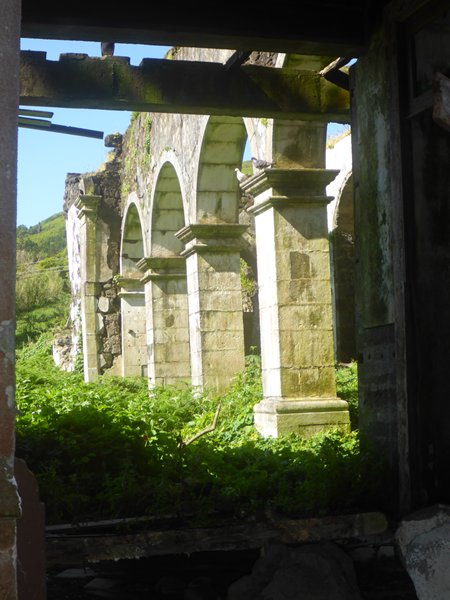 ---