Machu Picchu on a foggy day

Zoonie
Fri 20 May 2016 10:24
The first three pictures were taken at the Sun Gate at 7.30am when the sun rises to shine through the gap you can see behind Rob, but we were shrouded in low cloud and so munched our breakfast cheese sandwich watching these little birds feeding on our crumb instead.
665 is what's left of the royal rooms. Sanitary arrangements made use of human waste on the agricultural terraces as fertiliser with only water closets being used in the palace. The Incas were great at genetic engineering of crops, making maize (for example) bigger, juicier, sweeter and sending the resulting seedlings to the jungle where they could be grown as crops and sent back to the palaces to grace the tables.
675 is a viscacha, a cousin of the chinchilla, that was cunningly in the place where Roger expected it to be in the eaves of one of the royal buildings and 678 shows part of the royal garden that was full with plants, herbs and trees all having medicinal as well as aesthetic qualities.
683, the three windows temple became the Andean Cross when the shadow created by the afternoon sun shining through them rested on the foreground. The cross is a square with the corners nibbled away to reveal three points. Remember I mentioned they liked their tri part deities, Sun Moon and Earth,etc.
The subsiding Inca wall is the result of archaeologist Hiram Bingham excavating for relics underneath it! 687 is a sundial and llama sacrifice altar. At the autumn equinox, as the days grew shorter, they wanted to guarantee the longer days would eventually return so an animal sacrifice was made.
689 is a clever use of the stained existing rock to represent the upturned wings of a condor, its head and beak are in the pointed rock facing the camera in the foreground. Condors flew the souls of the dead to the Sun God.
I apologise for the lack of spectacular views but the sun did not shine until we were leaving.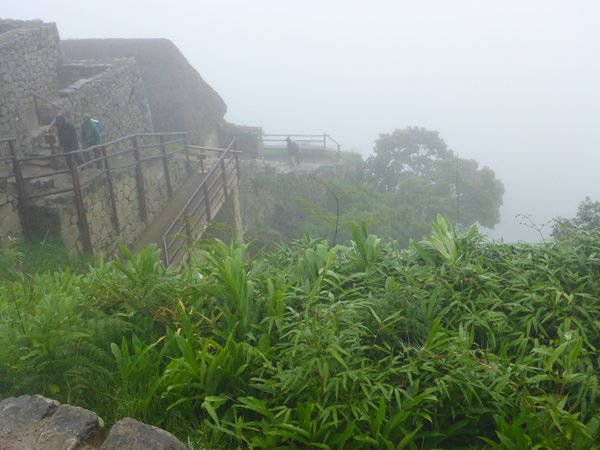 ---