NZ Leaving New Zealand

Zoonie
Sat 5 May 2018 04:36
To Tauranga in 'Tui'
The Little Car that Can
It took only one hour to exchange the lovely Lakes of Rotorua for the long sandy beach of The Bay of Plenty and in particular the Palm Springs area.
Our friends Andrea and Mark left on their five day excursion the next day and Rob took to his bed feeling drained. So we had a blissfully relaxing day, me working on blogs, Luca doing his best to distract me and Rob letting Mother Nature nurse him back together while he slept.
"Luca how can I type if you walk across the keyboard!" "Miaow" and later "Please stop chewing the (top left corner of the) computer Luca its still 20 minutes to your breakfast time!" "Miaow".
The Beach Bunch
We were enjoying a walk along the beach in perfect warm weather when we came across a man standing by his beach buggy parked on the sand facing away from the ocean with a metal reel secured to the flat bed of his buggy. The sunlight caught the green line that disappeared down the beach from the reel into the waves. He was effectively long line fishing from the beach. We got chatting and I asked him how he got the tackle out to sea. "With a torpedo," he replied. The battery powered torpedo will take the line nearly a kilometre offshore and hold it there while an unwary snapper would come along and take a bite.
While we were chatting a pickup truck came down the beach and dumped the filleted skeletons of more snapper for the gulls to pick over, not that there was much left on them. It all seemed rather sad and knowing that ¾ of NZ's native species of fish are now endangered I wondered how much longer the snapper species would survive.
'Our guy' had spent his summer holidays with his parents in a bach nearby, leaving behind their Hamilton home for a few weeks each year, long before there were any houses on the other side of the track behind the beach. When he grew up he bought what used to be the doctor's house and was just enjoying a freedom he had practised all his life. Old habits die hard.
Ahead in the distance was a little raised headland beyond the development we were staying in, that sparked our curiosity and beside it the Maketu estuary. It was a little too far away to walk to, or further than we felt inclined to walk to anyway so we decided to explore the area the next day.
A few bachs of various incomes from luxury to converted containers bordered the road up the headland but then they stopped and were replaced by a mixture of fields and woodland. A rough track continued to the right and we were advised on a sign that if we wanted access to the beach we must put $5 in the honesty box. So we did but of course with no receipt could not prove we had. I was only a little worried by this fact but I did mention it to a local resident on the beach. We chatted while watching two seals languishing in the water just off the beach. He explained that the Arawa Headland was owned by a Maori lady and he helped her by doing regular checks and keeping the loo clean.
We met such nice people on beaches.
By dint of 'Messenger' on Rob's phone we made contact with our young friend Richard who is the youngest son of Rob's friend of many years, Paul, back in Oakham. Richard and his lady, Mia, met while travelling and coincidentally Mia is from Leicester, not twenty miles from where he grew up, small world. They were both working briefly in Auckland and successfully finding a time when we could meet before we moved in geographically opposite directions was quite a feat but we did on the Sunday before we left the area two days later.
They were sitting in the sun outside the i-Site in Thames and we lunched at an archetypal NZ Hotel, you know the sort by now, before strolling a short distance down the path alongside the wide, silty estuary. Cook found the estuary shallow and anchored Endeavour in the centre of the Firth in 6 fathoms or 12 metres, 9 miles from the town he named Thames. He also named the river he found at the head of the firth with Dr Solander, Mr Banks and Tupia 'The Thames' as the flood tide was as strong as on the London Thames and the vista similar, however now the Maori name 'Waihou River' rightly prevails and Cook would have approved of that.
We said our farewells, got into our respective borrowed cars and sped back to feed Luca and start to gather together our few things including a bone dry tent, wondering when we would use it again.
In the evening of the next day we shared our stories with Mark and Andrea over supper and the next morning I relaxed in the last bath I would have for a while.
Our goodbyes said and a promise to let Andrea and Mark know when we planned to leave, Tui turned northwards and we noticed the first hints of autumn colours more defined than when we had arrived. The Karangahake Gorge went down on my revisit list as somewhere to hire bikes and soak up the rugged beauty while exercising at some later date. Down once again onto the Hauraki Plains across the bottom of the Firth of Thames, big Jersey and mixed herds in a clearly prosperous farming area of cleared, drained land, dykes and canals.
Then we turned onto the SH1 and travelling a now familiar route returned to Zoonie.
On the Leaving of New Zealand
Preparations are now well underway for Zoonie to leave this welcoming country after 18 months. Intermingled with form filling have been lots more lovely time with friends, some of whom will sail out with us and some who will remain either because they are resident or because the boat work is not yet complete.
A couple of days ago we celebrated Rob's 60th Birthday. While we were away Naylene prepared an invitation and pinned it up in the marina office inviting along all cruisers, so we had no idea how many to expect. On the morning walking around the area various folk had said to us they would be coming. We had guessed on about 30 and as it turned out 27 came.
Rob spent the morning making delicious desserts including lemon cheesecake, fresh fruit pavlova and fruit salad and its just as well we tasted them at the preparation stage because they went like a flash on the evening and I was left with just the crumbs! Sweet toothed bunch us cruisers. So what did I do in the way of preparation you might well ask? I made the green and potato salads, sliced the French Sticks and motivated the birthday boy.
Rob gave one of his from the heart speeches thanking everyone for all their support and friendship and Sharron (Marina Manager) by way of a birthday gift made the two of us and Zoonie honorary founder members of the Black Ball Yacht Club which was a kind and unexpected touch.
In case you are interested in putting faces to our friends' names I will list them from the photo after the cake. The first picture is obvious and in the next one Rob is talking to Judy with the white hair who is married to Steve from Code Blue and they are American. Also the couple in that pic are Sarah and Phil from Serenity of Swanwick on the Hamble in Hampshire who left the UK at the same time as us but will continue via Indonesia. From left to right in the next pic are Sabine and blue eyed Hannes, our Austrian friends from Cayenne and Eric from Scoots and he has just returned from the USA after the same operation as Rob had. The two handsome, mature guys in the next pic left to right are Tony, (Gail's husband both from the USA) and much mentioned Merv from here in Whangarei.
Next along are Jaap and Renee our Netherland friends from De Ware Jacob, they have just returned to their re-decked yacht from Rotterdam where Renee underwent brain surgery and is recovering well. The next photo is self-explanatory and then there is Robyn from Mintaka and me. After that Laurie and Chuck are a couple and Ian and his wife (not present) own an Oyster named Oyster Reach and are planning a similar route to us. Gail is with Rob in the next pic then Jeannie (Merv's Queen Bee) and Rob and the remaining pics subjects I have already mentioned.
On Monday we will send our Inward Document (6 pages) to Fiji with an intended departure date of 15th May and arrival date 10 days later, its 1043 miles to Suva. So we'll see how that pans out eh!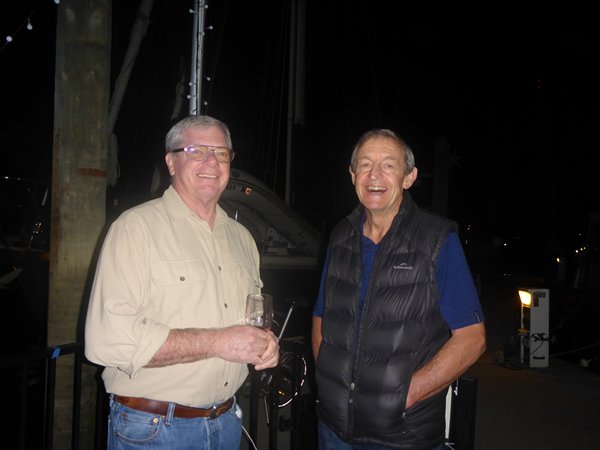 ---