Donegal Bay

Zoonie
Mon 4 Jul 2022 13:03
Donegal Bay
Briefly in Broad Haven
In fact, for just one night. We had set off from Inishbofin with 57 miles to go to Ballyglass in Broad Haven, around the next two headlands of Achill and Erris and in to Donegal Bay, before the final promontories of Rossan Point and Bloody Foreland would lead us toward our setting off point to Scotland.
The short weather windows are partially compensated by the lovely long periods of daylight hours, seventeen to eighteen, so 60 miles or so is doable in daylight.
We had dolphins around all day and fulmars, guillemots and a few puffin made up our feathered fauna. They make such enjoyable, gentle company it is impossible to feel alone at sea on days like that.
On top of that we had a good tide with us and as we turned into the aptly named Broad Haven both common and bottlenosed dolphins laid on the welcoming committee.
What a beautiful, wide bay with miles of green, gently sloping land rising to dramatic mountains and a long sandy strand on the left. This must be a fine place to live if you like the wild, remote outdoor way of life.
We had hoped to stay for a day and I was looking forward to a sortie ashore, to see what we would find, but the weather forecast the next morning had us up and off in thirty minutes, with a promise of high winds 'later' ie tomorrow which would delay us for two days at least. It was one of the many places in the world where we would have liked to stay longer; arguably that is the best time to leave a place, reinforcing one's positive view of the place, literally and psychologically.
Once more we were under full rig and engine top up in a good and rising wind. The morning was cool and grey but in the afternoon the rain crept up behind us. Zoonie should have been creaming along at six knots but was making barely five with Rupert's help.
Killybegs are the brilliantly weatherproof beehive huts favoured by the early Irish people and clergy.
I hoped the visibility would be good, despite the rain, for our entry into Killybegs and we were fortunate that it cleared on our final approach. We had sussed that another yacht, which had overtaken us, was sailing in company with the yacht that was behind us and when we arrived in the marina, that has room for just two visiting boats along the pontoon hammerhead, they waved us away so their friends could sit next to them. The other pontoon space was taken. Soon after their friends arrived the other yacht that was already there went out to anchor and their friends moved back to take that pontoon space. The first yacht then proceeded to hang out a ball fender making it quite clear they wanted no-one next to them. So Zoonie backed meekly out of the marina (not) and moored at the end of the substantial and uncrowded fishing jetty, with the friendly fishermen for company.
Remember I mentioned Grace O'Malley, contemporary of Queen Elizabeth I and the powerful matriarch of these waters. Well, her dad, Eoghan Dubhdara O'Malley made a fatal mistake when he sailed three warships to Killybegs and sacked the town, taking many prisoners away with him.
A short while later the warships were sheltering from a storm (sounds familiar)
 but their departure had not gone unnoticed. Brian MacSuibhne and his army of shepherds and farmers at Dunmanoo rescued the prisoners, killed Eoghan and many of his men and came away with two of the three warships. Not a bad day's work and wouldn't it make a great film!
Peaceful pirates from Holland
In 1627, twenty four years after Grace O'Malley died of old age in 1603 the Dutch pirate Claes Compaen with his three pirate ships limped into Donegal Bay laden with Spanish gold. It appears he was seeking a pardon from King James I and saught shelter in Killybeg harbour while awaiting the outcome.
A mutually agreeable arrangement was established with the local authorities since Killybegs had received its charter from the same King in 1615, and local businesses saw an opportunity to prosper, Claes had plenty of funds for payments after all. Repairs to the ships after their long voyage were carried out by competent local boatbuilders, supplies for the ships and local taverns were procured and numerous other services provided during their lucrative stay.
One eye witness said,
"Boats from the pirate ships came ashore looking for food and water, they ('d) had a long voyage. The peace-loving citizens of Killybegs noted with relief they were unarmed except for knives to cut their meat. Innkeepers took stock of their wares and hastily sent off for more."
We have been quoted €450, £387 for a haul out, wash off and return, I wonder what the equivalent in currency would have been back then?
Killybeg's Fishing History in a nutshell, or a lobster pot.
Prior to the nineteenth century fishing was done by line and pot from yawls, punts and half deckers and development of more modern fishing methods was discouraged by the British government because they feared the chance of invasion using bigger fishing vessels.
Whaling in the area in the eighteenth century was short lived because there weren't enough whales to make it viable.
By 1935 seine nets were trialled and called for bigger boats working in pairs and from the 1950's, bigger herring and white fish boats of 50 – 56' were in use. Drift nets reduced the salmon numbers and since the 1970's steel tank fishing vessels have grown to 200 feet long, making this port the biggest fishing base in Ireland.
Rob spoke to one fisherman who crews on the giant ships from September to April reverting to working aboard his tiny, by comparison, mackerel long liner in the summer and he said there were just not the stocks any more that there used to be. Hardly surprising. I wonder how long it would be before it is no longer viable for the big vessels to go out and this source of Killybegs wealth and employment is over. Hopefully the town is big enough to have alternatives, and the fish stocks and food chain will have a chance to recover. You have to admire my optimism.
Tomorrow we are off to Donegal on the 8.15 am number 293 bus to meet Niamh for a guided walkabout and I just hope the forecast of rain is wrong.
---
This email has been checked for viruses by Avast antivirus software.
www.avast.com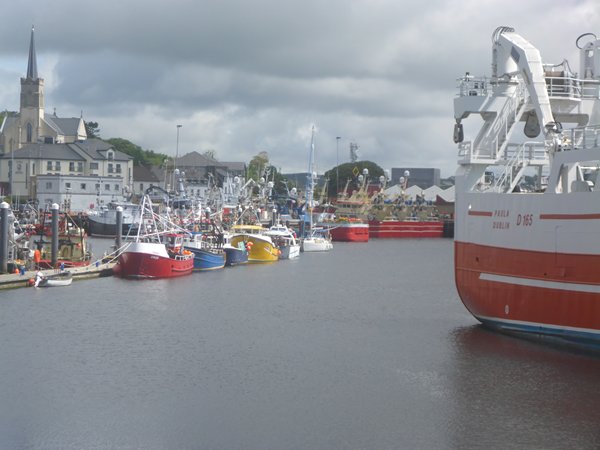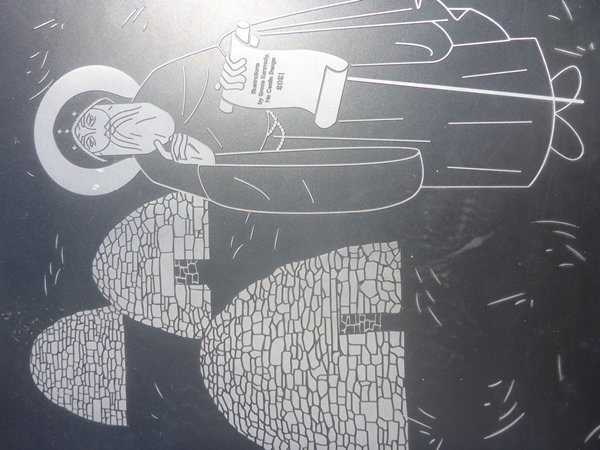 ---