2020 Tas How the Needwonnee Lived

Zoonie
Mon 27 Jan 2020 03:15
The Needwonnee People
A Mystery Tribe
Little has been written about this south west tribe and the available information comes from the elders of three other local tribes. I wonder where they went? They appear to have made a successful getaway from the policy to shunt them all to outlying islands in the Bass Strait, mostly Flinders Island according to Ken. They appear to have lived a content and sustainable existence for tens of thousands of years and we could certainly learn from them in our consumeristic and unsustainable lifestyle.
We used the last of our morning to explore the walk. The photo showing the single long stem with the little mine shaped seed head is the buttongrass which predominates all over this landscape and the little reed canoe reminds me of the polynesian style of bundled reeds that Thor Heyerdahl copied from Egyptian wall paintings with his Ra 1 and Ra 11 sailing vessels he sailed through the Med and across the Atlantic to prove a certain east to west migratory route. I could just see a young aborigine silently paddling over the protected lagoon to find food for the evening meal.
The six naturally rusted plaques with their pressed out images tell the story of Parlevar, the first Aboriginal Man. To make him Moihernee, the Great Spirit, took some earth up to the sky and fashioned a man who had a tail and legs without knee joints, so he could not sit down. Dromerdeener, the Star Spirit, cut off his tail, cured the wound with grease and made knee joints for Parlevar.
Parlevar stayed in the sky for a very long time. Eventually he came to the land by walking along the Milky Way. He argued with Dromerdeener and was forced to leave the sky and come down to land near Louisa Bay. There he fought with many evil spirits who lived on the ground. His wife came down to live in the sea and many of their children came down in the rain.
When Moihernee died he went to the land near Cox Bight. There he turned into a large rock that stands majestically on a point of land near the sea. Another lovely origin story I thought you might like.
In the camp I liked the little ditty bag hanging outside the hut that someone would have used for collecting shells or nuts and fruits and the red hand print on the tree trunk used as way markers. But most of all I liked the fact the walk had been created with the help of the aboriginal people who know about this mysterious clan, unseen and unharmed by white man.
The pathway took us on towards the present camp and for lunch we sat on the boardwalk looking over the lagoon, our feet just above the ancient peat bog and tried to take in the beauty of the place for future reference. Thank goodness for photos.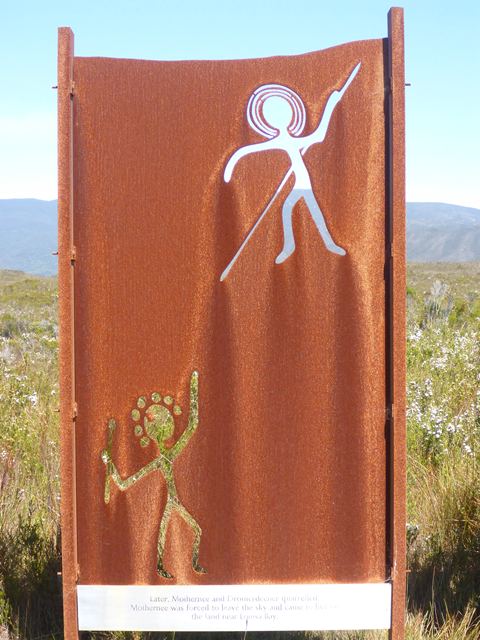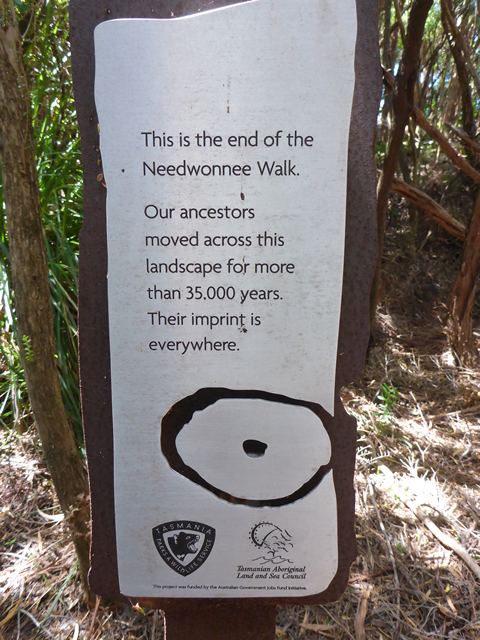 ---