Birthdays Beaches and Bluebells

Zoonie
Sun 28 Apr 2019 07:37
Birthdays, Beaches and Bluebells
You would think that Ruby would have been busting to open her little stack of presents on her eighth birthday but having been told she must wait until daddy had returned from a business trip to Canada and a mystery guest had arrived she was more than happy to spend the morning in the kitchen with mummy, making and playing with SLIME. Pink slime and blue slime and very satisfying it was too. Rolling it up, slapping it down, flattening it out to a thin area like skin that could be thrown into the air and allowed to drop catching a large bubble of air. Sometimes it's the simplest things that give pleasure isn't it.
We spent our few remaining days walking along the lovely beaches and through the fabulous countryside of Dorset. Badbury Rings was on the list and nearby Kingston Lacy where the children embarked on a Chocolate Easter Egg Competition through the bluebell wood on a fine sunny day. Willow twig dragonflies hanging in a tree and we had to count how many there were and we learned the colloquial names for bumblebees-dumbledores, beetles and ants-biddles and emmets and bluebells-greygoles.
Kingston Lacy House started under crown ownership, then in 1603 James the first gave it to his friend Sir Charles Blount whose son sold it to the first of the Bankes family to own it in 1636. The estate has been in the care of the National Trust since 1982 after the death of the last owner Henry John Ralph Bankes. At the time it was the largest bequest the NT had ever received because it came with the rest of the family's estate including 8000 acres of farm, parkland and gardens, 12 farms and the magnificent but sadly ruined Corfe Castle.
William John Bankes was a colourful owner in the nineteenth century sending back riches of art and architecture, including an Egyptian obelisk, from Europe. Multi-talented he was a significant explorer and adventurer in his time but sadly for him spent much of his adult life living in Italy, banished from his homeland and beloved KL upon threat of execution because of his homosexuality.
His mother's sister, Maria Bankes Woodley Riddell was talented as a poet and she was also Robert Burns chief benefactor, a nice link with our visit to his home in Alloway, Ayrshire.
We left our southern family waving at the living room window as Emily drove us to catch our London bound bus early on a Sunday morning. A year seems a long time to wait before we see them again.
It was much warmer than last time for our visit to Isabella Plantation in Richmond Park with Sue. The early flowers were nearly over and some of the trees were getting ready to ping open their leaf buds. It was a nice place to start our three day chat about the past year.
Sue made a delicious pie for supper, mushrooms, chestnuts and stilton cheese in a gravy of stout under a filo pastry crust.
The next day we spent wandering around London; a ride down the river to Tower Bridge and a lengthy wander around St Katherine's Docks. I have included the plaque about the docks for your interest. Looking across the water towards the old warehouses imagine the tea clippers, including the Cutty Sark now happily restored and located over the river at Greenwich, moored alongside off-loading their valuable cargoes of tea after their race against eachother back from Africa and India. Exciting days for a ship named after the lady's Scottish shift or petticoat and another nice link, tying up loose ends with granny knots!
We lunched at The Dickens Inn before checking out Covent Garden. Now when Emily was little we used to come to London once a year or so for a little delve into history, look at the sights and culture and take in a show or concert, she was five when I first took her to Les Mis. At Covent Garden we would marvel at the sword swallowers, fire eaters, the beautiful ladies about to be chopped up while standing in a box and the jugglers and knife throwers etc etc. So what has happened? Health and Safety? A ban on skittles? #Me Too? Instead there were three male performers, all Escapologists!
Inside there was also a talented quartet playing with gusto which never fail to entertain. By the time we got to Trafalgar Square we were killing time for the show in the evening. The area was busy but the traffic was light because of the road blocks caused by the Extinction Rebellion protesters that went on over a period of days and have been highly successful in raising awareness of the need for action from the government down.
One of Nelson's giant lions cradled a little girl like the Lyle's Golden Syrup tin logo of the sleeping lion surrounded by bees 'Out of the strong came forth sweetness.' In the far distance the tower of Big Ben is shrouded and the hands of the clock still. The Great Bell known as Big Ben is silent for the safety of the workers, imagine that sounding right by your ear just as you are about to bed in a dressed block of stone. The restoration work should be completed in 2021 and I can't wait to see and hear the result.
After a snack at Waterstone's coffee shop we wandered up Charing Cross Road to the Phoenix Theatre for a performance of Come from Away, music and lyrics by Irene Sankoff and David Hein; a story about the people involved when 35 planes were grounded at the airport on Newfoundland near Gander for five days after the 9/11 terrorist attacks in New York and Washington. It is based on the real life changing experiences of numerous people performed by fewer than 20 actors who each took on different characters' personas by simply changing a jacket or cap or sitting on a different arrangement of the chairs on the stage.
The chairs could be arranged as if for a meeting, or on a school bus or aeroplane, or in a café. An imaginative use of stage props, powerful energy of the performers from start to finish, there was no interval – how could you interrupt such momentum? The enthusiasm and teamwork of the cast made dropping off to sleep (as I am ashamed to admit I did in The Lion King) an absolute impossibility. My preferred stage performances are based on real life and facts.
The next day our coach crawled from Victoria towards Golders Green because as well as the Extinction Rebellion Protesters, The Bereaved Parents and Anti Knife Crime campaigners had closed Westminster Bridge to protest at the Government's insufficient response to the dramatic rise in knife crime (40,000 between 2017-2018) and killings since 'stop and search' practices were curtailed, and due to police officers resigning. Although those are just two reasons in a complex and growing problem. There are aspects of British society that appear to be out of control so you can see the need for 'people action.'
Back in beautiful rural Rutland with our northern family we were just in time to help Charly, Christine, Richard and Milo celebrate Charly's Birthday with lunch at a thatched 17th century pub, The Blue Ball at Braunston followed by tea at home.
Jonty brought his cocktail making skills and a car full with bottles, glasses, lemons and limes to the lunchtime Easter Saturday BBQ in Charly and Tom's back garden and by the evening, if you can believe this, I was according to Rob starting to slur my words. A little cocktail can pack a punch so times 6 or so, to be honest I lost count.
Little Zoonie, our circa 1962 Heron Dinghy is now safely tucked away in the garage at Richard's workplace and having just squeezed his birthday celebrations into the very end of our trip we are now ready for a Monday flight tomorrow across the world to resume our adventure.
Healthwise Rob's back is much better, my foot is fully recovered as is my hand after treating the keratosis with Efudix. My frozen shoulder is responding to the exercises and I now know to resume them on the other shoulder as soon as the first arm pain starts. Our osteopath, 'Fan' told me that it is a 100% cert my other shoulder will try and freeze at some time, so by starting the exercises at the first signs I can prevent the stiff shoulder part. So it's all good.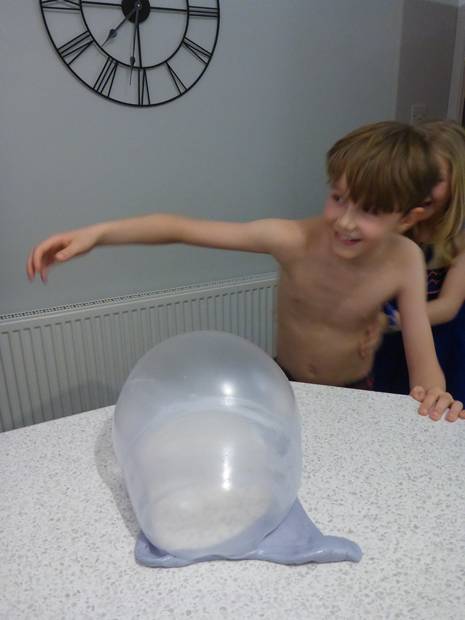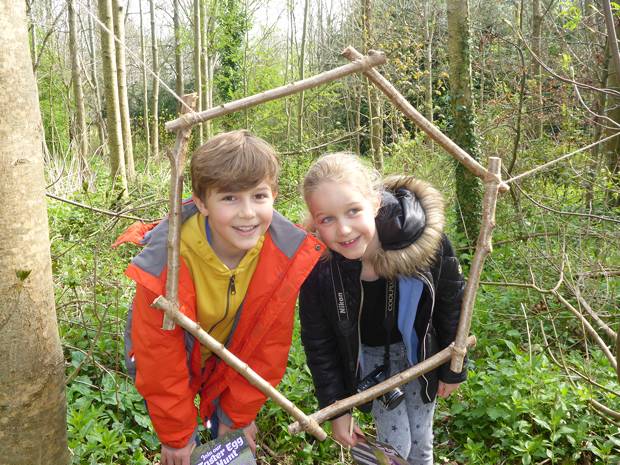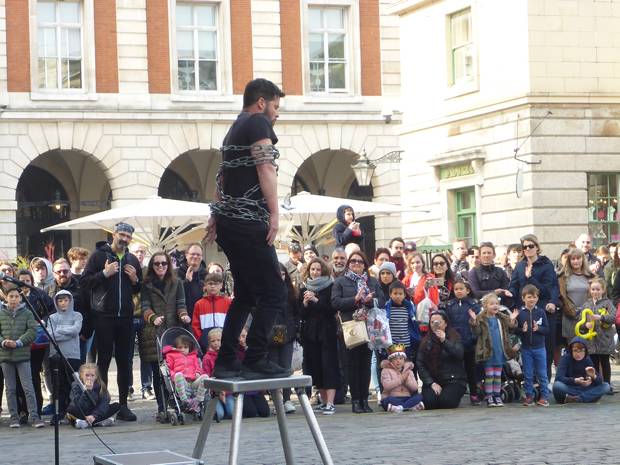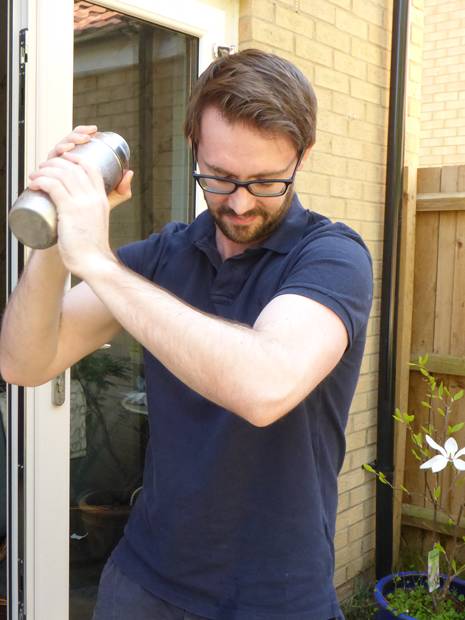 ---