2020 Aus To Snorkel or not to snorkel on the Ningaloo Reef

Zoonie
Wed 29 Jul 2020 08:29
To Snorkel or not to Snorkel on the Ningaloo Reef
22:19.13S 113:48.53E
Lying in bed, our fabric walls buffeting us with a will, we were working out at what time we should get up and speed off to Turquoise Bay on the west coast of North West Cape for our only chance to have a look underwater and onto the reef. There are a few suggested sites where one can drift snorkel with a gentle current to propel one across a bay. The water over the fringe reef is not deep and snorkelling is only safe for the reef and swimmer around High Tide, two hours either side of HW to be more accurate. So we had to be up and away at 7.00am on the 19th as we had a half hour or so to travel to get there.
There are only a few camp sites in the Camp Range NP but the Parks have an odd policy of taking only online bookings and being unhelpful to anyone who just turns up on the off chance. Consequently there was a sign at the entrance of the NP saying all the campsites were full. In a phone call we heard at the Milyering Discovery Centre one ranger reported she had eight no show bookings the night before at just one of the three sites. They appear to be catering for the whimsical people who we know of in all walks of life who like choices and who have no intention of following through on most of them. More stringent booking formalities, a refundable cancellation fee and confirmation might help, or at least the consideration of letting the Park know they are not coming. Another couple in the Centre complained they could not change their booking, only lose the first one and rebook another. The term 'unfit for purpose' comes to mind.
We arrived at the beach to find one other car there and wandered down to the shore to find a couple snorkelling in exactly the spot that was deemed as safe. But the wind was brisk and cool and we were not keen. They came ashore and liked what they had seen and then scurried back along the beach 100 metres for another go.
An information board showed the different fish we were likely to see if we chose to take the plunge, which was becoming less likely as the minutes ticked by. We have been spoiled by Fiji and a few other places on our travels and decided that breakfast in the car with a nice sea view would suit us perfectly.
The brave couple appeared for another dip and I was glad for them, they probably spent a lot of money on their adventure and I hope they felt it was worth it.
We spent a lovely morning poking our noses into different beaches and watching the sea breaking over the reef far out; learning about turtles and hoping that the folk from the buses in the car park were enjoying their time communing with the whale sharks, that had been located by a spotter plane and visited by their sturdy motor boats full with people looking for that rare experience and hopefully not disturbing them too much.
Back in Exmouth's Froth Pub we sat outside with a dark ale as the wind was easing and the temperature rising. Then to the Ningaloo Discovery Centre just across the road from the campsite and that is about all there is to do there. A two night visit is quite enough unless the weather is perfect for snorkelling of course! It appears to be windy there a lot of the time, just cool and windy in the winter and hot and windy in the summer. A beautiful, rugged, exposed place.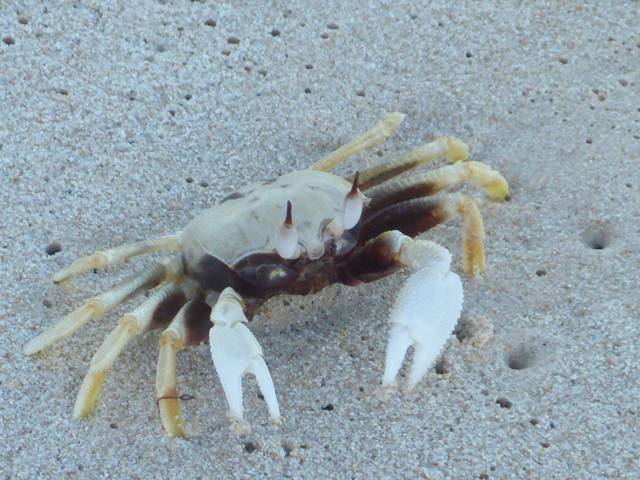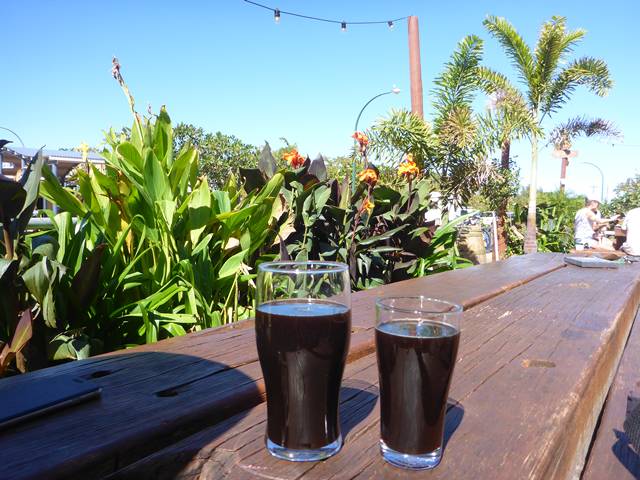 ---