Whats going on around Isle Ornsay

Zoonie
Wed 24 Aug 2022 11:54
What's going on around Isle Ornsay?
Quite a lot really. We were beginning to think that the current cool and changeable weather is probably typical for August, which makes it kind of all right if you get my meaning, whereas the same weather back in the summer failed to reach our and the locals' expectations wherever we have visited. For me my inclination to cruise much further this year is running out, not just because of the weather but mostly because I guess one can have enough, even of a good and desirable thing. Fortunately, our plans are always flexible so the room for disappointment is very small and we can hardly regret any of our destinations and experiences so far this year.
The Outer Hebrides next year, if the weather allows and when we are fresh and back into the cruising life will be perfect. To revisit this fabulous mountainous region with refreshed hearts and minds is something to which we can look forward to through this coming winter, which is destined to be a difficult one for all of us eh?
That being said we set out on another small adventure; 'what's going on aboard the Isle of Skye?' our inquiring minds wondered as we motored in a light chilly wind under a sunny sky into the wide haven with another easily identifiable Stevenson Lighthouse on our left. There were a few boats on buoys and one yellow visitors' buoy was available, so we picked it up and took in another different scene.
A few minutes later we were ashore on the little island of Ornsay, finding our way along an overgrown shoreside path and across a rocky beach towards the lighthouse, standing high and white for all to see. They remind me of the medieval castles of Edward I, for example Harlech Castle in their hay day also painted white to be seen from afar. The keepers' cottage was as comfortable and lived in as the one at Tobermory, such amazing places to rest awhile if not for years. A high wall enclosed a large area that must have once been a very productive garden with a different climate inside away from cold winds. Such busy but isolated lives they led.
I had a friend back in my Open University time who with her husband ran a lighthouse off the east coast of Scotland for many years. Happily, I found her book in my collection when we unpacked into Myrtle Cottage, so that will join the pile of winter reads. What extraordinary minds they were that designed these enduring buildings to stand against the elements an protect mankind long after the Stevensons themselves had passed into history. What a gift to humanity. And how inventive have the engineers been since, to modernise them as technology progresses and make them the perpetual edifices they are today. I am in awe.
From the little jetty where we had moored the exhaling dinghy we motored across to the hamlet at the head of the bay, to Eilean Iarmain Hotel and a few houses and other buildings. One of them facing the water is now an art gallery used by the incredibly talented landscape and wildlife artist Derek Robertson, who is in residence for two months of the year. We admired his originals and prints, colourful and accurate but imaginative and humorous as well, like the highland steer with a bra over its horn, "now where had he been" I wondered, and the otter snoozing on some smooth rocks. Derek told us he "loves" painting and if he cannot paint for more than a few days he gets grumpy. His airy gallery was once 'the shop' selling anything from sheep dip to wedding dresses and everything in between.
We had planned a bus ride across the mountains to Portree, half way up the east coast of Skye, not only to see the place but also the countryside. We knew it was a gamble as to whether the weather would allow us a view on the day, but then life is a bit of a gamble isn't it! Having found out the times all that was left was a reconnoitre of the bus stop, another pleasant walk in pretty surroundings.
All was well when suddenly I appeared to start forward with the feeling that something unexpected was happening. My port side walking boot (circa Oxford 2008) had shed its entire sole, which was now flopping beneath each attempted stride like a dab on the end of a fishing line.
Rob reeled it in and is at this precise moment (11.00am 24th August 2022) re-gluing it with waterproof Araldite. It looks as if he is icing a cake with grey icing. Make do and mend madam me.
Fortunately, it was only the outer sole and the lack of it did not stop us from finding the bus stop and visiting the Hotel bar on our way back.
The next day was spent aboard while the wind howled and the rain poured outside and we looked forward to our bus ride.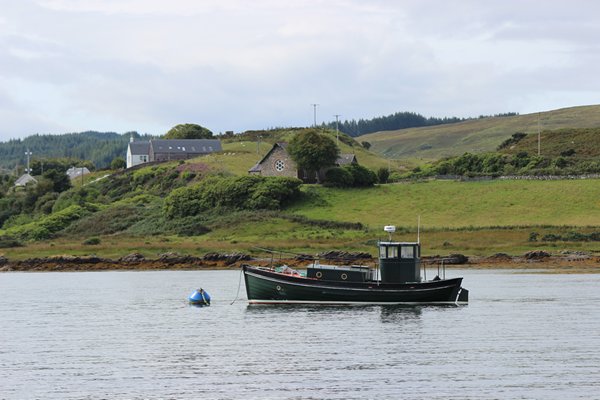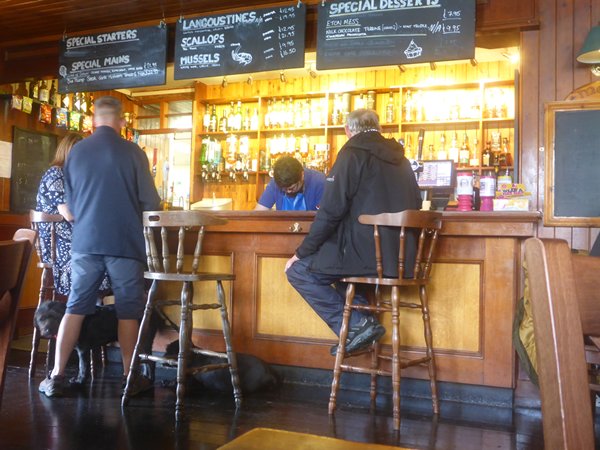 ---