2021 SA CT Bird Eye View from Cape Point

Zoonie
Thu 18 Feb 2021 07:55
An Elevated view of the Stunning Cape Peninsula Coast
The Second of the three Peninsula Blogs
Conflict between the burgeoning Ottoman Empire and Western Europe for control of the lucrative trading routes within Europe to the Orient meant that an alternative maritime route was key to the future prosperity of the west.
That was back in the late fifteenth century and Bart Dias and Vasco de Gama we instrumental in opening up the route that led to the Global Economy we have today.
From the old lighthouse we walked downhill towards the present-day white domed roof lighthouse with its 10 million candle power light we saw on that grey misty morning all of two weeks ago, (second from the left in the picture of the five lighthouses) and looked offshore toward what some think of as the border between the Indian and Atlantic Ocean. The cold northward turning Benguelan current (which should help us) meets the warm south flowing Agulhas Current (our old friend) in this region, hence the perceived meeting place of the two oceans; but for us the Agulhas left us near its namesake Cape so that is where we entered our home ocean.
For over half a millennium these waters have seen the passage of vessels that transformed from the bulbous and chunky sailing craft to the supremely streamlined Tea Clippers like the Cutty Sark to the modern day, over half a million-ton and point 7 of a mile long cargo ships and of course little sailing yachts like ours.
It seemed entirely appropriate, as we looked down on Cape Point Lighthouse, the most powerful one in South Africa, that it was built so close to the rocks below, as a warning to keep clear. The old light on top of the hill would frequently have been lost in the clouds and was set a good mile back from the dangerous rocks below.
The old visitors' cottages are now an atmosphere laboratory, one of the 30 working for the World Meteorological Organisation (WMO) to keep an eye on air quality. Judging by the lichen all over the bush you see in the photo the air quality here looks pretty good.
The next photo is another one of the two capes in the distance; The Cape of Good Hope pointing its toe furthest into the ocean westwards and then its sister Cape Maclear. The weather could not have been better for us, but it is not hard to imagine this area in a storm.
Our morning's labours were rewarded with a delicious lunch overlooking the ocean but I must admit the glass of still water and bottle of beer were the best part!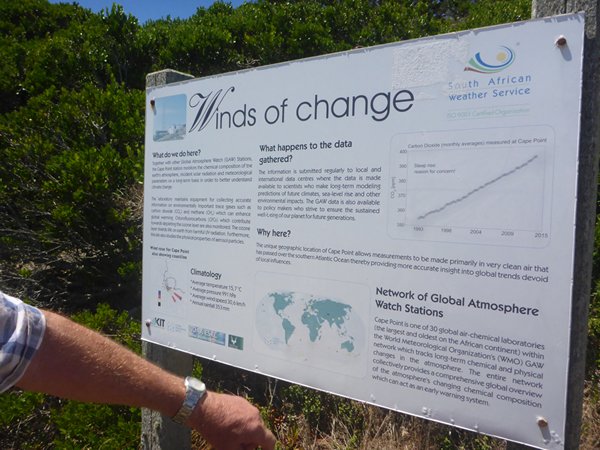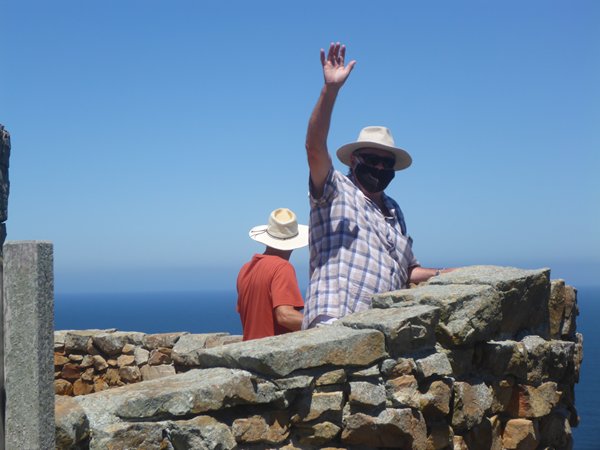 ---