2020 Aus Bojack and the Boab Tree

Zoonie
Tue 14 Jul 2020 06:37
Bojack and the Boab Tree
The Kimberley Travellers Lodge has been through many guises since it was built over 23 years ago as a 'Party Resort' and judging by the grin that erupted on my informant's face when she told me that, its initiation was one of the hippy, risqué type. Two years ago the same couple, James and Jen who own Kimberley Wild Adventures also bought the little gem along with the boab tree of unknown age, a fine old lady who likes to dress up in Her diamond lights for the evenings; if only she could speak, what tales she would have to tell.
When we arrived fragrant, leafy frangipani trees greeted us either side of the entrance and I picked up a fallen white blossom just to remind myself of that glorious perfume, and a dog burst forth in pursuit of his blue ball. So we would get our daily doggy fix to boot.
Scruffy was on duty and Bojack is his Blue Heeler, one year old cattle dog. They were originally bred from the Australian wolf or dingo and an imported breed possibly of the collie, hound or terrier type. They are called Blue because the mixture of white and black hairs creates a blue hue similar to the Roan of the Spaniel world and Heelers because they round up cattle by nipping their heels. Bojack wasn't in to nipping but if the youngsters became too noisy he would bark once to restore peace and order. A very affectionate fellow, I got a face wash more than once and remarkably settled for a one year old. His coat was silky soft, possibly from his early morning swims in the sea before Scruffy started work and the photos show him standing longingly at the gate leading to the pool. There is chlorine in there that would not be good for this little feller.
The original design of the place is kind of Balinese jungle style, two floors of rooms with linked balcony around a central courtyard open to the skies where Mama Boab lives, with an outside terrace by the pool. Our room was ground floor with a nice settee Rob is modelling in front of our room at the side of the eating area. The design is instrumental in creating a very cool and relaxed atmosphere. The icing on the cake was the company and it certainly plays to one's advantage to be a female of classic years because the courtesy, opening of doors, willingness to chat and lovely manners made me feel years younger.
This is the outermost point of our planned trip bar the day adventure we had yesterday into the Kimberleys and tomorrow we start to head west around the coast, slowly making our way south to chilly climes. We would have loved to spend another two weeks exploring more of the Kimberleys, in particular the Durack area my mother introduced me to many years ago with a paperback book, 'Kings in Grass Castles', by Mary Durack who was the granddaughter of one of the original cattlemen, Patsy Durack from Ireland. An incredible story of struggle, determination, drought, flood, immense wealth, shortly followed by bankruptcy; a compassionate man who loved and respected the aborigines and at one stage owned cattle stations bigger than his home country. But no worries, we have the DVD of the story and I bought her sequel, about Patsy's sons, one being her father, 'Sons in the Saddle' while I was in the Museum.
Luxuriating in a day off, a day of writing blogs and an afternoon swim, of wondering if we were late or early up because the communal area was deserted when we emerged at around 8.00.am., we were early! There was a complimentary breakfast laid on of all kinds of fillings for toast or pancakes, fruit juices etc which was nice and unexpected.
We learned in the day that Cocos Keeling is open to visitors from Western Australia so our progress on the circumnavigation looks more likely, just hold out hope we may get to Mauritius and be able to explore and mot just sit on Zoonie. We shall see.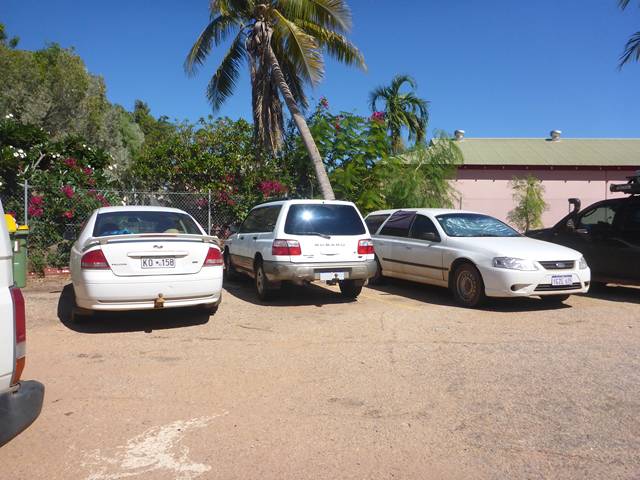 ---