Across the Great Sandy Desert - well the north end of it anyway

Zoonie
Tue 14 Jul 2020 02:07
Across The Great Sandy Desert
Well the North end of it anyway
Rio Tinto own the Salt Plant just outside town and the pile of white crystals glistened in the early morning sun as we drove past. On our right an ore train ground its way to the dock for shipping and there was evidence of how some of the town's folk spend their leisure time, then and now; a drovers rodeo arena, tennis courts, the racecourse and betting, a BMX track which was well-worn and a go-cart track all jockey for the position of amusing the locals.
We were approaching the northern border of the Great Sandy Desert and white cattle grazed safely behind a long fence. One of the reasons some places don't fence their stock is because if the animals get through a fallen section onto the road they cannot get back, but this stock holder clearly didn't want to lose any of the valuable and healthy animals and maintained the fences regularly.
There was a mixture of small, pindan wattle trees with yellow flowers and bushes sometimes merging into areas of grassland dotted with watering holes and Brahman cattle, the most prominent breed around here. We passed through the Warralong Community area of indigenous lands and stopped at the Pardoo Roadhouse to fill-up and experience a truly delicious fresh ground coffee drink with just a drop of milk and supped it under the shade of some trees, dunking our own ginger nuts into it and then sucking them dry until we'd finished and were ready to move on.
It was 30' outside and we had a long road ahead and a choice of three camp areas to choose from for the night. I wanted to get as far across the desert today to make tomorrow a nice short run into Broome. The Falcon was behaving well and treated gently by easing back on the gas as soon as possible during overtaking she rarely missed a beat, but I was a little nervy about the many miles before us where there were no services of any kind should we get into trouble. Trump's Law was in operation again, unable to see far ahead and proceeding at the wrong time would possibly lead to confusion, danger and possibly death.
The Frazier Downs appeared on the skyline either side of the road ahead, that became a shimmering mirage near the skyline and we knew we were near our destination.
In the end we turned left down the dirt track towards Port Smith between number 507 and 508 on the map that an old gentleman back at the Auski (Munjina in indigenous language) Roadhouse had told us was a lovely spot to relax. It was in fact a little oasis, built many decades ago by a couple, now in their nineties who moved to be nearer civilisation in Broome a couple of years ago, selling the leafy site and their beautiful home complete with bird garden, hidden behind the bougainvillea, to the Indigenous Land and Sea Corporation who have plans along the tourism industry lines for the future as you can see from the sign in the garden. I just hope they do not change the campsite too much because it is well planned and the facilities of big shower rooms each with its own loo and wash hand basin are brilliant, especially if you are living in a little tent like ours.
We set ourselves up next to a couple who have been coming to this spot for the last twenty years for three months of the year to escape the southern winter. The lady kindly took us to see three little Frogmouth Owls who are resident, "There used to be so many more, but there is a barking owl here that eats them for BREAKFAST!" I really liked the tufty feathers that stick out on top of the beaks of these cute little creatures.
She also told us about Polly, who you might think from the photograph is a sweet little 'agile wallaby' but she can bite and scratch an innocent person if she chooses. She was rescued from her dead mom at the side of the road between 15 and 19 years ago and has sought shelter and the kindness of the managers and residents in the camp ever since. Each morning she does the rounds for breakfast, a raw potato here and a slice of toast there. Fortunately she was just benign company for us. The moody 'roo' who loves pots.'
After a light lunch of beer and ice cream we decided to catch the last of the high tide with a quick dip down at the lagoon before it flowed back out over the sand banks for a long way. In the photo the beach was top left and you can see its course between the mangroves into the bay in the foreground.
The range of the tides in this part of the world are pretty immense, up to 12 metres, so the rate of the flow is fast, faster than I first appreciated as we waded out to deeper water behind a chap trying desperately to push out his boat, with its big outboard motor, far enough to lower the motor and get going. At last the water was waste deep and I took the plunge surrounded by succulent mangroves and started to really enjoy the ease with which I was making progress down tide. "Barb I'll be out of my depth in a moment and have you seen how fast you are moving?"
There was a very short answer to that one. 'No'. I turned and swam as quickly as my old limbs would allow and managed to grab hold of a mangrove who was kindly extending a stout branch in my direction. Then an even kinder and familiar hand came my way too and all was well as Rob heaved me back into my own standing depth and we wandered slowly, for the air was very hot and the water nice and cool, back towards the beach just as the thunderous tones of the chap's outboard engine propelled him in the opposite direction.
The group parked on the tiny beach were friendly and an oriental lady was gathering oysters from amongst the mangrove roots for super.
Back at our tent John Gibb, father of Lisa Ness drove to a stop, no I didn't either until then. "You from Kojonup then?" He asked reading Falcon's number KO 158. "We've been staying there for a couple of months," I offered and then asked, "Do you know Malcolm and Christine McDonald?" He nodded, "Well this is their car!" He farmed the other side of Kojonup and he and his wife and daughter knew our friends well. Malcolm was amused when we messaged him.
The only drawback to this idyllic place was the sandflies, four days later as I type this the bites are at last losing their itch. These creatures were so hard to see I had no idea what was causing the sharp pricks until I watched really closely and then only the needle prick that was filling with MY blood was all that was visible to the eye behind my best reading glasses. Not 'no-see-ums' as they are known, more like invisi-bums.
The kind lady next door's husband returned from his fishing trip and asked us if we could help him out by taking a couple of black snapper fillets as he had filled his quota of 5 per day and his freezer was full, so we obliged, of course and steamed them on top of the already cooked pasta and under a blanket of butter and cheese, with a little water in the pan to create the steam. One pan cooking, I love it.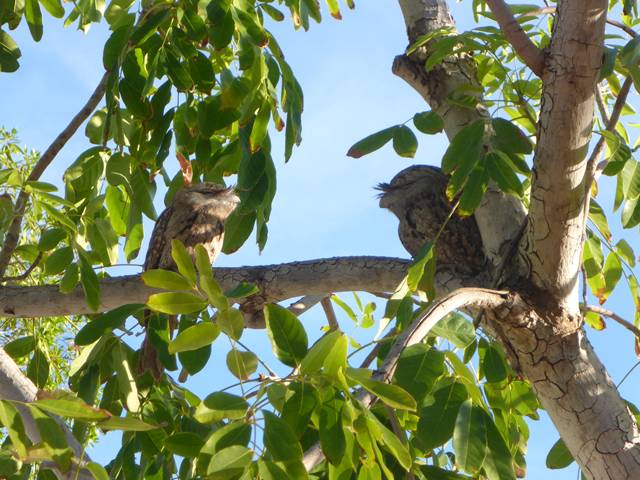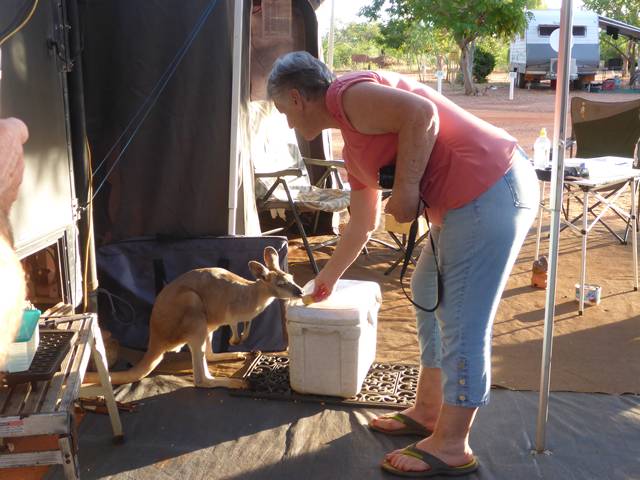 ---