Moonshine at Marla

Zoonie
Wed 20 Feb 2019 07:13
Moonshine at Marla
We had covered 1082km from Adelaide and were tapping on the door of the Northern Territory by the time we came to a stop in Marla. Up until 1980 The Ghan train would turn right here and follow the ancient Aboriginal Oodnadatta track eastwards to the west then south of the Eyre Lakes to Marree. But now its north all the way to Darwin.
It was still dark but the ink blueness contained a beautiful full moon rising above our silver carriages. Hundreds of little white lanterns had been set by rangers' hands providing an illuminated pathway for us as we stepped carefully down onto the warm red soil of country, home for eons of the most successful group of humans in history. Two stacks of substantial logs were piled into a burning cones a short distance from wooden tables and benches provided warmth in what our little booklet suggested would be 'crisp air'. In fact it was already pleasantly warm and warming up as fast our earth moved towards the as yet hidden sun.
Muted conversations didn't prevent us from sensing the vast, still quietness of this remote and beautiful spot. Just 100 people live here permanently and we were up and about before almost all of them. A four by four pickup was parked discreetly behind some bushes. I would have liked to chat with the two rangers who had set up the two fires to find out something about life out here.
The smell of cooked bacon joined the woodsmoke fragrance. Bacon butties were being served by Ghan staff carrying trays of the little buns from the kitchens onboard to travellers sitting and standing around in anticipation, their mouths watering. Rob admits to downing three – it could have been more and who's counting at that hour, "They were only small."
The sun rose behind a veil of thin cloud and a single wallaby overcame its shyness and watched us while passing between the bushes at a safe distance. We drank delicious hot coffee and orange juice while wandering around the area spreading further out as the growing dawn brought the details of the desert to light. Rob posed for me Alan Wicker style between the rails and then with the sun established for the day in its new heaven we wandered slowly back on board ready for the journey on into Australia's heartland and the Northern Territory border 160km north.
Some of you may remember Alan's BBC TV series between the 60's and the 90's 'Whicker's World'. I remember when he was 'down under' one shot showed him standing between the rail tracks of I think the Perth to Adelaide train route talking to and facing us viewers as the train approached very slowly behind him. A shot that inspired the travel bug in me.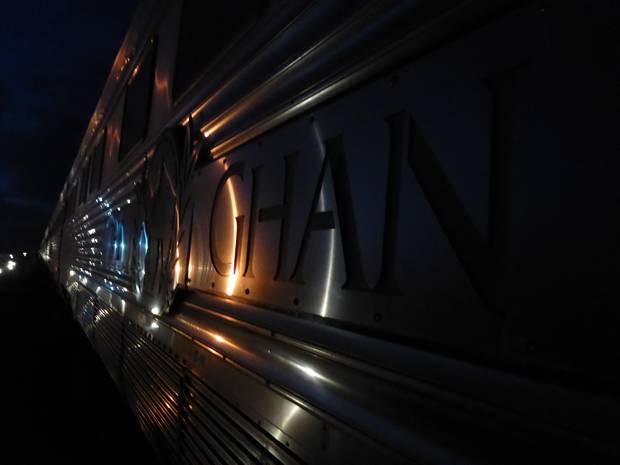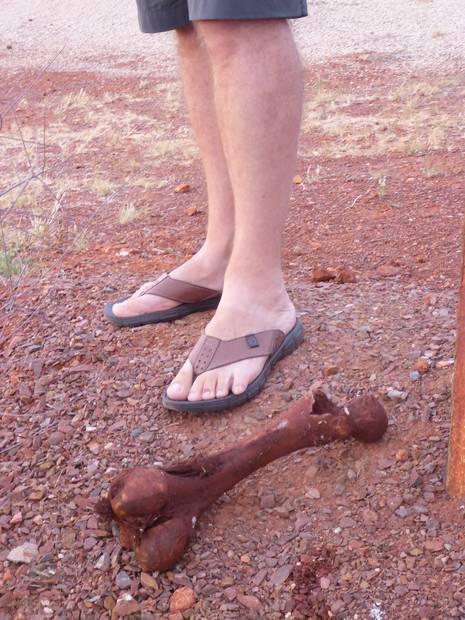 ---