A Short stay in Loch Drumbuie

Zoonie
Mon 15 Aug 2022 11:14
Anchoring in Loch Drumbuie
To get into the almost landlocked Loch Drumbuie we had first to traverse the wide entrance to Loch Sunart, opposite Tobermory, under leaden skies and low cloud over the mountain peaks. The pass into this bay has Oronsay Island to its north and mainland Scotland to the south and there are numerous sheltered spots to drop the hook. A path was marked on the diagram in the pilot book and this led us on one of the best walks yet in Scotland.
The stone track had grass growing down the centre and flitting over the central border were hundreds of pretty Scotch Argus butterflies. Birdsong filled the air and there were numerous deer tracks testament to their daily perambulations to grazing areas. As we ascended above the natural woodland the panoramic views around were spectacular. We could just see Zoonie well below us and in an intervening glen were the clear remains of the village of Dorlin, emptied of its crofters in the 1849 Clearances.
We negotiated a deer gate, which opened at an angle to ensure it closed with gravity and I was delighted to find a dung beetle busy at work on one of the fresh heaps, then just beyond it Rob spotted, in some soft mud, a perfect pug mark, we think of a wild cat; that was the highlight of the walk.
We went on a little further upwards, the views growing all the while, but then as we rounded another bend it was clear that to go far enough to see across the Sound of Mull, we would need another hour or so, and it would have been a lovely day trek, with lunch being enjoyed overlooking all of Mull and maybe even Iona on the far side.
On the way back down, we sat on a bench clearly designed to give a good view, but the young trees were thriving and had grown to obscure the loch and far mountains. Good news though to see the native woodland growing well and thriving on being left alone with only light grazing from a few sheep and passing deer.
Full of joy from the sheer peace and beauty of this place and our luck at making some natural discoveries, we settled back on Zoonie for the evening and night.
---
This email has been checked for viruses by Avast antivirus software.
www.avast.com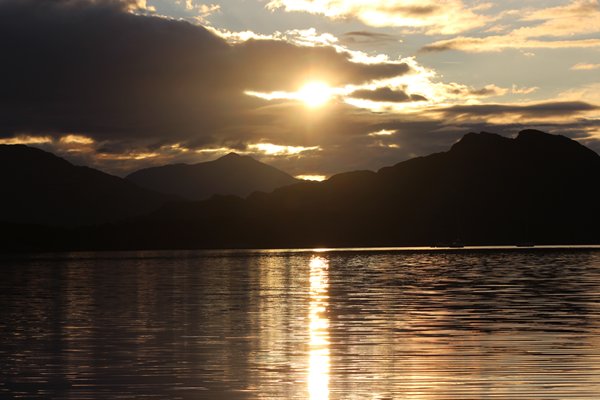 ---