NZ In a Duck to Water with Nick

Zoonie
Tue 1 May 2018 00:02
In a Duck to Water with Nick
The last time we took a Duck to water was in Liverpool Dockland with youngest son Jonty. It rattled worryingly and we feared for its integrity but we thought it wouldn't be a long swim to the harbour wall if the worst happened.
The last time we came to Rotorua we immersed ourselves and our tent, almost literally, in the geothermal activity of the area and the Maori culture. So this time we focussed on four of the eighteen beautiful lakes. Back home Liverpool is very near the Lake District in Cumbria just as Rotorua nestles close by its lakes here.
"I need to tell you Nick that the last time we were on a Duck in Liverpool Docks it sank two weeks later and one on the Thames caught fire!" But Nick's Duck was a different ball game entirely. It looked like new and was in fine condition, easily passing all its safety requirements on a regular basis. Maybe a Trigger's Broom of the amphibious vehicle world, all of its parts replaced numerous times over the years.
Nick was one of those typical guides full with warmth, humour and knowledge. As we sped past the forest of Californian Redwoods, Whakarewarewa Forest that grow twice as fast in the moist atmosphere here as they do in dry California he told us jokes and stories, some true others not so and played appropriate music.
The changeable weather had us fearing for rain and poor visibility but we were very lucky as we could see the summit rim of Mt Tarawera for the first time. But I am diving ahead. Our first lake, Okareka has numerous very expensive ($1-2 million) homes around it plus, and Nick brought us to a respectful stop, on the other side of a little rise of land we could see the brown roofs of a lodge. For a minimum of three nights we could go and stay there at $7000 a night and "cheers" glasses with the likes of Tom Cruise! Maybe not but the lodge has been 60% full since it opened years ago.
We turned a gentle circle and returned to shore, stopped, dripping on hard ground while Nick dashed around checking her underneath for weeds and stowaways, clunked over to gears and wheels from propeller and rudder and trundled off to Lake Tarawera (Burnt Spear). Nick lives just up the hill from the rock paintings and spends his free time fishing on the lake, so he was coming home.
We were so fortunate travelling at this time of year that everywhere had only a few visitors in what would be heaving sites in the summer. With the Mt in view ahead of us we paused for a moment to watch a pair of endangered little black New Zealand Dabchicks nearby. We drove far enough into the lake to see the full summit of the Mt and then returned for complimentary hot and cold drinks at the café. There is a peaceful atmosphere on and around the lakes so I can quite see why the Maoris make some of them Tapu or sacred, weaving ancient legends into their waters.
Lake Tikitapu or Blue Lake because the sky reflects from the silica on its rocky bottom has a sacred brother Lake Rotokakahi or Green Lake is sacred and no-one is allowed to move onto the water. Heavy fines ($1000) and a lifetime of bad luck are in store for the trespasser! There is a car park on the ridge separating the two lakes from which one can see both different coloured lakes at the same time.
Once upon a time there was an extremely beautiful Maori princess who led a privileged life with loyal servants and everyone loved her. She did however have one flaw and that was carelessness. As part of her status she would wear a sacred amulet around her neck. One day while she was swimming/washing in the lake she lost this ornament and so the lake was named after it. Tiki-image, tapu-sacred.
Around the lake is a buoyed swimming lane for use in the warmer months, and across one side are little floating islands of grass made of plastic bottles tied together to try and improve the organic balance of the water.
There is one holiday camp on the 5.5km lake shore and we decided that was where we would spend the night with the hope we could walk the circuit in the morning. Our settler style ensuite cabin was booked but to finish the perfect day we had a drink sitting in the wood-panelled lounge of Prince's Gate Hotel, built in the pretty colonial style in 1897 as the Brothers at the Mission in Napier were recovering from their flood and Queen Victoria was coming to the end of her long reign, just to contextualize a little.
The photo of Rob in the native forest ahead of me tells the story of our walk better than I can. The path is well worn and enjoyed all year round and just down from our camp an Airstream coffee shop sells good coffee and snacks. We supped from our 'to go' mugs as we watched 'our' Duck arrive and give us nice photo opportunities before we set off on the road to Tauranga to care for Luca for five days.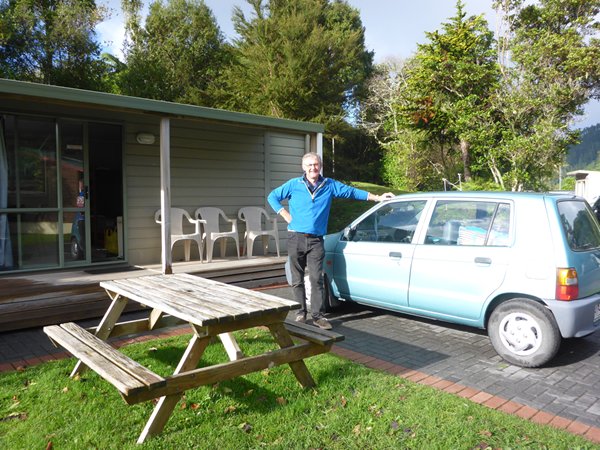 ---