Westwards to Point Samson

Zoonie
Tue 28 Jul 2020 23:45
Westwards to Point Samson
20:39.40S 116:59.53E
Yesterday, here in Te Opu, Rob was busy. He telephoned Travis who lives in The Ritz, the other little homestead not far from the main house and Shipton. Travis has sold all his young bitch's puppies, one to Perth and the rest within Kojonup. Within minutes of the phone call Rob and Travis were wrestling the new giant gas cylinder into place; Travis works at the building suppliers and so knew exactly from where Malcolm procured his gas supplies. So we are now literally cooking on gas again and our little camping stove has been returned to its box.
As soon as Rob returned from town he hitched the White Falcon up to a green trailer, he had a choice of three and decided the green looked best with the white bodywork, and trundled up to the paddock behind Skipton where we had done the log splitting if you remember. He loaded all the remaining logs into the trailer and brought them to the house log shed and re-stacked them so they would dry off a little before they were needed. There are not many left from all our log collecting when we first arrived, but the rest should last longer as we are not burning any at Shipton anymore…….
During the night after our Windjana Gorge day I awoke suddenly around 2.00am to the smell of cigarette smoke in our room and the sound of Scruffy's soft voice just outside in the courtyard, "Section 20 of the ……………Act, within three hours…………" is what I could make out and there were some defensive grunts, in French, from the offenders. The smell gradually dissipated and I went back to sleep.
The next morning I was chatting with a young man who is a diesel mechanic for Rio Tinto, he was between contracts for a few days having just finished work on Koolan Island. He mentioned how Rio Tinto would sometimes clear up the land they had finished with, re-shape it and plant native trees so that after 5 – 10 years the area would be ready for tourism. Similarly where they have built ports for the loading and export of their ore they would leave these so they could be used for military or civilian purposes.
Of Karijini and the recent blowing up of the caves sacred to the aborigines, he said he had known them to cordon off an area of special interest and mine all around it and then when the interest had died away they would simply mine through it. They will take out the ore on the northern border of the Karijini National Park over the next forty years and then he suspects they will be done with operations in Australia. They can do this because they took out the mining rights before the area was designated a National Park. And like illegal tree-felling at weekends or when the authorities are otherwise distracted, once the saw and the dynamite have done their job, there is no going back.
We had a relaxing extra day in Broome, a stolen day to do some blogs and go for a walk in the afternoon to Matso's, a pub of great character and very popular with locals and visitors of all ages. Built as a branch of the Union Bank of Australia the building has been moved twice in its life and been re-born as a general store in the time of the pearling industry and more recently a café and art gallery with a tiny experimental micro-brewery. The present owners extended the brewery which is now elsewhere, in bigger premises as the beer is so popular it is sold all over Aussie.
While we sat looking out to sea a very strange optical illusion took place in front of our very eyes and it wasn't caused by the beer, although it was very nice. On the horizon there appeared to be a band of low lying land with a few irregular features. Rob looked on his phone at Google Earth to see there are sandbanks separating areas of deeper water. So this land started to disappear from right to left quite quickly, more quickly than a rising tide could submerge it. A few minutes later it started to reappear from left to right, with the same irregular features. A quite weird phenomena that repeated itself and had us confused.
So the next morning we dragged ourselves away from this little oasis in the heart of Broome, gave Bojack a final fussing and headed off on the road westwards, back across the Great Sandy Desert along the Great Northern Highway with our next stop already decided. We lunched on Rum and Raisin chocolate and a mug of coffee from the Pardoo Roadhouse where we sat and chatted about where to stay the night. There was the odd rest area we could use, but we would arrive with a couple of hours of travel time left, which seemed pointless. So we decided on the devil we knew and I gave the Discovery site at Port Hedland a ring, knowing what a nice camp it is and we booked in with ease. Then for the following two nights I phoned the sister site in Karratha because we wanted to check out the Aboriginal rock art and the Dampier Peninsula. They also had plenty of space, so that was the next three nights sorted. I was conscious that the school holidays were coming to their end, so wanted to make sure we had a spot for our little tent in this popular holiday area.
We chatted with friendly fellow campers; one man camping with his wife and sons was moved by the ruthless nature of RT'S operations. Like others we had spoken with including the lad in Broome, he felt RT should be spending a lot more on services for the people their mining processes adversely affected; he also felt we were moving into a world where prejudice against white men was creating a toxic society and his efforts to do well through his education and to achieve a good lifestyle for his family was being undermined by groups with political axes to grind who attain success by bullying and not by their own skills. I felt for him. One dear family member lost his job to a woman who did a substandard interview and had no experience but got the job because the company needed to redress the balance of male/female employees and appear politically correct. That's an insult to him and patronising to her. But I suppose it is a rough road to redress the gender inbalance.
Another topic of conversation in camp is always 'where are you heading?' We were clearly grouped under the heading 'grey nomads' thousands of whom head north in Western Australia away from the cooler winter. Ours was a brief voyage of discovery whereas many around us were there for months before they would venture south and home for the summer.
Westwards again towards Point Samson because Malcolm said they did very nice fish and chips at the restaurant on the headland. We had a little look around the harbour area first. It was a tiny shelter for fishing boats and Border Force Vessels and one or two private yachts. Most of the residents and holidaymakers trailed their boats and launched down the boot slipway, keeping them safe in their driveways at night in this pleasant holiday and second home resort.
We sat in the Tavern and looked out to sea at all the ore ships anchored and waiting to be guided into the long jetty for loading. The jetty was a short distance from the headland so there wasn't the lethal build-up of red dust everywhere as there was in Port Hedland. I wondered what it was like for the crew on board, imprisoned for months on end and now not allowed ashore because of Covid.
There didn't seem to be much in the way of visiting sailing vessels around this coast. Many yacht clubs we drew up near were closed and looked as if there had been no activity for a long time. The numerous yachts who transit Australia through the Torres Strait must head straight off westwards or north to Indonesia from Darwin without the intention of making further landfalls. There was a nice anchorage in the lee of Point Samson in case anyone is interested.
So that was our lunch time venue and we drove the short distance to Karratha and pitched the tent before returning to the I-Site we had passed as we approached the town. With charm and efficiency the lady there booked us onto a guided artworks tour the very next morning at eight Am., so that was perfect. We explored the area a little, returned to the camp and spent a couple of hours relaxing outside our tent listening to the worst verbal assault of a young person I have heard for a long time.
Next door were a family of mum and dad and three girls. The 'dad' pistol-whipped the oldest girl with cruel words constantly causing her to plead with her supine 'mum' to help her. This inept bully laid hollow threats of a beating with his belt, sending her to stay with her grandparents and calling her father to tell him to come and collect her, which said it all really. He did none of these things but in the end she went into her tent bedroom just to get away from him. It was hot, she must have roasted in there poor lass. I hoped she would hang in there until she could leave home.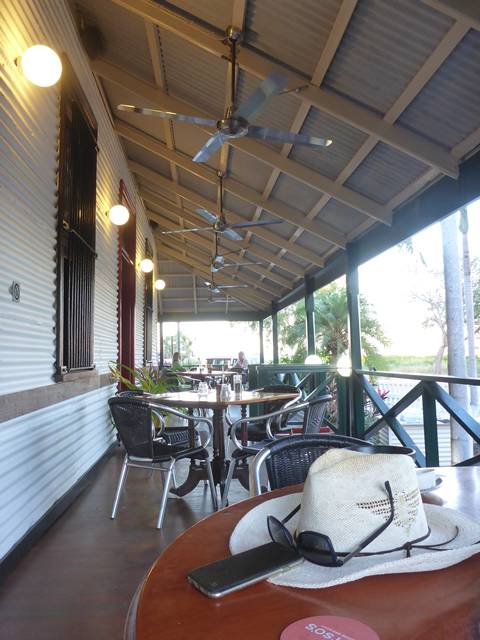 ---