To Ballylinchy Signal Tower

Zoonie
Thu 26 May 2022 12:07
To Ballylinchy Signal Tower
Baltimore County Cork
After three days aboard, including a day resting and warming up while Zoonie's anchor settled in, or so we thought, it was time to embrace the lovely day and find our way using a combination of Rob's I-phone, visual evidence and good old common sense and take an easy walk along little lanes, bordered by banks full with flowers and lush greenery fronting pretty cottages and tiny fields where once numerous farm animals would graze within ancient dry stone walls, towards the stone tower on the hill we had first seen on our way in to Baltimore Bay.
The tower was built in 1805, at the height of Britain's troubles with France. In 1796 a French fleet landed at Bantry to the alarm of Westminster. It was clear the Irish were thinking along the lines of the French Revolution when in 1798 there was a rebellion against the British occupation, so up went the three- storey watch tower to warn the occupants of a French fleet in the offing. A beacon would be lit in the event of such a sighting and there were more beacons all along the coast.
We looked over the waters we had crossed in Zoonie and along the wild, rugged coast and then inland over the pretty, small-scale countryside, as emerald in colour as you would hope, to the wind farm on the distant hills, Ireland through the ages. Standing behind me, Rob and I noted the many roofless and empty farmhouses and could see that once this land was well populated and farmed, sending wheat, flax, oats and potatoes abroad. But then came starvation, blighted potato crops and decades of suffering from 1845 to 1852, called the Great Famine and the Great Hunger. The people had little choice and many emigrated to England, the US and Australia. One million people died but this was not as great a proportion of the population as the Irish Famine from 1740 to 1741 in which up to 20% of the population died, 300,000 to 480,000 people.
A retired gentleman, either a fisherman or farmer, walked with his stick amongst the cattle and donkeys in his fields and waved to us as we went by. How much has he seen in his life and I wondered what he thought of Ireland's membership of the EU and the many empty fields around him?
We walked back to the town along the same route through a sheltered valley, away from the chilly wind and the light traffic on the main road and decided that the museum required our attention.
---
This email has been checked for viruses by Avast antivirus software.
www.avast.com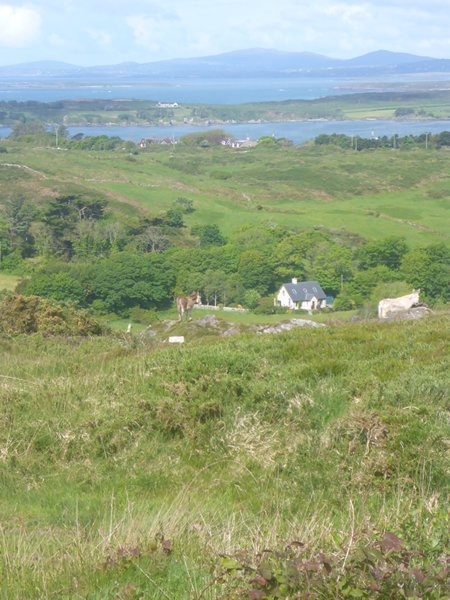 ---