Au Revoir and a Reunion

Zoonie
Mon 22 Feb 2021 07:33
Au Revoir and a Welcome Reunion
Janneke and Weitze left us on the dot at 9.30 Tuesday morning, six days ago, on their way to Namibia where they have since arrived safely and are now planning their latest road trip. We will probably see them again as they are planning a similar route back to Europe at the same time as us and Henk and Marjolein aboard Jori.
We last said goodbye to our friends Christina and Werner in Whangarei when Rob was in the hospital undergoing treatment for his blood infections and heart condition. They had sold their catamaran, Windance 11, and were about to fly home to Cape Town. While Rob was in hospital a group of us went for a Thai meal and that is where we all said 'au revoir' to them. They left early to pay the cash from the sale of their yacht into the bank before they took their flight.
We kept in touch a few times and then my emails failed to make contact. So here in Cape Town I sent another one linked to one of Werner's old emails and 'Bingo', a reply came back from him straight away and two days later they came and collected us from Zoonie, and off we went for a reunion at the Beau Constantia Wine Estate.
Far more interested in catching up than tasting different wines, we supped rose exclusively and nibbled pizzas as thin as paper and were there until the staff were packing up to go home. Then we moved on to the balcony of The Twelve Apostles Hotel on Victoria Road overlooking the glorious Atlantic and watched the sunset on a wonderful day. For the rest I will let the photos speak for themselves.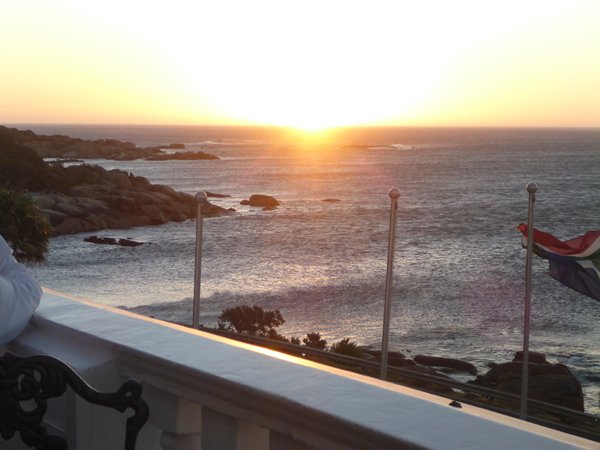 ---