Lions v Lambs

Zoonie
Mon 19 Jun 2017 23:26
Lions v Lambs (Barbarians=barbars=lambs!)
The weather forecast for the first Rugby Game on the 3rd June could not have been more saturated but fortunately the rain stopped around 11.00am in time for the fine Haka display by the local Hatea Maori tribe. The Toll Stadium where it was to be held is quite new, has hosted two World Cups already and is made of sand, so it is well drained and the players kept remarkably clean.
We found our seats on the second row back with no one sitting infront of us, we had a perfect view. The Sky TV drone flew at the other end of the pitch, displaying his port and starboard lights, and a Sky cameraman whizzed around on the smooth hard surface on his Segway. We subsequently have seen him on the TV at other matches too. Feels as if we know him.
At first I couldn't understand why we were making no progress down the pitch towards our goal then realised the Lambs were as keen as a bunch of terriers on defence. It was a great exciting start but the Lions clearly needed to get their act together more.
The lady behind us cheered on the Lambs as if they were all her sons, but her warmth extended to us too and the atmosphere was friendly and keen. The chap next to me was the sole owner of Diesel Tech and looks after many of the vessels on the river, a useful contact I thought.
We even managed an all-round Mexican Wave.
Four days later, at Dickens Inn in town we watched the Lions beaten by the Blues at Eden Park Auckland 22-16 and three days later we were surprised by the bad tempered Christchurch side, the Crusaders who were soundly beaten by our Lions 12 – 3.
Tempers improved for a well-mannered match against the Dunedin Highlanders who achieved a border victory 23-22 over the Welsh Lions.
We have just returned from a weekend in Auckland with friends Andrea and Mark whom we met on a Swim with Spinner Dolphins trip in Nuie. There was plenty of Rugby to be watched on their TV, NZ Allblacks v Samoans 78-0!! And the Welsh Lions again v The Tongans 23-6.
I felt sorry for the Maori Allblacks in their game v our Lions. At first they seemed to match equally the opposition but then our Lions just seemed to roar away and their defence all but collapsed. We gained another sound victory 32-10.
We're off into town again this eve so watch this space.
I have enclosed some pics of how the Hospice shop dealt with the visitors and some night shots of our walk back to Zoonie after the first game just down the road from us, what a happy coincidence that was, and of course we wouldn't have seen the match if we had left to sail north with everyone else.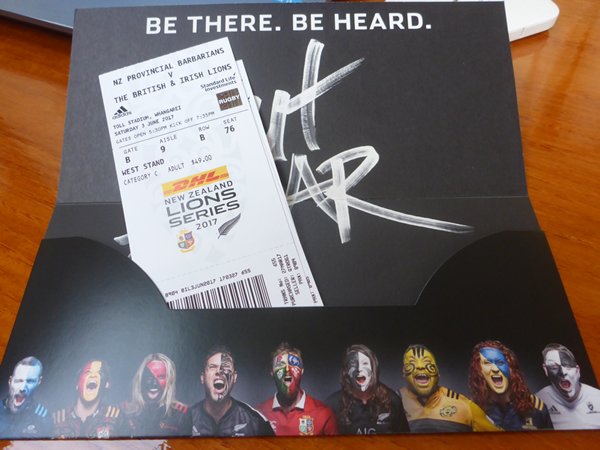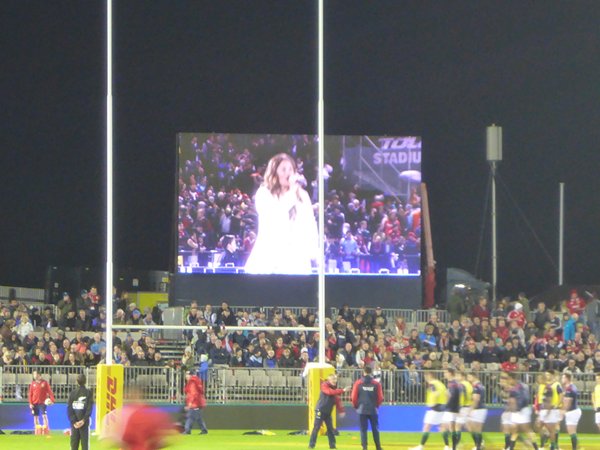 ---