Monday is Maintenance Day for some

Zoonie
Fri 12 Feb 2021 05:01
Monday is Maintenance day for some…
But not for us as we wandered around the Waterfront. The massive dry dock, built in the late 19th century, has served many purposes apart from the obvious in its long life including the first public swimming pool; hope they didn't fill it to the brim, and a venue for live concerts, imagine the acoustics! But today it was a base for the repairs to the bow section of this local trawler. The South African fishing industry and locals are raging against the Asian fishing fleets that are depleting their local stocks of fish and bycatch in order to feed their animals back home. The dry dock reminded me of the similar ones at Portsmouth Naval Dockyard one of which was used for the opening scene of the convicts hauling in a square rigger for repairs at the opening of the film version of Les Miserables.
There is a pretty café/bakery, Vovo Telo, opposite our twin pubs, where the café courtyard is shaded by ground growing mature trees and tubbed young olive trees skirted with white rose bushes. We had coffee and danish pastries there as the sound of hammers on metal came from the Cape Town Ferris Wheel next to us. It was open again in the evening. Time for a little harmless voyeurism; fashions, shapes, masks worn properly or not, tut tut, children paddling and splashing in shallow decorative ponds, young slender police officers everywhere adding to folks' sense of security and relaxation.
A gentle wander back through one of the many malls, this one a craft mall where there are workshops upstairs for punters like us to learn local African craft making. Everywhere is uncrowded, many locations we have almost to ourselves, with no foreign visitors trade is light for the stall holders and shop staff.
Right next to Zoonie above the lock gates into the upper canal is the only 6-star hotel in Cape Town, 'The One and Only' is its name. We wondered if we could do a canal walk along one short bank and back down the other, English canal style, but the only part we could access is what you can see here. The shady courtyard of the very quiet hotel, we only ever see staff there, looking over to a little island, home to the hotel spa.
The Rhino is one of the many colourful life size models dotted around the waterfront each telling the same story of how 3 precious rhinos a day are poached for the Asian alternative medicine market. Thank goodness for the many reserves like Rhino River Lodge.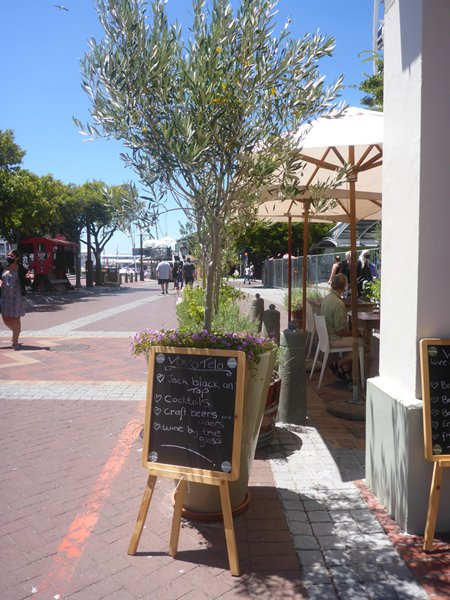 ---