A New Morning with Muktuk and Puff the inflatable canoe

Zoonie
Wed 11 Jul 2018 19:42
A New Morning with Muktuk
And
'Puff' the Inflatable Canoe
Early mornings are cool before the sun brings its heat and I love to sit in the cockpit and take in the start of a brand new day. Soon the ball of searing heat would rise alongside Muktuk so that is why she is the main subject and also so I can send Birgit and Andreas the pictures of course.
Between Muktuk and us at the time was a little pale brown boat but what I wanted to show you there are the distant mountains lightning as they appear further and further away.
On the opposite banks hot water from the hot water springs upstream slide into the cooler creek water in veils of steam, some mornings more prominent than others, perhaps when the tide is low and the proportion of hot water to cool is bigger.
Then one of the two ferry arrives, plants two anchors into the bay and swings its stern towards the quay pulling itself backwards until lines can be secured ashore either side of the vehicle ramp. We had to pass to port on our way in. During the strong winds after our arrival the ferry sprang a metal deck plate while on passage and had to spend two days here as the welders made repairs.
We sent the can of paint we bought for Kyle and Shelley to freshen up Bubbles on this ferry across to Vuda Marina on the other island since they will head off for Vanuatu before we get there. It cost $8 by local courier ($2.6fj:£1.00).
Re-fuelling Zoonie proved a much safer jerry can expedition than it had in Nuku Hiva in what seems like an age ago now. Here there is a nice wooden pontoon to tie up to and the filling station is a minute away across the road. A longer minute when they are full though.
On our third return her tank overflowed up the in pipe and judging by what was left in the can she took 210ltrs into the tank, add on the original 80 litres from the jerry cans = 290ltrs into the 142hrs we motored and you get 2.04ltrs:hour motoring. So our estimate of the engine using 2ltrs per hour was accurate. It cost £194 to fill up at 70p per litre. So we needn't have worried.
We had one really busy day, just so you don't think retirement is a doddle. Rob resealed the leaking big window and I washed Zoons curtains by hand. We lifted and cleaned Henry's rudder and Rob rooted out the little anchor for the tender and attached it ready for our snorkelling trips.
In the evening we went to the other marina opposite us for a buffet supper Fijian style. Two new dishes for us were Taro leaves cooked in coconut milk and sea grapes, tiny beads of pale green – a particularly attractive way of eating seawater. I have cooked Taro leaves before when we were in French Poly. Raw they burn the mouth, as I found out, but cooked are a little like peppery spinach and in home-made coconut milk are delicious, although towards the end of my second helping I was sensing that familiar burning sensation in my mouth and throat.
Mark from Wavelength and Gordon on the eve of his annual flight back to the US joined us. The only table with any space had one young lady sitting there so we asked if we could join her and I was glad we did because she was so interesting. Born near the lakes 100 miles north of Frankfurt she started sailing when a young girl and then went to college where she found an interest in a life at sea. She completed the training to be an Officer and spent much of her training on research ships. She is now based on the 120metre German research ship Sona (Sun).
Her ambition will take her to the command of her own vessel in due course. "So your boat is just out there?" We pointed to Zoonie a few metres away. "I would like to have my own sailing boat. I have four months off now and I could do a lot of sailing around here in that time." Buy the boat before you have a family I suggested then they will grow up with the life. She was confident in herself and yet modest and delightful company.
Latest news on the skipper of Waipawa, the police found 2000 rounds of ammo, a BB (ball bearing) gun and a paint gun on his vessel. He was drinking on the next table to us last eve and awaiting his hearing on July 30th. Didn't say if they found a drone.
Last Sunday we inflated 'Puff' the canoe and wandered up the creek with our paddles as far as the furthest Marina where there are two haulouts, one a hoist and the other a trailer like the one we used in Tonga.
We had intended to paddle around the island next to us where the new hurricane safe marina is under construction but we could see the reef ran a long way from the shore of the island across the bay so decided to go back the way we came.
A matchstick house was under construction on the hillside above a mastless and abandoned sailing yacht. Some lovely homes approached by precipitously steep driveways, especially after rain, had fine views over the water to the mountains. The creeper that was introduced here during the Second World War to create fast growing camouflage is growing up some of the palm trees and over vast areas of shrubbery and another tree covered with orange/red blossom introduced as a garden plant now thrives all over the island. It is hard to tell what is indigenous, what species of plants have always been here and I'd love to know if there are any of the heavily forested sandalwood trees left and what they look like. We are off to the Botanic Gardens with Mark this morning so I should be able to report back to you about that soon.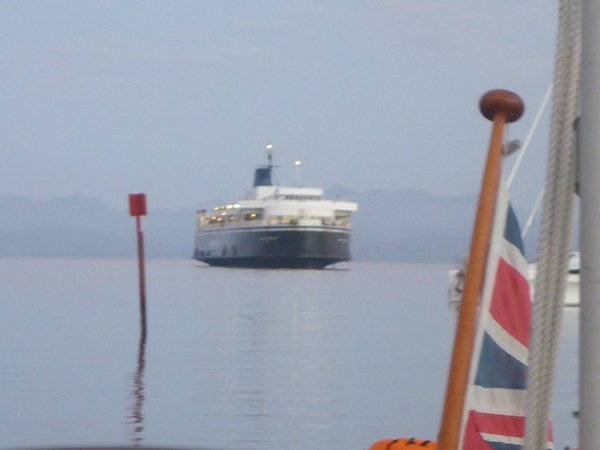 ---