2019 Van ES North to Namesake Island

Zoonie
Tue 9 Jul 2019 23:45
North to our Namesake Island
The Earth tremor we felt in the early hours in Luganville, which set all the dogs complaining, was an earthquake measuring 7.2 but we never heard if there were any injuries or where in fact it happened.
I took no pictures at our first anchorage south east of Oyster Island. We were reef hopping again, just like we had in Fiji and the passage through the reef named the Southern Pass was not too difficult giving 2.2 metres below the keel and comfortably wide. As soon as the water deepened to 20 meters again we turned right, on Rob's direction and moved gently into the area between two wooded islets. Down went the hook and 60 meters of chain near Malono's Island, which I laid out by going slowly astern back the way we had come in. Then when all the required chain was overboard a firm but not too strong burst astern to bury the hook in the sand and coral lagoon bottom.
There used to be a little resort on Oyster Island but it is now completely gone and where the inner lagoon used to be reckoned as one of the safest cyclone anchorages in the group it is now much more shallow and Bron and Ken, who you will meet later, bounced off a rock as they entered in their steel yacht, Nichola, we very relieved we didn't try it. Cyclone and seismic activity both contrive to change the contours of the sea bed, so extreme caution is always needed.
Nearby and up the little river a ways is a nice blue hole of fresh water for swimming but with a forecast for strong winds in a couple of days we satisfied ourselves with the first snorkel of the season and the need to find a more secure shelter. There were copious sea slugs, beche de mel of olden days so it looks as if they are off the menu here and pretty Clark's and Pink Anenome fish and I nearly swam into the small gauge fishing net a local had attached to a buoy and left open on the sea bed.
We left early the next morning at the same state of the tide, although it was now on the ebb and headed northwards up the coast to Hog's Harbour, a nicely sheltered bay with a small resort on the shore and hire cars parked outside grass huts. Our snorkel there revealed recovering coral, you can tell from the new soft coral growth and the presence of feeding fish. It's amazing how every location produces something different. Here we saw the same species of black and white sergeant fish that had nipped us expectantly for food at the Cousteau Resort near Savu Savu last year and some colourful good sized clams. Within slits in the big rounded coral heads were mouths, open until we passed and then snapped shut, with spines around them like old granny's whiskers. I can only imagine what they looked like if they ever came out of their crevice homes. Hope I never look like that!
Rob knelt on our bed to open the aft hatch wide underneath its rain cover when the wooden cross bar at the base of the bed snapped, after 30 years of valiant service. Out came the impact adhesive, drill and some long screws and it's as good as new for the next 30 years!
As you can see in the photo we had the company of another yacht from Tasmania. Sacha the daughter of the owner paddled her canoe across to give us a slip of paper with their details on it and the offer of one of their moorings back home for free when we get there. How kind is that.
Next to our beach is what is somewhat pompously called 'Champagne Beach.' Now I had to think about this because it is a short, not particularly special beach that visitors have to pay before they touch toes to its sand. Cruise liners used to come here because it is a spacious bay with few hazards and ideal for the ships to drop anchor. So I imagine they decided this would be the stop on the east coast of Espiritu Santo for a taste of the island life and wanting to meet the standards of the wealthy punters they christened it with this inappropriate name and dished out the Bolly accordingly. Well the locals squabbled about the revenue and as elsewhere in Vanuatu intimidated the tourists to the extent they no longer want to come. A clash of cultures sadly and a degree of shooting oneself in the foot.
So whereas our two groups might have wandered along the beach for a beer at the rustic bar, because they wanted to charge for the privilege they got no revenue from us at all. As we motored out of the bay the next morning we saw countless lovely beaches, longer and more attractive than that one.
A turtle came along to see us off and a black butterfly flew alongside Zoonie on our way to Port Olry where we have been anchored for the last five days. All the pictures after the first two were taken here. The dugong pictures are the best I could get as they barely break the surface. This one stayed around us all day and every five minutes or so would just break the surface to exhale, swim along a little, take a couple of breaths and then roll forwards for a dive with its tail just curving upward before it disappeared.
Rob and I went for a snorkel and hovered above a giant coral head as another turtle emerged and languorously moved away giving a lovely spell of viewing. There were scrapes along the coral from where the parrot fish nibble specs of food and familiar barred wrasse and trigger fish, banner fish, fusiliers and a big puffer fish which constantly changed colour and these were added to our mental collection. There is a lot of cyclone damage on the reefs but recovery starts straight after the storm has passed and we feel we must be optimistic. Poor ni Vanuatan people as they call themselves, if it's not earthquakes and cyclones it's volcanic eruptions. Their cheery nature is an embedded part of their survival instinct.
The next day the weather turned foul with what appears to be a squash zone between two High pressure areas reaching as far south as New Zealand and giving our friends there a wet and windy week too. The SE Trades run hard through these islands and when Bron and Nichola and Phil from the Dutch design German yacht, Parotia we had met in Luganville came aboard they reported 40 knots winds and standing waves just outside our anchorage. We have reef and islets around us but it is really the thumping lump of limestone next to us called Thion Island that makes this anchorage so sheltered and calm.
As the rain poured down fishermen in their dugouts with outriggers returned after their day of subsistence fishing, at least the rain is warm.
Yesterday morning just after 1.00am I was having a little potter around when I saw the 53 foot catamaran, Thor, that had come over the reef into our little lagoon and is now moored just inshore of us.
So when officially up and about we carried out our plan to visit the village of Port Olry about a mile from us and then visit Thor when we returned.
Motoring ashore carefully avoiding the remains of a wreck on the reef we discussed the Big Bay plan once more. We feared we might get weather bound yet again as we are now, if we went to Big Bay, taking away more days of potential exploring new places in the month we have allowed ourselves before we go south to Port Vila, the capital and where we will shed our three boxes of school uniforms.
The trades are running strong from the south east and by heading virtually east to the north end of Maewo Island we can then travel south down its sheltered west coast to a second anchorage at the bottom giving us a better angle to cross the trade winds towards Efate Island and the capital. It is around 55 miles to Maewo so it will be an early start on the next weather window which looks like Thursday, the day after tomorrow. But we all know how flexible our plans must be.
We climbed ashore for the first bit of walking exercise since leaving Luganville six days before and we found John in the shop who sold us a loaf of bread that looked very much liked the ones I bake on board. Upon my asking he said the population of the not so little village is around 4000 and growing. It is the second biggest village in Vanuatu.
There is a big school and a college where children are educated right up to university age. Eleven fishing boats go further than the little dugouts and cast lines astern dropping 250 meters to catch a big red fish, Poulet (chicken fish) down in the depths and export it to Port Vila for good prices. Friendly villagers called greetings from the dark shade of their homes and Bianca, you can see in the photo, kindly offered us papayas and limes as a gift cut straight from the trees in her garden with her mum looking on from the doorway tending the two young grandchildren. The next photo is of the Bouquet Restaurant which looked very shut and after that the little shack with seats down each side is one of the numerous 'kava bars', the equivalent of our locals!
We motored over to see Mike and Ase aboard their cat for a coffee and later went to the beach at nearby Thion Island to hunt for the freshwater lake so Bron and Ken could get some fresh water. A flock of crested terns frequents the tip of the island as you can see.
There are still cattle there, we noticed from the very fresh dung and new barbed wire fencing. We imagine the stone 'table' and three little upturned rocks on the concrete plinth and surrounded by a low wall of limestone rocks are graves, maybe from a time when the island supported a small settlement. Cattle ranching is big business on this island for the Vanuatan economy and is largely exported to Japan who like its high quality. Clearings provided grass for the cattle and the lake a source of water and we saw that the locals go ashore to collect coconuts.
I have mentioned recently the book 'To the South Seas' written around 1930 by Gifford Pinchot who took his family on a seven month cruise of the south west Pacific between two terms as Governor of Pennsylvania. Well he has a lovely description of how some Pacific Islanders collect coconut crabs which I must tell you before I forget.
When the crab climbs the tree at night to cut off the coconuts and retrieve them back on the ground the natives put lots of rocks around the tree and wrap coconut matting around the trunk fairly well up the tree. Said crab, satisfied it has felled enough nuts starts to descend the tree. When its sensitive underparts feel the matting it thinks it has reached the ground and lets go of the trunk falling fatally onto the stones and is there ready for collection in the morning. There are still a few of the long lived beauties around but they are on the decline and unless the locals start to think conservation there soon will be none left.
The lake was easy to find, lying beneath a vertical wall of limestone and I wondered if there were any caves that might support a fruit bat population but we haven't seen any as yet. Bron and Ken collect fresh water there regularly now and take a nice dip at the same time.
We all went on to Thor yesterday afternoon for what turned out to be Ase's (pro Orsa) Birthday Tea Party and it was fascinating to hear about her career as a radar engineer with advanced skills in teaching her knowledge to others to inspire them to take the research even further without the constraints of traditional systems and methods. A real ground breaker.
The wind is still howling, so as to our departure…best hold this space!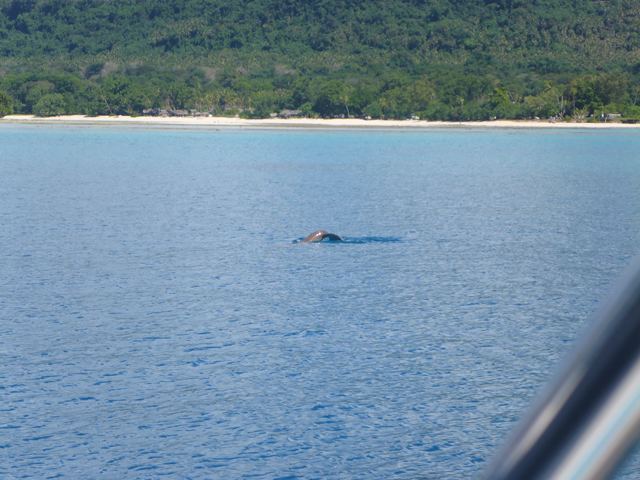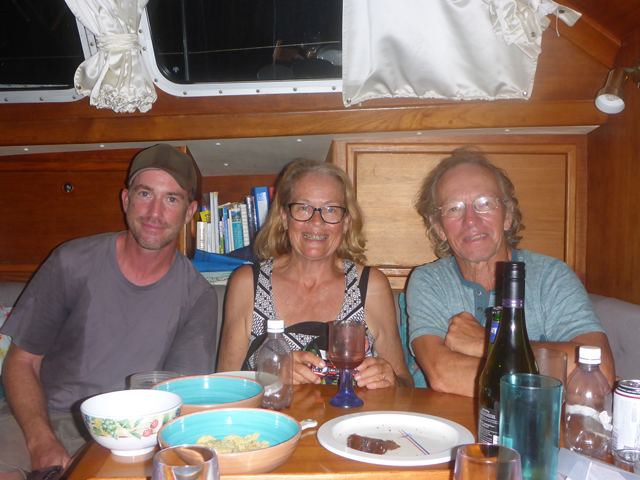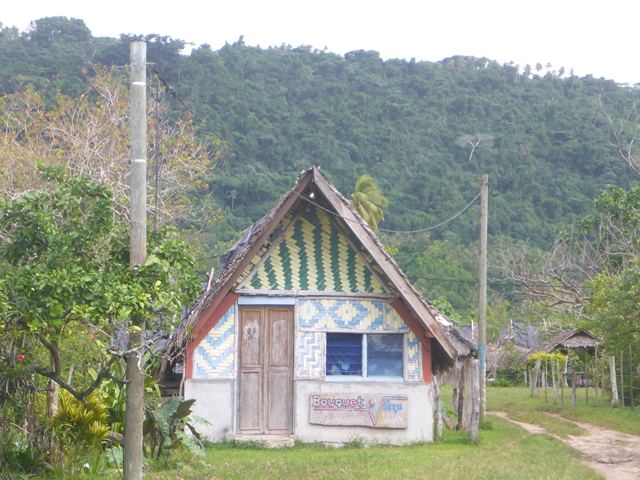 ---