2019 Aus Brisbane City Hall

Zoonie
Sat 23 Nov 2019 01:05
Brisbane City Hall
Between George, Adelaide and Ann Streets.
A small group of us huddled together in the 1930's cage lift on our free trip to the top of what was Brisbane's tallest building for 37 years, from 1930 to 1967; Brisbane City Hall, home of the mayor and deputy mayor. Our young guide re-assured us that the lift was thoroughly overhauled in the big three year refit of nine years ago so watching her hand operate the well-worn lever on the patinated brake was novel rather than disconcerting.
Suddenly it became evident that one of the best ways to view the disparity in size of the buildings old and new was from the top. The church below on its neat square of grass looks like a pristine model in mint condition amidst the modern glazed giants. And look at that smoke haze developing by the day out towards country between the high rises, a tragedy in the making. Through filthy Perspex windows we looked up to just make out the four massive bells, the voice of the cheery clock face.
Our first jolty stop on the way down was on the clock face floor level and we peered through our cage like trapped zoo animals at the clock workings. Once on the ground level again we couldn't view the apparently fine auditorium based on the Pantheon in Rome because Melbourne Cup Day Celebrants were enjoying a banquet while watching the racing on a giant screen. But in there is the Father Henry Willis Organ comprising 4300 pipes and originally assembled in 1891.
The museum told us about the transition of the city to its present day state and 'our' astronomer Governor of NSW, Sir Thomas Brisbane was the man who initially commanded the setting up of the penal colony on the swamps of aboriginal land that is now the city. It is good to know that descendants of the original inhabitants have at least some say in the running of the city.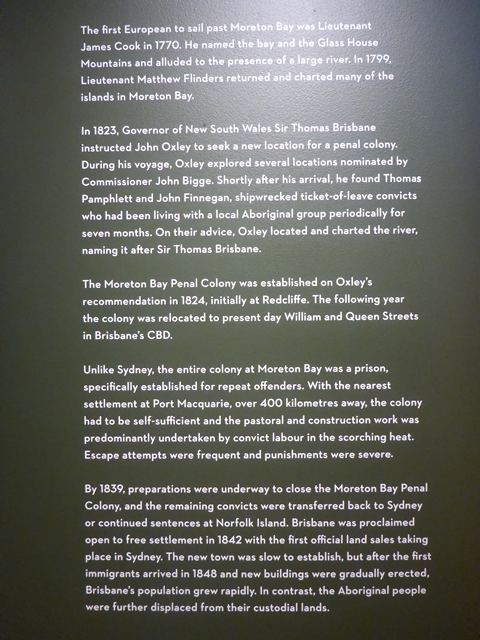 ---