Perfect Beam Reach

Zoonie
Tue 30 Oct 2018 23:19
A Perfect 1000 Mile Beam Reach
32:11.07S 174:40.21E
On the same day that Zoonie achieved her record beam reach we were greeted into New Zealand waters by a single Albatross gliding around us for a few minutes in which time it did not flap its wings once. I emailed Customs to give our position and ETA.
The previous night I dreamed that I was interviewing Jamie Oliver, sitting infront of the log fire in his home when he leaned forward and kissed me on the forehead.
His face changed into Rob's, "We need to put the engine on love, wind's down to 4 knots and falling." My hopes of flying the Diva as the wind backed to NE were dashed, there wasn't even enough wind for her gossamer gown. But it did make galley work easier. Also the cockpit was dry now so we sat up there for the hour before sunset and had some interesting discussions over gin and tonics.
"As the old genoa has thrown its sheets to the wind we could use the fabric to make anoraks for eachother,"
"No Barbara" notice the use of my full name. Rob knows I feel I'm being chastised when it is used. "A sunshade to go over the boom,"
"No Barbara"
"Duffle bags"
"I'm going to the loo" He escaped phone in hand for a few peaceful games of Solitaire and Sudoku, while I went on scheming. Sailbags, shoulder bags, Hydrovane wind steering gear cover, I'm not going to waste it. I'm not.
We were beginning to feel really fit. Rob's black eye nearly gone and my head healing nicely. So now it was time for the big cook.
The juicy ginger I peeled, chopped fine, mixed with a little water and lots of brown sugar and simmered until it was nearly dry. The garlic we sliced and fried gently till brown. Then all the remaining veg, aubergines, onions, potato, soaked lentils and chick peas were cooked together with satay sauce mixes and the addition of a little extra peanut butter.
For the first time I used one of the round, handle less stainless steel pans from my thermal cooker collection to make a Spanish tortilla with the last eight eggs, potato, dried herbs and cheese and baked in the oven. When Customs Officer Mike sniffed it and said "So you'll eat all that today won't you?" My positive answer was only a little white one.
We both lost some weight, great exercise without even trying, in the constant motion and need to brace oneself. The only relief from this was to lie down in the berth and relax totally, just letting Zoonie rock one to sleep.
My black leggings were covered in white areas of salt that looked as if I'd been playing snowballs.
One of the million horizon scans revealed another sailing boat. So we radioed them up to see how they were doing.
The 15 metre, dark hulled Mirabella had a family of four on board and were heading for Opua to clear in. This was their first voyage across these waters and they had been dreading it because of all the terrible stories they had been told. They were excited to have had a "fantastic" sail down and even more so when we told them they had whales blowing infront of and behind them. False killer whales were all around us in small pods as we neared the end of the our journey.
The on board music changed from Muse to fit the boisterous conditions to Clannad to reflect the silky surface of the sea reflecting the opaline clouds above.
On the afternoon of what we knew would be our last day at sea, we sat on the foredeck looking back down our lovely home to the way we had come. I leaned over the side of Zoonie's bows to see if the logo had survived the lashings of the sea and was pleased to see they are both intact.
Slanting rays of pure sunlight illuminated the top few metres of the water to reveal an inner life of jellyfish and tiny pieces of shining silver like scraps of baco foil which must have been fish. Bigger predators were not far away.
We could easily have come in at night but as there was a reluctance to end this amazing trip we slowed Zoonie down a little and arrived in Marsden Cove Marina with 1142 miles under our belts at 8.12am on Monday 22nd October after 8 days 23 hours and 18 minutes at sea. 35:50.20S 174:28.11E.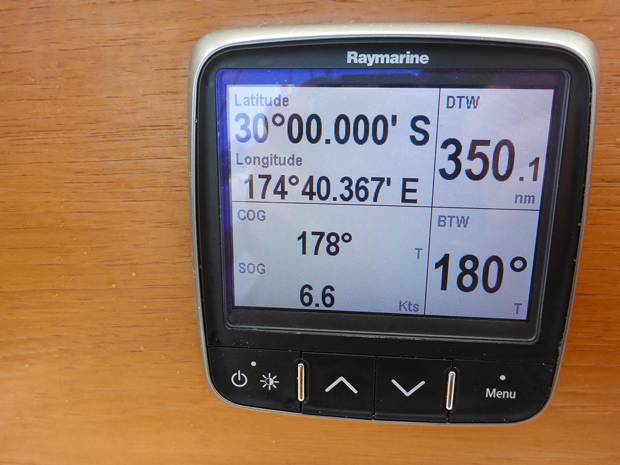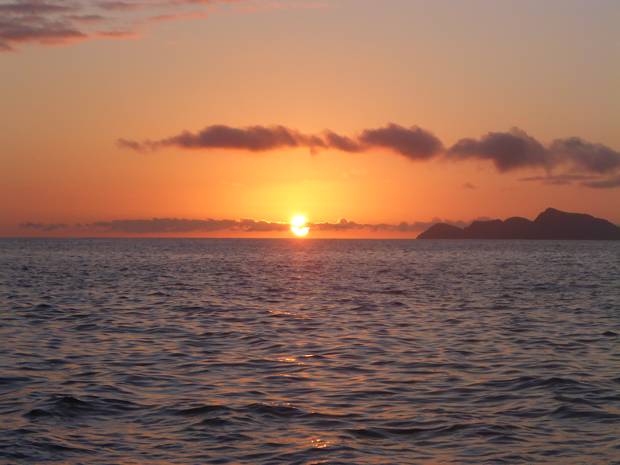 ---