While the Riggers were away

Zoonie
Thu 11 Feb 2021 05:15
While the Riggers were away
As you can see from the previous photos, we need some new rigging. Three of the stays that were replaced in Mooloolaba have failed with strands breaking clean away from the swages, and we need sound rigging for the remaining 7,300 miles to Falmouth! So after their inspection, while the riggers were away it was time for us to play.
After our lunch at the Fish Market and just across from the Swing Bridge stands the old Harbourmasters' Office, like so many of the old buildings an immaculately restored three storey classical European style building painted with white borders and corners and pastel green panels. It now houses the African Port, a warehouse of new and old handmade craft objects for various purposes including modern tourism to ways of expressing historic decorative and traditional culture. I was amazed that even the clearly old and anthropologically interesting artefacts had a price tag on them. They looked like museum pieces to me. We bought seven colourful new (!) cushion covers of African animals to replace our saloon covers and they have had the effect of making my recently cleaned grey settee coverings look quite classy.
Outside scrap metal from machinery and cars was skilfully used to create animals and I particularly liked the warthog with the spark plugs for whiskers.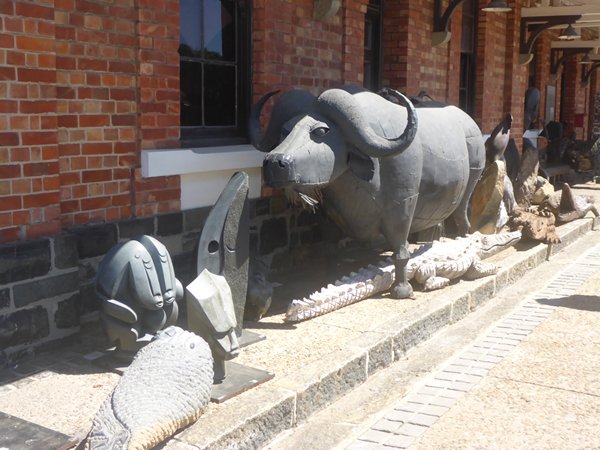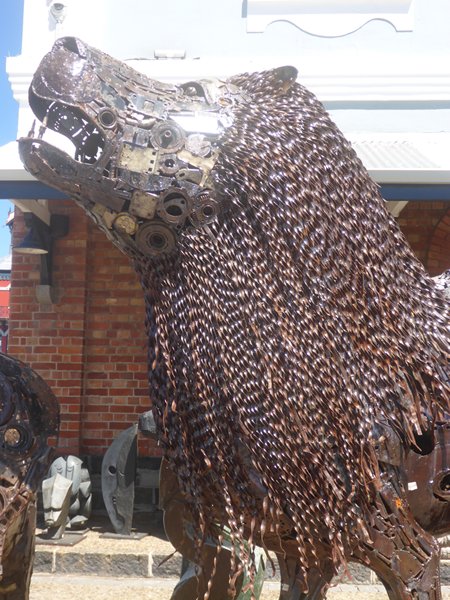 ---