2019 Tas In company to Hobart

Zoonie
Thu 2 Jan 2020 05:57
Position Update 42:33.89S 147:53.50E
Necessity is the Mom of Invention
With no gas cooker and no mains electric for the microwave we warmed our pre-cooked lasagne by placing portions into a plastic punnet and sitting it on the hot surface of the engine as soon as it was turned off and making 'just hot' black coffee using water from the hot water tap. Both lacked extremes of temperature but sufficed adequately as a temporary measure. We have since found the gas regulator on top of the tank was blocked and with a surreptitious tap and blow Rob restored the gas flow to better than it was before!
We left Wineglass Bay, famous for its beautiful shape and beach and now the film 'Lion', heading for our last arrival anchorage, Prosser Bay and briefly had the company of a big humpback whale near to us travelling north amidst more albatross. At the time we were unaware of the bush fires that had now started along the north shore of Tasmania but we did know that the NSW fires were getting a lot worse, greater in number and size and this trend was only going to continue.
We anchored in the bay while Stuart on Blithe Spirit picked up a free mooring and during the evening we watched as a thunder storm blackening the skies moved around us. So often the coastline gets a spot of rain but it doesn't go further inland. A weather terminology new to me is the 'Indian Ocean Dipole', which sends westerly winds over Australia bringing with them the incredible heat from the 'hot red centre', making firefighting around Sydney, Brisbane and Canberra so difficult. The fires we have seen here are more frightening and faster moving than we have ever seen. Even areas of the South Island New Zealand have seen the smoke from 1200 miles away.
But we were heading south, would that make a difference to the risk of bush fires, in a cooler climate? We would see.
News was also coming through on ABC RN Radio transmitted on AM radio about the eruption of the volcano on White Island off Tauranga, NZ. What a shocking way to die in more ways than one. Rob and I take issues around our personal safety very seriously, especially in our present chosen activity. I would never assume that just because I was on a cruise and with a local guide my safety could be assured near a live volcano. I was glad we had not visited the equally popular one on Tanna while we were in Vanuatu for just that reason.
We followed our friends on Blithe Spirit out into a bright, shiny morning with the sun's baco foil reflection on the water between us and Maria Island and dolphins joined us while we headed south through Mercury Passage towards Marion Bay and around the sand bar into Blackman Bay. I think we might have taken the longer route around the Forestier Peninsula if it hadn't been for the encouragement of our friends. We draw the same as Blithe Spirit and Rob had made enquiries with Shane about the Denison canal transit as close to High Tide as possible, but first were the shallow waters of Blackman's Bay. In the photos you will see some are of Zoonie following our friends and other are from our lead boat! Many thanks to Sally and Stuart for them.
The transit was a short experience and we would traverse the swing bridge at Dunalley twice more by car later on during our stay on our visit to Port Arthur and all the other gems of interest on the Forestier and Tasman Peninsulas as you will read later.
We had another seven hours of motoring to do across the vast Great Oyster Bay and up the Derwent River towards the Tasman Bridge. We had plenty of gaps to choose from between the piers, ignoring the biggest central one used by shipping it was guesswork to see which one BS would pass beneath. Quite a strong ebb tide prolonged our journey, well we had to have it right for the canal and the wind had picked up too, funnelling hard against us, but the visibility was perfect, unlike on the foggy night the SS Lake Illawara, a bulk ore carrier (10,000 tons of zinc on board), hit the bridge in 1975. Two piers and 127 metres of bridge collapsed into the river sinking the ship and killing seven crew members and five people from the cars that plunged into the icy depths. We have been told the ship is still down there but it must be a very deep river for that to be so. My researcher is finding out as I type. She is still there in 35 metres of water. The bow and her oil have been removed but not the cargo. Cheers Rob.
The days are long now and we knew that we would still have at least an hour of light after our eta around seven pm. We chose The Prince of Wales Marina in this lagoon on the advice of our friends and as we approached noted how industrial the area is. Turning into the little lagoon past the zinc factory the ill-fated ship was heading for, we saw the Tasmanian Catamaran Factory and various other industrial units but also the neatly grassed banks, residential area of different coloured roofs and Mount Wellington rising dark and proud to 1270 metres (4180 feet) behind everything. I have it on very good authority that a mountain rises above 2000 feet (thanks to Jane and John Hoult) so Mt Wellington definitely qualifies!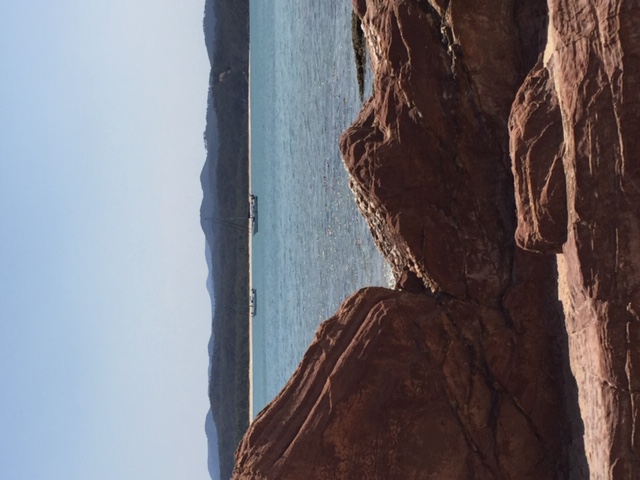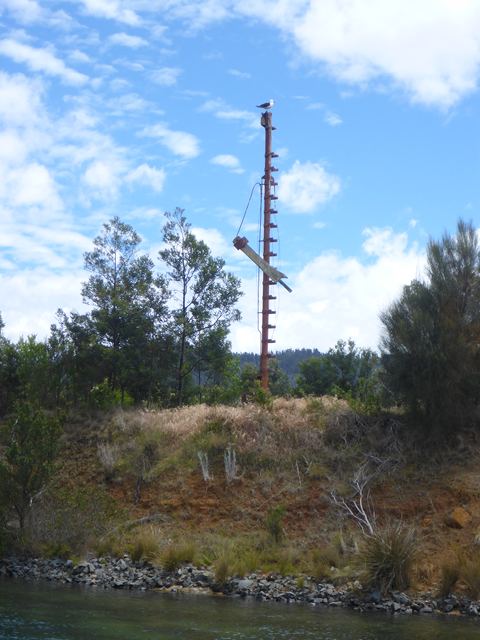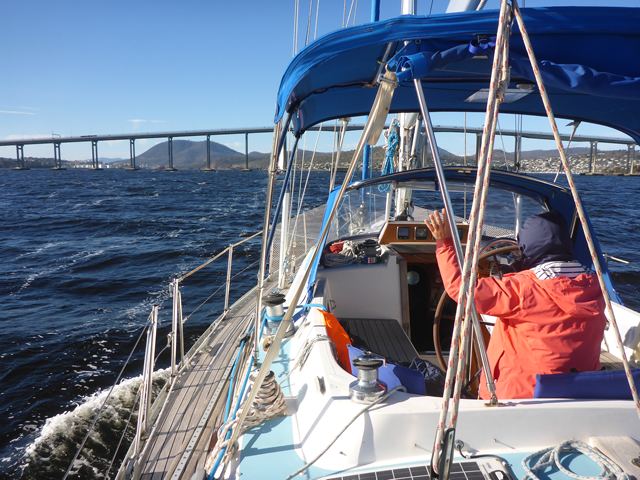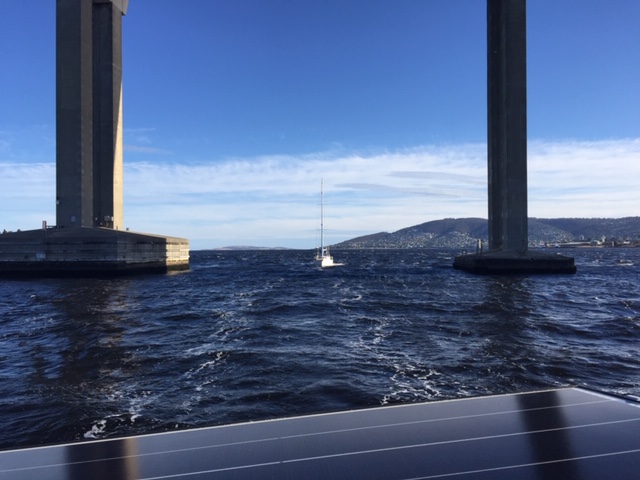 ---