2019 Aus GOMA QAG etc

Zoonie
Sat 23 Nov 2019 01:15
Gallery of Modern Art (GOMA), Queensland Art Gallery (QAG), Queensland Museum and the Library
Culture in excess if that is possible
I am not going to attempt to separate by location the topics I found interesting at these four cultural buildings because there is little point and they are but a miniscule part of the expansive displays on offer to quench one's cultural appetite. Each building was worth one day of time and many returns but time was a luxury we had to ration very carefully.
I thought you'd be interested to see the artist Sidney Nolan's stance on the story of Eliza Fraser and her time on Fraser Island that we visited on the Great Sandy Strait part of our voyage south. We had come across Nolan artworks in the Gallery in Adelaide and his fascination at the time I was a child in the 1950s and 60s for her 19th century story reflects the ongoing European and colonial interest and the frustration for the aborigines over this controversial woman and her malevolent post trauma anti native propaganda. She was unwittingly influential in that her behaviour and situation shaped Nolan's style as an artist over a century later, a slight deviation from her infamy I guess, but I get the impression from his painting of her on all fours that he considered her to be an awkward, arrogant person and an enemy to herself first and foremost, certainly a square peg in a round hole.
I thought it relevant that the women with whom she stayed for a few weeks could not understand why she would not listen to their wisdom and guidance and made life hard for herself and I guess that when they plastered her with fish oil and clay it was to protect her white skin from the sun. Could the bones in her matted hair be meant to ridicule her for her foolishness or an attempt to give her status and help her feel welcome or better in some way?
At the same time Sidney Nolan was at work young aborigine children and babies were still being taken from their mothers to be raised as white youngsters with no communication with their real families or clans, this was happening in my living memory, such a short time ago, which is disturbing. However I was amazed to see that just twenty years later, another short time for such a paradigm shift, the Queensland Education Board deemed it important that Aborigine and Torres Strait Island children should help in the telling of their own real life stories and experiences as part of their own cultural heritage to provide a legacy for the future. In every book and gift shop we go to we see collections of their stories including, of course the aborigine creation stories from their Dreamtime.
Rob was familiar with the Greek Café culture from his visit to Agina in the Med and the exhibition was a refreshing change to everything we had seen. Born of the Oyster fishing industry that was in decline the cafes transformed to sell all kinds of European and American food, cheaply and all day long. The ethos of the café owners was 'hospitality' and they struck a chord with the native people in their sense of the importance of community. Now that they no longer exist I thought was sad because gone with them is their community mindedness.
I thought you might like the 'Investigator' tree exhibit, just the thought that someone from Matthew Flinders crew wrote on the tree that has since escaped the risk of bush fires and of rotting away is an unusual window on history and it reminded me of the one we saw in the little museum near Napier, in New Zealand that escaped the volcanic eruption of Mt Tarawera and grew upwards for years after with a singer sewing machine wedged between two branches, remember? Immortalised forever in a museum.
I included the Mephisto German Tank story for two reasons. What an example of substantial German design and over kill in the construction of the tank and how quickly the Australian Army Battalion captured it and made it their own by punching their names on the front after the original crew abandoned it having driven into a bomb crater. For some reason I found the story amusing.
Then there was Frenchman Nicolas Mole's version of the Kanak creation stories. He is from Lifou, and we sailed south of that island on our way to New Caledonia, even if we didn't go there at least we saw a little of their culture. I sat on the cushioned benches in the centre and moved around as the goldfish swam and then the first spirits arrived. It was fascinating and a big, panoramic exhibit.
Finally another artist we have seen before, again when we were in Napier, Yuki Kihara taking on the character of half Samoan, half New Zealander Salome who lived in the nineteenth century. Using her hands and clever lighting and in black period clothes she uses her hands and the medium of film to tell the story of climate change and the destructive effects of the 2009 tsunami, Galu Afi. Moving art made a change to still exhibits. Enjoy.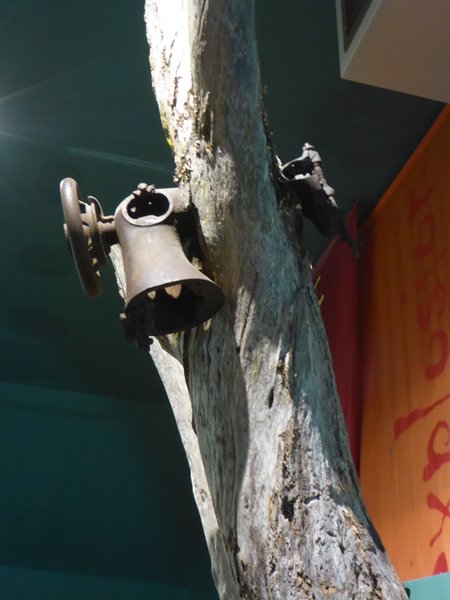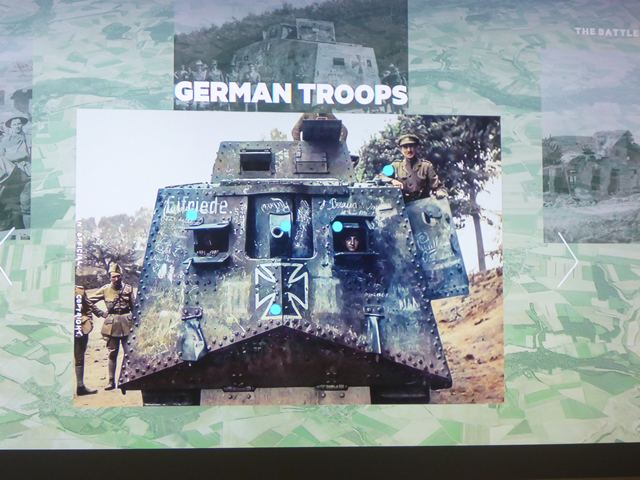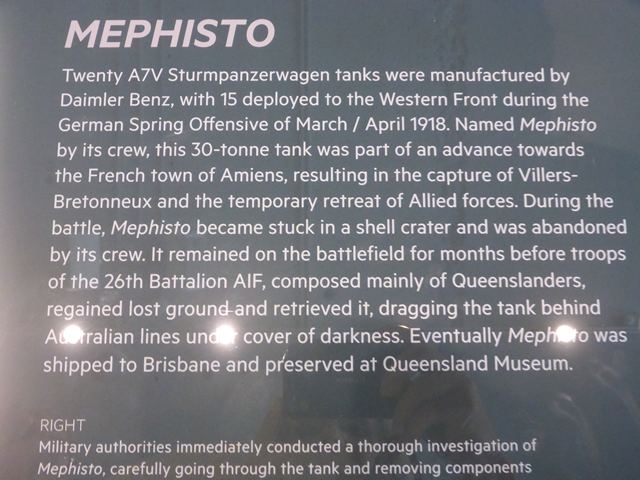 ---