Looking back through time in Baltimore Castle

Zoonie
Thu 26 May 2022 15:51
The Renaissance of Dún na Séad castle (Fort of the jewels)
The restored castle at Baltimore
After our walk we were in need of some refreshment and were delighted to find a mobile kiosk in the grounds of the castle selling delicious coffee. Sitting in the sun we found ourselves next to a couple and their daughter with her tiny baby snoozing on her mum's chest. The man was doing a little gardening, extending a bed by digging up some grass and dividing the plants that were already established, then replanting them in the newly awakened earth. We got the distinct impression there were numerous other things he would rather be doing, but his wife directed him, quietly and effectively.
We made our way into the entrance of this ancient stronghold and found a hallway more like one would expect in a well-cared for historic home, which is its other life. In 1997 Patrick and Bernie McCarthy bought the ruined castle which consisted of nothing more than the walls and emptied out the rambling foliage to start work on its eight-year restoration. Today the castle fulfils peaceful roles as the home of a modern museum, venue for weddings and other functions and the McCarthy's own home and as such it was the warmest and most hospitable place to visit.
In fact, we had the pleasure of chatting to Patrick for a while about all sorts of subjects, not just history but also the new interior built by boat builders using green Polish oak and the rendering done by himself and Bernie.
What an inspiration, bringing back to life the wild history of the area for all us lucky folk to see.
So, a little about that history.
The castle rose from the local rocks in 1215, built by an Anglo-Norman named FitzStephens or Sleynie and the local O'Driscoll clan occupied it for three hundred years. The clans amassed great wealth from fishing, wine and piracy, often raising hell in Waterford just along the coast.
In 1605 Sir Thomas Crooke saw the potential of the harbourside village and leased it from the O'Driscoll's, himself dabbling in piracy as well as pilchard fishing and the wine trade. He died in 1630 and almost as if they heard the news, Barbary Coast Corsairs (pirates), led by Dutch Jan Jansen who converted to Islam forever to be known as Murat Rais when he moved to Algiers, sneaked up on the village at dead of night June 20th 1631 and kidnapped over one hundred men women and children to be chained and taken to the slave markets in Algiers. It was the only ever instance of English inhabitants ever being enslaved. I am intentionally vague about the numbers because various sources give figures from 100 to over 200. The number 109 is reliable as they were named on a document. An elderly man and woman were returned ashore but the others were looked after well on their voyage to north Africa so they would be in good shape when sold. The photo showing the Cove, with the top of Lot's Wife in the background is the area from which they were stolen. English settlers who lived nearer the castle were overlooked by the corsairs, whose arrival and departure were swift and silent. Well, maybe almost!

On arrival in the slave markets the families were separated, men being sold as galley slaves, as you will see in the photo each galley could use as many as 44 oarsmen and their lives were hard and short. The women became servants or were put to work in the harems. Although slaves could be freed upon the payment of ransoms for their freedom, few were ever paid and most of the poor souls never saw their home again.
Oliver Cromwell lived in the castle for a few years in the mid-17th century, he was great nephew of Thomas Cromwell who some of you may remember from the TV version of Hilary Mantel's book 'Wolf Hall'.
In 1833 a substantial pier was built in the harbour creating a sheltered port for the export of oats, copper ore, flax, wheat, potatoes and slate and importing of timber, iron, coal and general merchandise.
Today fishing and tourism contribute to the wealth of this pretty little village, watched over by the benign walls of the castle and its kindly owners.
After our rich dish of history, lunch called and we settled at a window table in Jacob's Bar with a pint of local red ale and a delicious shared stone-baked pizza. What no photo you might say, well after a few moments I realised that in the face of the rising wind Zoonie was ploughing a little furrow very slowly backwards across the harbour towards the moored yachts, so I was somewhat distracted. Yes, we did finish our lunch and then hastened back to the dinghy and the wet passage back to the mother ship. Twenty minutes later we were snug on a mooring buoy and an hour later Seamus came on board.
He was one of the local Customs Officers and arrived from a black rib which was being skippered by another officer and had in turn been launched from the grey vessel you see in the photo, both waved profusely on approach and Seamus told us all about his sailing exploits as he took our details and photographed our passports.
We have since reflected on our arrival here to this hospitable place and hope tomorrow to move on through the islands and across Roaring Water Bay to Crookhaven, 13 miles away.
---
This email has been checked for viruses by Avast antivirus software.
www.avast.com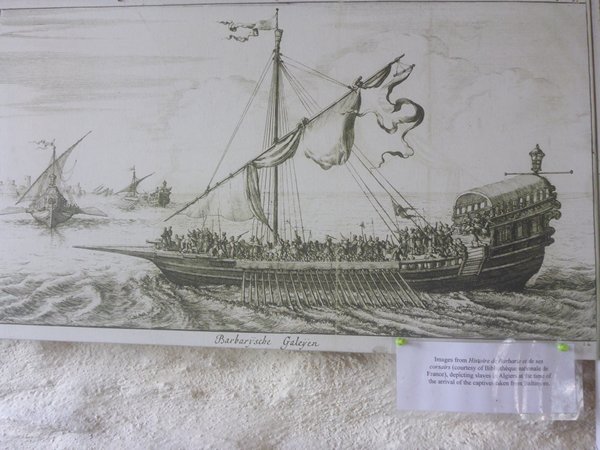 ---