2020 Les Environs de Belier

Zoonie
Sat 31 Oct 2020 08:49
Les Environs de Belier
From my journal on 28th October 2020,
'06.10am. I have just come back in from a circuit of our little patch of level mountain terrace, overwhelmed by both the sheer beauty of our surroundings and having the good fortune to awaken to clear skies and green mountain peaks set against the loveliest blue after a day of mist and low cloud. Just a few little veils of cobweb mist hang around, sunlight sparkles on leaves and petals alike and droplets fall from foliage like tiny beads of molten silver. We are perched on the edge of the Cirque Salazie in the early morning sunlight, my dream come true.'
The lady host arrived from her house up the hill a little, smiling and carrying an armful of fresh baguettes ready for breakfast at 7.00am. The other three couples are all walkers so an early start in the cool would be ideal for them and we were happy because it would give us a nice long day for exploration. The island is within the 23'N to 23'S band around the equator, so it is technically the tropics, but of course up here, 2000 metres above sea level it is more temperate and much of the ambience and architecture is decidedly alpine.
Around our two new little buildings, the accommodation house and the dining room with integral kitchen, and all around the garden were borders of potted and planted colourful flowering plants, cymbidium and other orchids, amaryllis, begonia galore, azalea, fuchsia, hibiscus and any others you can identify, all in full flower and weighed down by raindrops or just on the brink of finishing their blooming. By chance we picked the right time for our visit.
Helicopters were taking advantage of the pristine, clear peaks for early morning tripper flights over the spectacular calderas. Each one of their passengers, like me, must have felt very lucky to bear witness.
We filled up on a generous continental breakfast before complimenting the lady on her lovely garden and then headed for Salazie on our way back to the coast and our next destination, the live volcano of Piton de la Fournaise (furnace, oven!).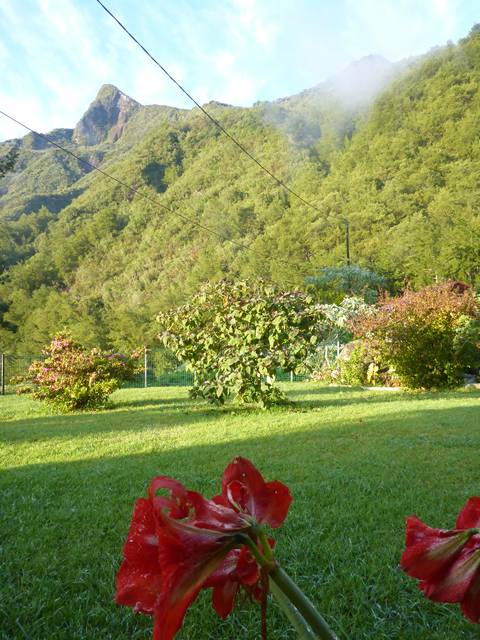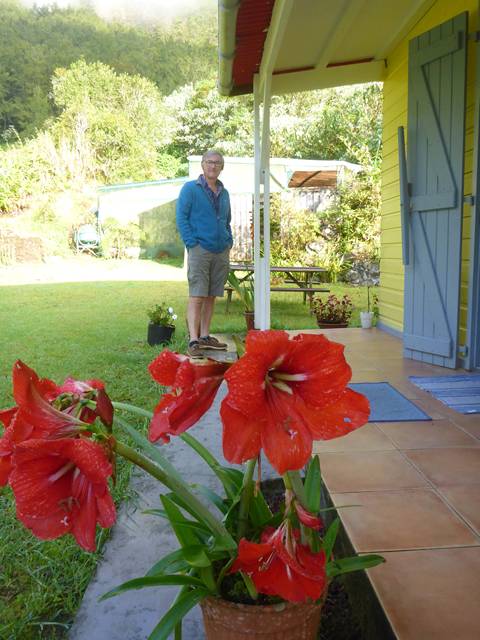 ---