Norway 4/4

Zoonie
Fri 26 Jan 2018 21:33
Norway 4/4
When Hell Freezes Over and a Moose that plays Scrumpy
There is a quirky little place just outside Stjordal called Hell which has its very own station and the clever Norwegians have capitalised on the name and the opposite concept of Hell being a hot place. Every year coachloads of Nikon and Canon toting visitors come to visit Hell not only for the essential photo under the name but also because there is a conference centre there for business folk, a big hotel and music concerts, including a famous Blues concert are held there.
To be fair the summer visitors will miss the opposite temperature significance as it will be pleasantly warm then with not a flake of snow in sight, but its still a bit of fun. There is now a new station building but the traditional one is maintained for the sake of tourist photos.
You'd be proud of us for what we have achieved in this first week since we have been back on board. Jeanie and Merv who collected us from the airport came to dinner last night and we decided to use their visit as a target time before which we would complete various jobs.
These have included a large hand and machine sewing job, so out came the Pfaff, but not before I repaired Rob's case and fitted a new zip to my hand luggage bag by hand as these tasks were too fiddly for the machine.
We bought a replacement flexible solar panel for the bimini roof before we left for England but of course it is a different size to the one that is on there. So we unpicked the sunbrella fabric frame that held the old one in place and I took the two sections of fabric on to the pontoon and gave the inside of them both a thoroughly good scrub to get off the hundreds of little circular mildew growths.
In this heat they dried in no time so then we laid the new panel on the fabric and drew around it, adapted the old sunbrella frame to fit, sewed it on by machine and Bob's your uncle, job done. The old panel had been attacked by the elements and was under producing its max of 30 watts, so the new more robust one should hopefully give us up to 48 watts. We need it as the replaced fridge compressor seems to have an electricity addiction!
Tagged on to having the Pfaff set up I made five new cushion covers for the saloon with fabric bought at Arthur's world famous Emporium, and posh they are too with their French seams to give them that little bit of class. We are working towards re-upholstering the saloon seats in maybe bright blue or even fuchsia, which would look fantastic but we'll most likely hold off until we are out of the sweaty tropics!
Those Delightful Dinner Parties
Talking of future locations, while chatting with Jeanie and Merv about their travels last night a whole new idea for our passage around Australia was born. They spent 18 years on their trip all around the Pacific Rim and when it came to Australia they took the south coast route via Adelaide, Melbourne and countless nice little anchorages along to Perth and the west coast.
There is a short window of six weeks to cover the south coast with favourable winds. The predominant winds are from the west until a high settles over the area when the winds allow sailing and their direction depends on where the centre is located. Jaap from Jacob de Ware, our friends from Rotterdam, is also planning to do this route and in days of old the sailing ships from Europe came from the west this way as the Torres Strait was thought to be too shallow for them.
Captain Cook and Matthew Flinders knew the area and charted the coast for the benefit of future mariners. Sounds like a great adventure and an exciting prospect to us. As most sailors take the northerly route the few who enjoy this passage are treated well by the locals and officials.
Still that is for future thought. When we went with Geir and Ingeborg to dinner with Hanne, their eldest daughter and her husband Havard just outside Stjordal in a little country town called Skatval we looked through Hanne's album of her stay with Emily and me from years ago. So much has happened since of course. Hanne married Havard in Rome and now they have two fine little boys, Edvin and baby Alexander.
Ingeborg and I played ball with Edvin in the big L shaped lounge of their lovely family home while a Mexican supper was being prepared. The house is the highest up the hill road out of the town towards the forest and the road ends just at their frontage. There are walks straight into the forest from their front door which are not only used by humans. Last summer Hanne was about to take the children on a trip in the car when she had to wait until a mother moose with her twins had moved on from their driveway. The moose likes to scrump the apples from the trees in their garden so is likely to be a regular visitor.
Just before we sat down to eat Tina and her fiancée Hemming arrived and it was so good to see them again. Tina came with Hanne to stay with us all those years ago and the last time we met was over a weekend in Edinburgh just before we set sail in 2015.
Next Saturday, February 3rd while we are at a music and dance evening here in Whangarei where Naylene from the marina office will entertain us on her keyboard, Tina wearing her grandmother's re-styled wedding dress and Hemming will be tying the knot in a little church in Trondheim and our thoughts will be with them.
Tina's parents are no longer together so we had the pleasure of not one but two visits to catch up with them. Jill has her younger daughter Julie and granddaughter Natalie living with her and is regularly visited by Bjord and his delightful Wheaten Terrier, Eba. We had a leisurely supper chatting for some time about New Zealand as Bjord has recently visited with a friend to spot and photograph birds.
Bjord, "So whereabouts are you from in England?"
Rob, "A little place called Oakham near Peterborough,"
Bjord, "Ah Oakham, we had a stand there for three years at the Bird Show," they went on to discuss local places of shared interest.
Jill has a Nissan Leaf electric car with a range limit depending on the health of the batteries. When Bjord gets the call from the bush telegraph that a rare bird has been spotted at some distant location he doesn't use Jill's car as speed is of the essence and he would miss the sighting if he had to stop to re-charge the batteries! I love the diverse human activities we come across in our travels.
Jill and Stein also have a son, Anders who has grown from a computer screen lad into a fine young man. He is now father of five month old Leon and has nearly finished his apprenticeship learning to operate the second tallest tower crane in the world, making the legs for North Sea oil rigs. He spent six months with his partner Astrid in Australia and when he got home had to choose a career path, amazing. When telling this story to friends Rob and I would say "he has a micro-wave, bed, computers….in his cab" and with a slightly concerned tone our friends would enquire, "and a toilet?" Oh yes and a toilet. Should the lift break down it would take Anders, who is young and fit, 20 minutes to climb to his cab.
Stein recently sold his concert sound and lighting company and now works part-time doing the same kind of work, in the newly built cultural centre in Stjordal while waiting for the summer when he will get out on the fjord once more in one of his kayaks.
It was an enriching time visiting them all and I didn't really start looking ahead again until we were sitting at the end of the runway at Trondheim Airport, which is actually at Stjordal and just five minutes from Geir's home, watching a guy in his cab spraying our wings to clear them of ice ready for take-off. In one of the photos you can just see Stjordal nestling on the shore of Trondheim Fjord. We will return.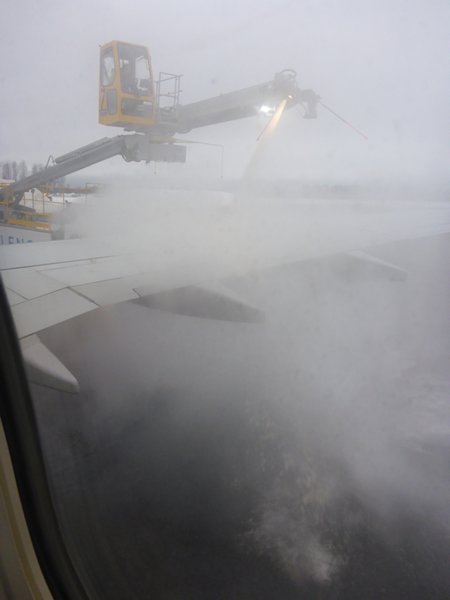 ---