Shipton Views from My Kitchen Window and farmyard friends

Zoonie
Thu 14 May 2020 00:45
Shipton
Views from My Kitchen Window
Some Farmyard Friends
Alice, the Black Widow
We settled in to our new home in no time; Rob completed the pre-existing furnishings with a couple of chairs found in Malcolm's wonderful Aladdin's cave of a storeroom/workshop. Washed, dried and relocated they made excellent bedroom chairs.
Within a short time I realised the compact homestead was also an observatory on the rural world outside, the pretty farm vistas changing all through the day as the sun moved over us and then faded in the evening, for a few minutes adding a delicious tone of pink to nature's palette. Rob cleaned and polished the windows so we could see the beauty around us in perfect clarity.
Malcolm sometimes texts us to show us yet another wonder of nature and sometimes dread of man. I was thrilled to see a beautiful red back spider he spotted when turning over a length of metal, that would have been warm in the sunshine. Also known as the Australian Black Widow because this striking female has her relationship with her husband all sewn up, and she invented Superglue to boot.
She, like me is too busy to worry much about housekeeping and her web is a mess, made to be functional and not of 'Grand Design' style. But unlike me she eats her husband once the mating process is complete, hence the name. Her mate actually positions his abdomen over her mouth while mating to make it easy for her to feast upon him, thus lengthening the mating process, so to make more babies. Just look at that perfect red marking on her back and at her size, bravely illustrated for me by Malcolm who loaned his finger. She has an hour glass red shape on her belly but neither Malcolm nor I were prepared to turn her over to see; even the pic in Wikipedia shows a dead upside down spider.
A bite from her is unlikely to be fatal, just very uncomfortable with nausea, sweating and agitation for a few days. A horse can help. Since 1956 horses have been injected with a non-lethal dose and the antibodies they produce are used as an anti-venom. But anti-venom is not always necessary, apparently we are quite good at producing our own and paracetamol helps reduce the pain. The best option as with a snake bite and already well known to animals and indigenous people is to lie very still for up to 48 hours. An exception to the non-fatal outcome was an unfortunate backpacker, but then maybe he had underlying health issues (!), now where have I heard that term recently.
Also unlike me she is not a brilliant mother. Her babies try to 'steal' food from her which she actively discourages, turning them into little cannibals too, sometimes snacking on their smaller siblings. She is also a thief, stealing prey from other webs knowing that if she gets caught she might become that host's next meal.
Now here's where the Superglue comes in. And at this point her human equivalent is coming to mind; the classy, red-lipped Alice from the TV series 'Luther', a murderess in black shiny leather just like her arachnid counterpart. Our Black Widow senses her victims; insects, lizards, small snakes and even mice when they touch her web. She leaps out and wraps them in her sticky superglue threads of silk and once immobilised she injects them with the venom that melts their innards. She can then enjoy her delicious smoothie, the only liquid she drinks. She has taste, just like Alice.
So I was saying that people rarely suffer the severest symptoms from the bite; eh well actually it's the usual thing; the young, sick and elderly have been known to go through agonies and die in pre-venom days and you needn't think you are entirely safe either. A group of Black Widow immigrants arrived at Preston, Lancashire on a ship laden with mechanical parts from Australia and some are thought to have escaped and if you live near Dartford in Kent, wear gloves before your start gardening to be safe.
On a more placid note the chickens are two of the four house hens who are coasting at the moment and laying no eggs. We fed them while Malcolm and Christine were away helping granddaughter Zoe celebrate her birthday.
The ground around us is greening up by the day. Early morning dew after the cooler nights and a sprinkling of rain is helping. The present job is burning the piles of wood that Malcolm has stacked up with his tractor and we go around and help gather up branches and add them to the flames. This keeps the ground clear and ready for the seeding to be done, which is next on the list and will be done by the farmers who are leasing the land. I believe it is to be barley this year. Rape (Canola), lupins, wheat and oats are also common crops.
All around is the evidence of farming over the years in the form of the old farm machinery, some dating back to the first days of settler activity, rusting and looking more a part of the scenery as time goes on. Also the evidence of children having grown up here, the monkey in the tree, gently moving wooden seated swings in the garden, a little trike on the tennis court. All signs of home.
The pretty little pink mottled lizard we found on the BBQ and as he is typical Redback spider food, we gently let the lid back down to hide him and I made a mental note, "Malcolm where are the gloves?!"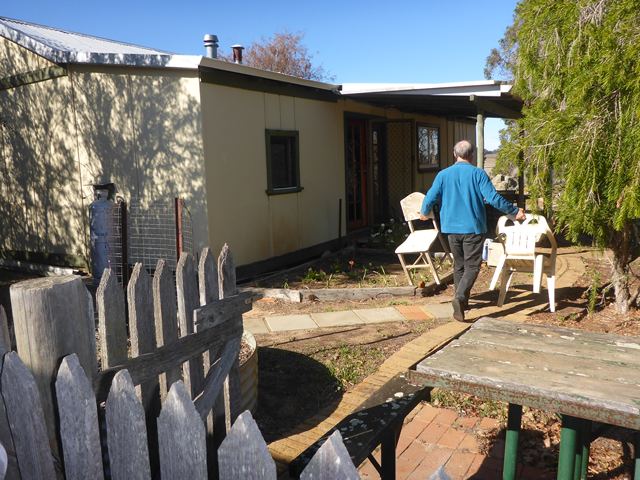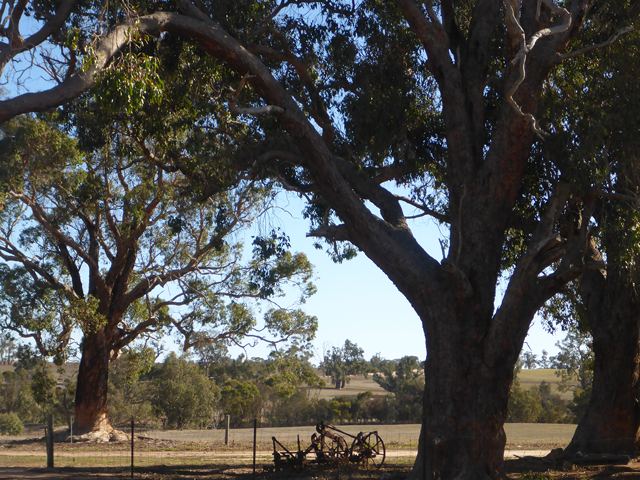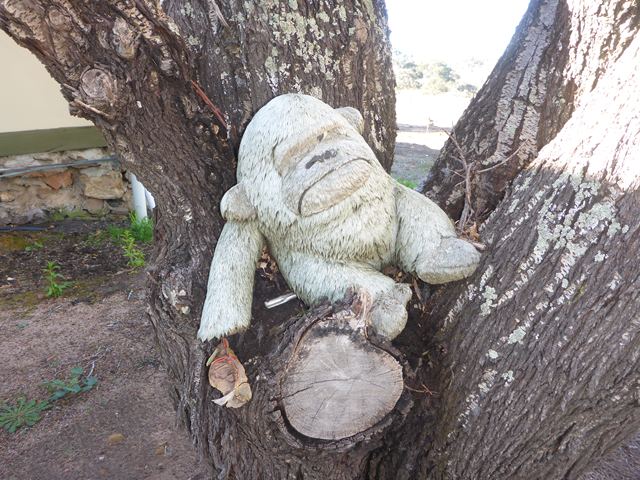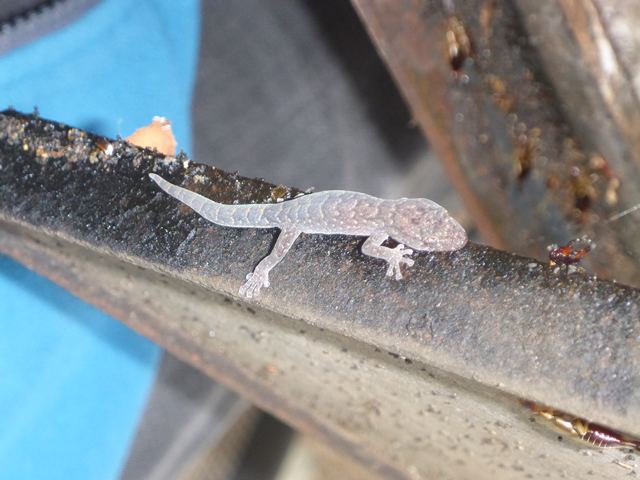 ---