NZ Milling with the larks at Marsden

Zoonie
Tue 22 May 2018 02:22
Milling with the larks at Marsden
35'49.85S 174'28.439E
Do you remember I mentioned a while back 'Bowie' the white dog who was born the day David Bowie died? When we were walking the Hatea Loop a few days ago he was hanging his front legs over the stable door watching folk walking past his semi-aquatic home, the boat shed where he lives with his widowed master and best friend the cat he has grown up with.
Cat was sitting right next to him on the wooden sill, both of them soaking up the sun and looking mighty appealing.
As we motored down the river two days ago and beyond the hubbub of the Town Basin there was Bowie, this time standing on his back legs with his front legs hooked over a wooden railing (he is half human) at the other side of the shed overlooking the river and passing boats. He was barking at us but I would be foolish to think we were anything more to him than a moving object worth barking at.
Then a little further down was Mo on his pretty kauri yacht Rosemary moored outside the new café at Riverside Marina, oh their iced mocha smoothies! We'll be back we said and not only for those. So many friends have said that to shoot through Fiji in a couple of months and move west would not do that fabulous place justice, or Vanuatu and New Caledonia for that matter. Especially as we will not be bringing Zoonie back here once we leave the South Pacific.
Loose Ends
I mentioned The Black Ball Yacht Club in my last blog, well the organisers decided that the black ball that you see above the marina office should be put back into use and to that end they would make a recording of the daily event so as to draw folk forward to check their wrist watches or maybe just continue supping and nattering while chewing on their croissants and pies.
So there would be a trumpet fanfare followed by a gun at one, a loud bang as the ball falls at 1.00pm. This presented the problem that the bang could be misconstrued as a terrorist attack sending frightened folk running for their lives or having coronaries on the quayside. So they needed a vocal warning and in harmony with their British heritage it was decided Rob could do the job.
Which he did very well, so we have to return to hear his voice in operation don't we.
There were numerous wonderful shared social occasions, some dinners on board and elsewhere and walks with friends. The folk from Fiji came to tell us all about it as we gathered like a flock of sheep in our fleeces at the sausage sizzle on the Barge Inn and later we filled in the lengthy form required to get Zoonie into their waters.
Just before we left we went with Jeannie and Merv and Eric and Vandy from Scoots (on her third circumnavigation) to Mangawhai Heads for a cliff top walk one way, a beach snack and then a beach walk back when the tide fell low enough for us to traverse oyster encrusted areas of rocks. Then a delicious pizza at Waipu, the Scottish town of New Year's Day Highland Games fame. Well it was Jeannie's birthday and that needed celebrating.
We first planned to check in to the capital at Suva but were advised that the harbour is filthy, oily, strewn with wrecks including one right across the entrance to the marina (they didn't mention that) and open to the SE winds. Its position looked good for a landfall though. So I emailed Mereoni Jikotani who had already acknowledged receipt of our form with a suggested change to Savu Savu on the other big island named Vanua Levu to which he/she replied "That is good, proceed".
Then Rob changed faith.
As part of the international festival of food and culture on the Canopy Bridge the local Sikh Coalition came along to challenge common misconceptions about their faith by planting turbans on willing passers-by including one of the culturally aware skippers of Zoonie, the other one took the pics. I like their positive views on peaceful change, social justice, community service, equality of the sexes and lack of a caste system.
There were excellent food stalls too with choices and flavours from around the world and despite the rain the canopy kept the visitors dry and the queues long until the evening.
Merv called Rob once or twice to go help with the restoration of their home and on board we made covers for the foredeck and outboard while waiting for a hint of southerly in the persistent north winds.
We would be down below and hear an engine start up through the hull and from the river water outside and watch as some yachts left for Opua, 40 miles up the coast. If they haven't set off yet they will be sitting on their anchors as a storm force 10 goes through this weekend and if they have set off I just hope they have made that magic transition between wild weather and the variable tropics at Latitude 30'S. The SE Trades bringing shy southerly winds have not set in yet. Our next window is next week and Alison and Randy on Tregoning waited here for three weeks last year. As Jeannie so rightly said, "A Patient wait will result in a comfortable passage."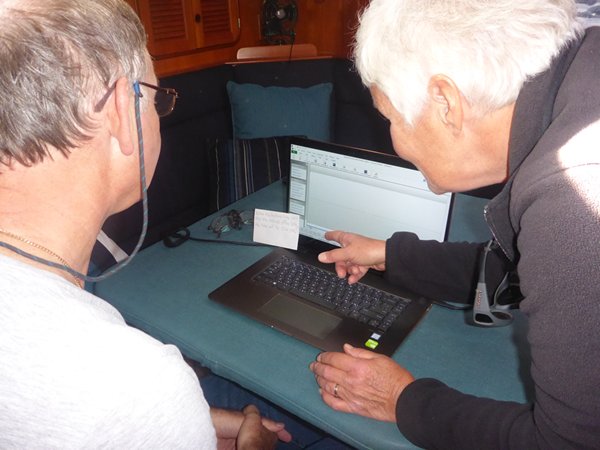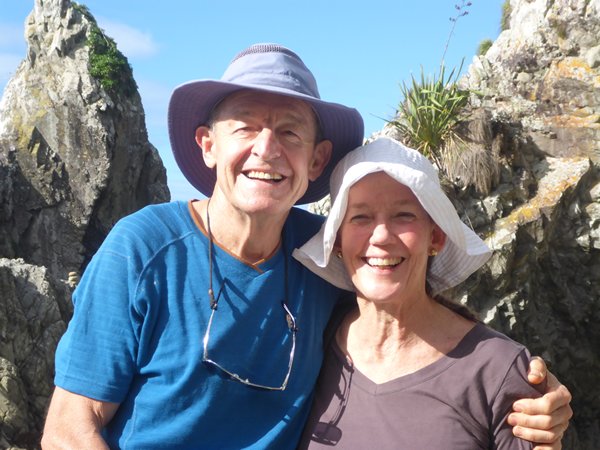 ---